If you've not been to San Francisco's SoMA (South of Market) district for a while, it may come as a shock.
In the underpass where drug addicts once gathered in force, you will now find astroturf and food trucks; the pile of battered shopping carts replaced by cocktail tables. Walking down 2nd street used to involve sidestepping homeless people and avoiding eye contact; now you have to get out the way of clumps of young men heading to the nearest coffee shop while talking excitedly about Perl, app updates and social media buzz.
The boom is back. And despite dire predictions of SoMA being sent crashing back down when the tech bubble bursts, the company we've come to see represents a foundation that many believe will continue to stand long after the app-economy has had its day.
That foundation is smart-tech. The inter-twining of hardware and software to make people's lives better. This new wave of products requires more than coding; it needs engineering. It needs more than buzz because it has to be physically traded (success is in units shifted not likes, users or downloads). And to survive, it has to reach far beyond the Silicon Valley start-up scene into the worlds of everyday people.
Nest is the best example of this new breed of smart-tech, not least because the company and its smart thermostat was bought for a ridiculous sum of money by Google ($3.2bn). But the heady combination of ubiquitous smart phones, clever college kids, VC money and advances in sensor technology, data analysis and much else besides has sparked a mini-boom in the sector.
Smart sleepy-time
"Hi, come in," says the company's chief marketing officer Alex Zatarain as she leads us into what used to be a studio flat in a not-so-great part of town but is now the headquarters of Luna, makers of the world's first smart bed.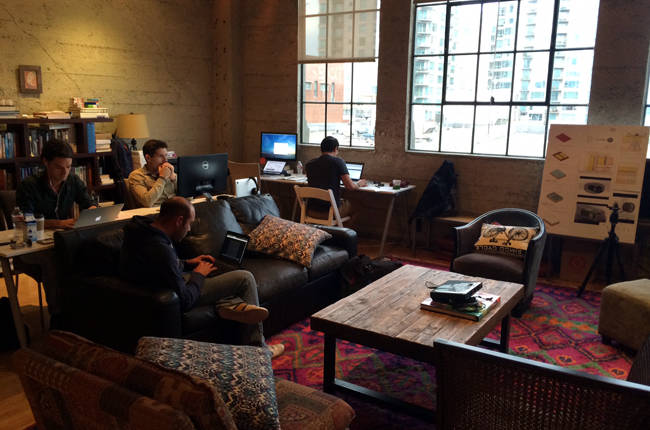 Luna's HQ is SoMA used to be a studio apartment
It's a long thin open-plan apartment with a bedroom on the left containing the company's display and testing model, a small, crowded kitchen offering coffee and snacks and at the end a lounge area with desks, a couch and a flat-screen TV.
"Forgive the mess, we just got back from a show in New York and haven't unpacked properly," CTO Massimo Bassi tells us. Just before the New York show, the Luna team was at the Consumer Electronics Show in Vegas. In each case, it elicited praise and support for its vision of a smart bed that will help people sleep, and wake, by monitoring their movement and vital signs.
Luna launched at the beginning of the year on Indiegogo looking for $100,000 in support - really, orders. One month on and it has already sold more than 2,500, raising $560,000 in the process. It's not hard to tell why: the funding page is clear, slick and professional. And in a world where you can buy a $1,000 iPhone speaker, the price point of $200 for a queen size mattress that will help you sleep looks like a pretty good prospect.
There are several prototypes of Luna's product zipped in plastic bags and stashed against the far wall by the TV, another stretched over a full-size mattress leaning against the wall. Massimo pulls one out: "So this is it. Obviously these connecting wires are much bigger than in the finished product…"
Goodnight sweet heart
He pulls out what looks exactly like a mattress topper and holds it up to the light so we can see what makes Luna different: a wave of thin wire running through the material. The wire is denser at the feet end, and again where your lower back would be. And then there is another thin strip at chest height. "That's the heart monitor," he tells us.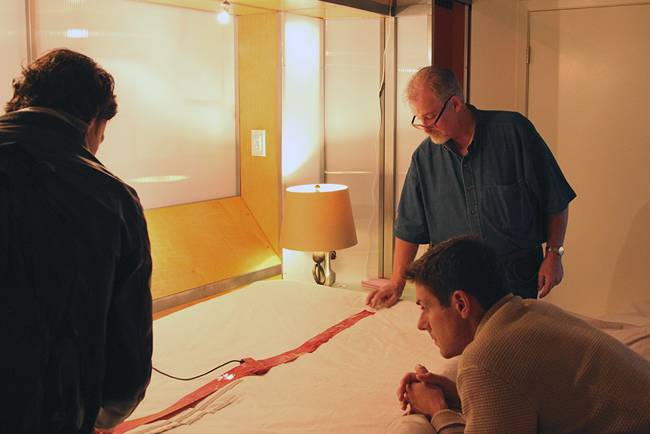 Luna team inspects the heart monitor strip
As well as containing a number of sensors that pick up movement and heart rate, the thin wire serves as an electric blanket. Altogether, it is surprisingly light and, he assures us, machine washable (the actual electronics are contained in a butter-dish-sized box that connects magnetically to a round disc on the cover).
Asked about the safety aspect of such thin wires, Massimo launches into the classic "disrupt" rethinking that San Francisco has come to be both admired and mocked for. "There's nothing to stop heating pad manufacturers from building something this thin right now," he explains. "They put too much power into their pads and so then have to put on thicker insulation. We are just taking laptop chargers [he opens out the butter dish] and step them down. Laptop chargers are much cheaper."
This heating aspect is the most obvious selling point to the Luna - by combining it with modern tech, including the Nest thermostat ("we are working with them to tightly integrate things," Massimo explains amid a number of Nests, some still in their boxes), you should be able to climb into bed each night with it already set to your preferred temperature. The cover can heat each side independently.
The other advantages are less obvious - mostly because we've never been able to track our patterns of sleep without being under laboratory conditions. By combining and analyzing data from its various sensors - including a tiny microphone and ambient light detector in the butter dish - Luna can tell what stage of sleep you are in, how well you slept, if you are snoring or awake and talking, and combine that with other applications and smart-tech solutions to provide a number of advantages.
"So, for example, we can tell when you have got into bed and run a check that your door is locked," Massimo says by way of explaining the possibilities. "If it is, then nothing happens, but if it is unlocked, we could either provide an alert or tell the smart-lock to lock itself."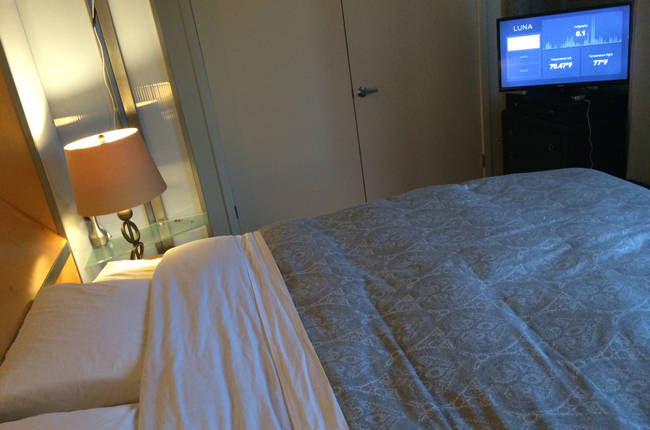 The test-bed setup at Luna HQ
Sleeping partners
The company lists four partners on its site - all of them based in San Francisco or Silicon Valley: Nest; Lockitron (smart door locking); Beep (wi-fi speaker attachment) and Emberlight (smart lightbulb sockets).
Combined together, these products enables Massimo to outlines a Jetsons scenario where the moment you wake up, the lights turn on, your house heats up, the coffee machine starts brewing and your favorite radio show starts playing. In reality though, just having the lights dim and turn off, saving you from having to get out of bed to do so, is likely to be something that many people fall in love with.
As well as closer integration with some products, Luna is also following the smart-tech IFTTT standard (pronounced "ift" like "gift" without the "g") so in theory it can fit in with a broader eco-system of future products all aimed at saving you from having to do the same tedious, repetitive and time-consuming tasks that take up much of your day.
Plus, as Fitbit has discovered there is often a useful, even addictive element to wearable tech with people tracking their own habits to achieve their own goals. Luna's senior hardware engineer John Fulton knows all about it - he was Fitbit's senior director of engineering and quality for nearly three years.
But back to the bed.
The bigger issue is of course sleep science: something that is still in its infancy despite an increasing number of specialists in the field and greater awareness of the value of sleep in an increasingly hectic modern world.
Luna has a sleep advisory board - three people specializing the field - who supply the company with feedback and insight into how sleep works and how to get the most of it. In return, Luna is offering them aggregated data from its user for their research.
What this means in real terms is that the company believes it can start helping you get a better night's sleep - whether that is a gentle prod to go to bed, gently waking you at the best point in your sleep cycle so you feel refreshed, or helping you get over jetlag.
"If we have your location data from your phone, we would know where you were flying in from and could automatically advise you on the best time to go to sleep," Bassi enthuses.
Of course, the big issue of data is a critical part of Luna, as it is with all the "internet of things" projects that aim to link up our everyday objects to the global network.
Bassi is keen to point out that the raw data is stored on the local device and only aggregate, general data is encrypted and transmitted. Likewise, he assures us that the microphone is only able to tell if there is noise or not: it can't tell what you are saying (it can tell the difference between talking and snoring by combining the data from the heart/breathing monitor).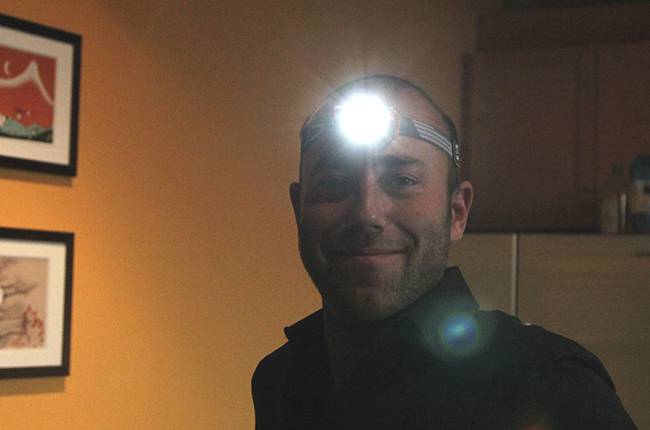 The company's CTO Massimo Bassi
But he draws a blank when we ask him if he is following the FTC's recent released policy guidelines over the internet of things. The regulator report puts security and privacy "built into devices at the outset rather than as an afterthought" and "data minimization" as the main critical elements to getting the internet of things right. And it is hard to imagine much more personal data on someone than information on their nighttime activities.
Bed bugs could bite
As promising as it may seem, and as hard as the team is working on the product, it is also largely untested on a wide basis. There will be many wrinkles to iron out, Bassi acknowledged, relaying a story where testing the Luna at home he wasn't able to sleep because the bed was too hot, despite desperate efforts to turn it down.
As things got hotter, his girlfriend made things worse. She was getting cold on her side of the bed and rolled over to his side, add body heat to the Luna. After a miserable night's sleep, in the morning he realized he'd wired up the left side to the right and vice versa.
You only have to flick through the now-defunct Skymall to see how many great ideas descend into niche markets. Likewise, it's worth noting that while Nest thermostats are the poster child for smart-tech, precious few others have yet to enter the market in a meaningful way.
Of Luna's partners, only two have even launched their products and Beep is releasing its products in small, almost artisanal batches. Luna's won't be sending out test models until the end of March and the earliest, and the first full production models are scheduled for August.
The bigger market has yet to be broken. And while San Francisco loves anything that connects to an iPhone, smart-tech products can only hope to survive if they reach far beyond the Bay Area.
The one big thing that Luna has going for it is that no one on the team is complacent. Despite having received acres of positive press coverage, CEO Matteo Franceschetti is focused on the financials.
"It [the coverage] has given us a boost for sure," he tells us. "And at almost nothing in customer acquisition costs. But we are now working on getting more customers." Franceschetti reckons that from now on each new customers is going to cost the company $40 to get. "But with that and the cost of the product, we should still be making a good enough margin."
Units shifted, margins, customer acquisition costs. SoMA may be full of over-excited startups who think that charging $26 for $20 in quarters is a business model (the now defunct Washboard.co) or developing a BitCoin wallet is the entryway to a life of luxury, but in Luna at least there is some old-school engineering and product development going on.
If the team can manage even a half of what they are promising, reliably and at the current price point, then within a few years we may all be wondering how we ever lived without the Luna.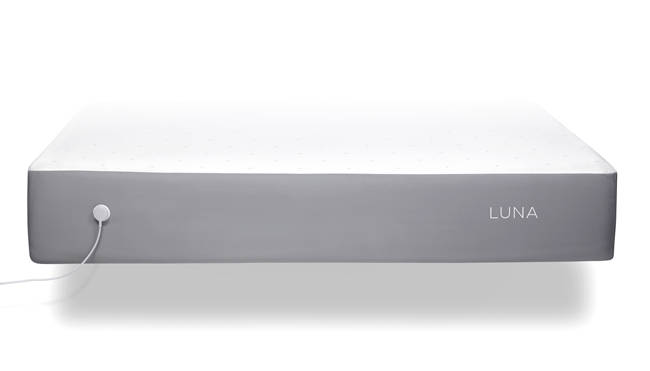 ---
You can buy your Full-size, Queen or King Luna mattress cover online for $200-220. Expect delivery some time in August.
In the meantime, if any other smart-tech companies are interested in being interviewed or having their products tested by The Register, please contact our reporter at kmcccarthy@theregister.co.uk.