Guantánamo Diary, Lurid & Cute and The Door
Gitmo stories, fantastical fiction and a contemporary classic
---
Page File El Reg bookworm Mark Diston looks at the latest literary releases and weaves his way through the distressing story of ongoing Gitmo inmate Mohamedou Ould Slahi. Firmly in the realm of fiction, Adam Thirlwell's latest proves to be a unique and stylish work. The reissue of a Magda Szabó classic is also revisited and remains edgy and enduring read.
Guantánamo Diary
Mohamedou Ould Slahi has been a prisoner in Guantanamo Bay detention camp for the last dozen years. Born in Mauritania and having trained at an Al-Quaeda training camp in Afghanistan in 1990, "when America was more or less our ally", he leaves the organisation after the fall of the Communist government in Kabul, disillusioned by the ensuing infighting.
Sometime around 1999 he advises three men he meets briefly not to travel to Afghanistan via Chechnya, as he had heard that the Georgians were arresting Muslim men passing through their country. Two of the men he met were later involved in the September 11th attacks. Slahi himself was arrested 18 days later as he attempted to visit his family.
The Senegalese and Mauritanian police have nothing on him, but nonetheless a few months later he is "renditioned" to Jordan at the behest of the US government. He has not been charged and is still in custody.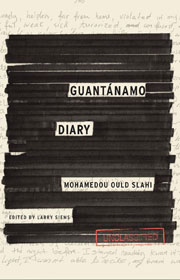 Mohamedou's story was written in English, his fourth language, which he picked up in jail, so it is full of US neologisms such as, "I was like, what the heck" and "Freakin'". Much of the text has been redacted by the US authorities; real names have been removed and alleged abuses running to sentences and sometimes entire pages have also been blacked out.
Guantánamo Diary is written in a fresh international style: German and Arabic proverbs sit alongside US slang, The Koran, Star Wars and Black Hawk Down. American Intelligence would seem to be a misnomer: "I just wished the agencies would hire smart people", Mohamedou writes. He tells his captors, "You are holding me because your country is strong enough to be unjust, and it's not the first time you've kidnapped Africans and enslaved them".
His schoolboy-esque tormentors reply: "So why do you keep being a pussy?" "Because he is gay". The repetition of the torture and abuse scenes, redacted or inferred ,are a strain to read, but there are a few ironic Orwellian interludes, such the sign on the wall which reads "Honor bound to defend freedom". And this brilliant dialogue:
Interrogator: "I know you are innocent" Detainee: "I'd rather be a criminal and sat at home with the kids"
...and the baddest interrogator who boasts: "My wife calls me [an] asshole".
Despite having lived in Germany and Canada, Slahi experiences moments of extreme culture shock. He observes: "One of the punishments of their civilisation is that Americans are addicted to video games" and asks his guard, who is browsing Men's Fitness, "Is that a homosexual magazine?"
Somewhat inevitably, following years of incarceration, Slahi finds himself getting philosophical. "Crime is something relative, it's something the government defines and redefines whenever it pleases".
Guantánamo Diary is a brilliant book and testament to the humanity and struggle of its author. It is tragic, sickening, yet life affirming at the same time. Slahi says he bears no ill-will to his captors, his interrogators seem poorly briefed and his guards mostly poor and ignorant. Yet Slahi also recognises those who have shown him humanity and kindness throughout his ordeal. This is an impressive and moving book; I look forward to Mohamedou Ould Slahi being able to complete an uncensored version from beyond Guantánamo.

Author
Mohamedou Ould Slahi
Title
Guantánamo Diary
Publisher
Canongate Books
Price
£10 (Hardback), £7.99 (eBook)
More info
Publication web site