Vulture in the Air Stepping up from our usual car reviews, we've got an aeroplane this weekend. The guest pilot is Sylvia Spruck Wrigley, who runs the Fear of Landing website.
What's it like flying a Tiger Moth? Absolutely AMAZING! I don't think I can do the experience justice, but I have to try.
You can imagine my excitement when Into the Blue asked if I'd be interested in trying out one of their summer aircraft experiences and I saw Tiger Moth Flights – Classic Biplane and Tiger Moth Experiences. YES PLEASE!
Vintage video about how to fly a Tiger Moth biplane
I chose the Tiger Moth flight at Old Sarum airfield. The Into the Blue flight experience is 30 minutes and offers a choice between a training flight or half an hour of aerobatics. The aerobatics offer was verrrry tempting, I have to admit. However, I was already jumping around about ME IN A TIGER MOTH, so I decided that flying upside down might be more excitement than I could handle. I went for the training flight instead.
Signing up was simple. I booked it online but followed up by phone because I was just so excited I wanted to be sure of the details. GoFly at Old Sarum confirmed it was a real Tiger Moth and that yes, I really would be allowed to fly it. I told her I had my Private Pilot's Licence (PPL) but I didn't mind if it was just a scenic flight.
I didn't need to bring any paperwork but she confirmed that I would be going out with a qualified instructor who would tailor the flight to my experience level. So not just a joy ride! I chose a day at the end of July, hoping that the British summer would be kind to me.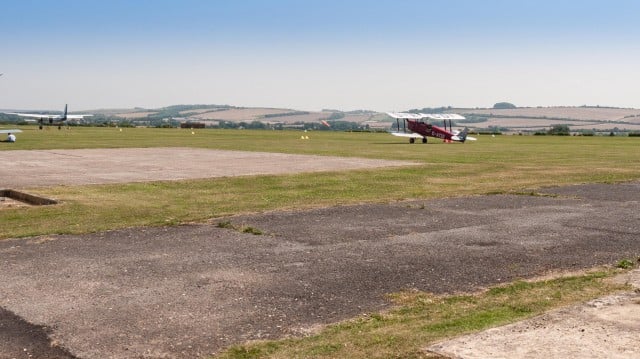 It was: the day dawned bright and beautiful with brilliant blue skies and little puffy clouds floating past as if they were auditioning for a children's picture book. I packed the essentials: log book, sun glasses, camera, hair band. There was a major sky-diving event at the airfield so the place was crawling with young people in red jumpsuits strapping on parachutes. I avoided them as best I could ("No, thank you very much, I'm here to fly, not to fall") and was greeted at the GoFly office.
There were two of us flying the Tiger Moth that day: me and an 80-year-old gentleman who, if it was at all possible, looked even more excited than I did. We were both almost an hour early for our flights. The gentleman had also trained to be a private pilot when he was 17 … in 1951, in a Tiger Moth. I was enthralled. He was really looking forward to flying in one again and the time waiting for our instructor flew past as I listened to his stories of the aircraft he'd flown in the UK and the US.
We were both chattering excitedly as we were led inside for our briefing. He smiled and stepped to the side as we reached the training room, letting me go first. Our instructor was David Wood, a tall, dapper fellow who wouldn't have looked out of place on a wartime poster posing with his bi-plane. The Tiger Moth, he told us, was G-ACDI, still the same registration as when built by de Havilland in 1933.
"A year before me," said my new gentleman friend with a grin.
He didn't tell us the full history of G-ACDI but, of course, I looked it up. In 1940 it was taken over by the RAF where it was issued the service serial number BB742. A year later, the aircraft collided on the ground with another Tiger Moth – a bit of bad taxi-ing, that! – and had to be transported by road to be repaired: an indignity for any aircraft. It stayed in the RAF until November 1947 when it was flown to Little Rissington "for disposal," which is not quite as final as it sounds. The aircraft was sold in 1948 and regained its civilian registration of G-ACDI. In 1954, the Tiger Moth suffered an engine failure and crashed on take-off.
The aeroplane was deemed beyond repair but someone collected all the parts and stored them in the corner of a hangar for fifty years. It was 1995 before G-ACDI was rescued from the scrap heap, when it was restored at Old Sarum. David, our instructor, bought the Tiger Moth after the restoration and helps with the maintenance and care (under supervision) and it showed. I was quite intrigued by the bi-plane but David was clearly deeply in love.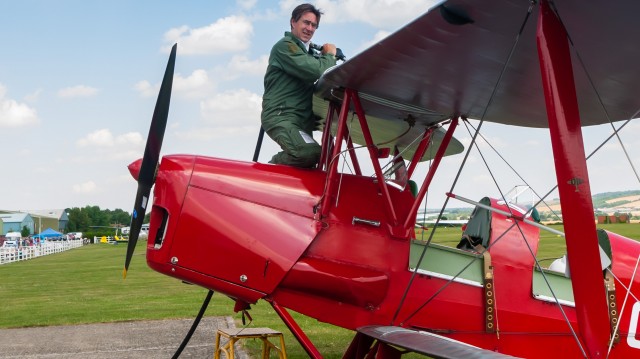 "Here's a list," said David, "of all the things the Tiger Moth does not have." It seemed to be quite a long list. The Tiger Moth has no starter, no nose wheel, no stall warners, no flaps, no roof, no brakes. I had vaguely understood that the Tiger Moth was a relatively simple plane but it was a bit disconcerting to see all those pieces of equipment that I relied on for flight to be missing. This was unlike any plane I'd flown before.
"This is why the Tiger Moth is one of the very finest basic trainers ever produced. It requires real skill to fly it well. It may seem ludicrously hands-on but as a trainer, it teaches skills not knowledge." The gentleman next to me nodded. "Seat of the pants flying," he said knowingly.
That was all fine but I'm not all that good at flying. I mean, no one has ever looked at my dumpling-shaped 5'0" frame and said "Hey, you are a natural pilot." And here was an aircraft that was specifically designed to show me up.
On top of everything, I'd never flown a tail-dragger: an aircraft which has what is confusingly called "conventional landing gear". There's no nose wheel, just the two main wheels under the wings and a skid at the back to keep the tail off the ground. Taxiing, take-off and landing are all very different and tail draggers are notoriously easy to tip over. I'd seen plenty of photographs of vintage aircraft with their noses digging into the grass as a result of bad handing.
I took a deep breath and we went over the emergency procedures. David asked each of us about our experience. The 80-year-old had vastly more hours than I did. Once he was finished, they both turned to me.
"I've done about as many hours in total as he has in the Tiger Moth alone," I admitted. "And I've never flown a vintage plane."
My gentleman co-student threw me a look and I considered that possibly referring to his trainer as "vintage" was not my most tactful comment of the day.
David just smiled. "So, who wants to go first?"