Theatre review Live animation, you say? Having done my dues inbetweening on the Care Bears and Tales from the Crypt Keeper back in the 1990s at Nelvana, I was doubtful this cross-over was even possible. Yet, on leaving the Battersea Arts Club after The Paper Cinema's Odyssey, I have to say I was full of wonder and admiration.
The Paper Cinema, which started out in 2004, sees Homer's Odyssey reimagined by an ensemble of five incredibly talented musicians and puppeteers/animators. The brain child of Nicholas Rawling, Imogen Charleston and Christopher Reed, this company notched up a sold out run a couple of years ago and a transatlantic tour but now it's back.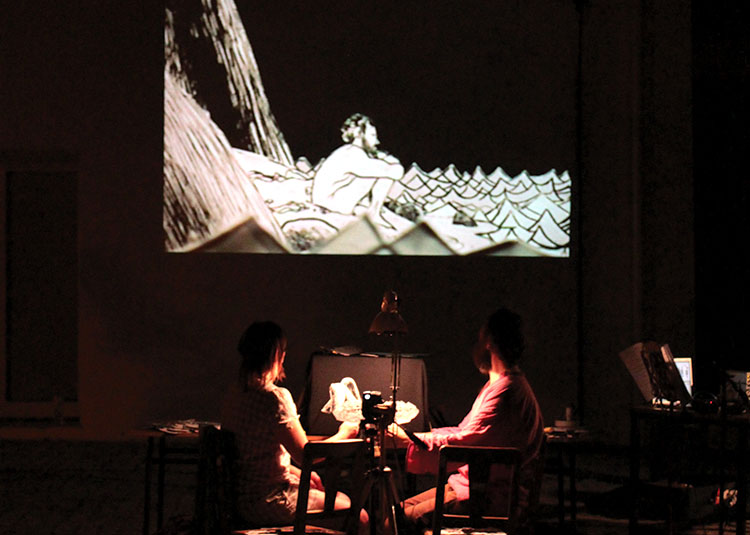 Photo © James Allan
The puppeteers bring Homer's Odyssey to life with two cameras and some auteur lighting design to project 2D animation on a large screen above the stage, which is split in two, the musicians on the right and animation taking place on the left.
The introduction to the production was spell-binding, as you see dramatic drawings take form through simple pen and ink lines, with the titles projected on moving acetate. Watching Rawling dip his pen into his ink well and whirl ink washes across a screen is truly captivating.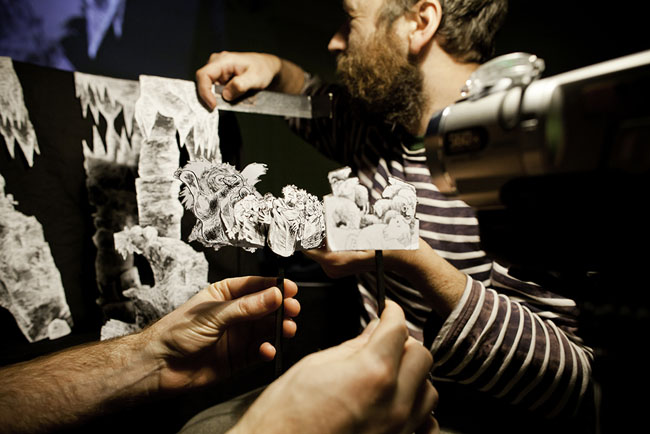 Photo © James Allan
Throughout the rest of the live animation, cut-out drawings bring the mythical characters and the centuries old narrative to life. This epic tale of gods, myths and monsters becomes an intimate artistic experience.
Odysseus – the missing husband and father, whose return is anticipated by a harassed and fraught wife and son – has to navigate his way home through impressively scary paper cut-out Cyclopes and sirens. Though many of these classical Greek myths have had Hollywood makeovers in recent years, The Paper Cinema arguably gives these characters more soul purely through nuance of substance and style.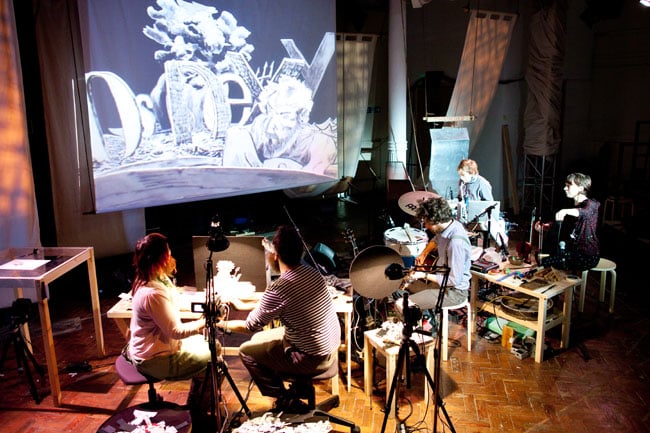 Photo © James Allan
The pen and ink aesthetic reminded me of a mash up of Valiant Hearts and Phil Mulloy. The use of movement, perspective and scale bring running boars and giant stomping feet hurling towards me. Humour and popular culture drop-in references sees the travels of Telemachus become an Easy Rider-esque hallucinogenic trip, with country and western wolves taking part in a Deliverance style banjo duel.
A three-piece ensemble of multi-instrumentalists performs the intuitive score. Sound effects created by harnessing the Foley capabilities of the musical instruments see a violin burr as an outboard motor, these sound effects complement and capture the ebb and flow of the narrative.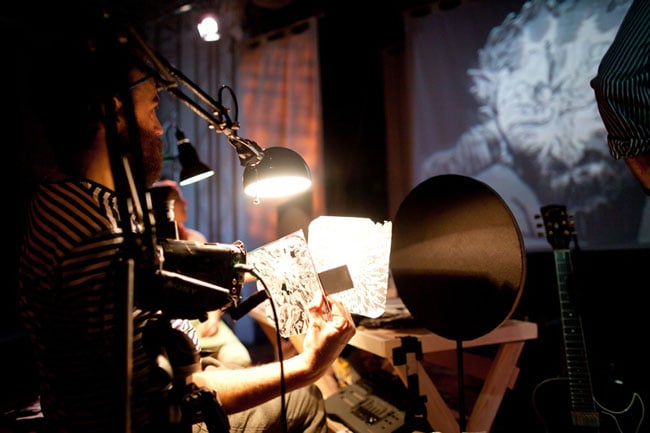 Photo © James Allan
It was so well orchestrated in time with the animation, at points I found it possible to forget it was being performed live. That is, until I am brought out of my reverie as the keyboard player dons dark glasses and a drill to provide the sound for the motorcycle engines.
The creativity of the storytelling through these evocative drawings is breathtaking with some stunning moments, such as a cyclone of wolves representing Penelope's suitors and layered projects over characters foreheads to show the workings of dreams and memory.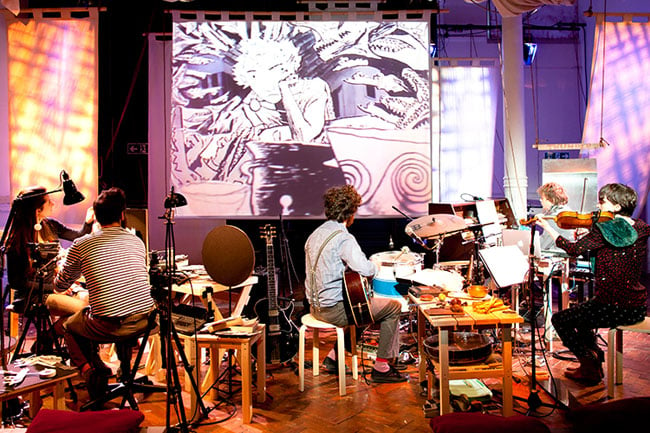 Photo © James Allan
The Paper Cinema's Odyssey is an agonisingly short run before the troupe embark on more globetrotting. This astonishing performance full of mystery and wonder has reignited my passion for animation live or otherwise. Be sure you snap up a ticket for a truly remarkable experience. ®
The Paper Cinema's Odyssey is playing at the Battersea Arts Centre, London until 14 February.