This article is more than 1 year old
Hitachi's storage revenues: Not brilliant, but high-end gear helped – analyst
Mid-range misery though
Analysis Hitachi pulled in more storage revenues in the last 2014 quarter than in its previous and year ago quarters, at least in local currency, but its mid-range was weak – implying its high-end Virtual Storage Platform (VSP) arrays did the business, says an analyst.
Hitachi owns HDS, which sells Hitachi storage in every territory outside Japan.
Stifel Nicolaus' indefatigable analyst Aaron Rakers crunched Hitachi's yen numbers to reveal that its storage solutions revenues for the quarter were ¥136bn, up 11 per cent on the year ago quarter and 19 per cent in the previous quarter.
When you convert this to dollars, a less happy picture emerges: quarterly revenues were $1.18bn, a rise of 13 per cent sequentially but a fall (dratted currency conversion ratios) of 3 per cent annually.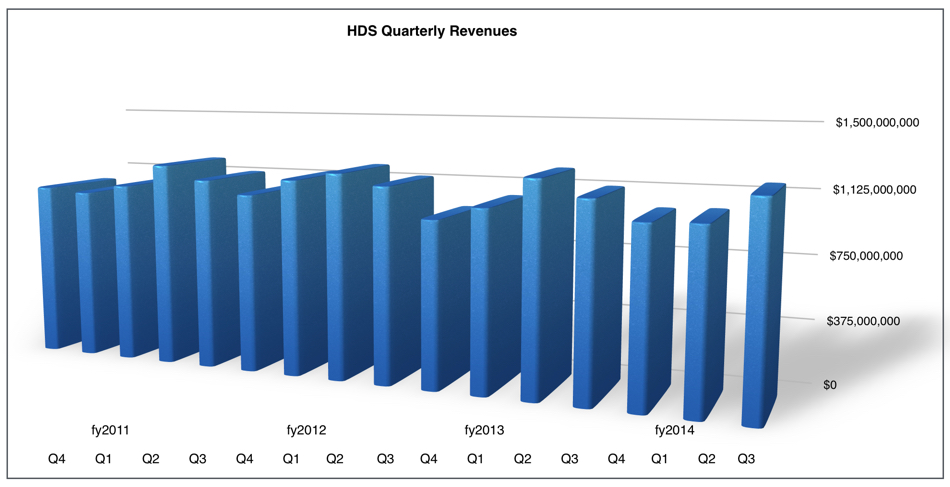 Hitachi storage quarterly revenues.
He calculates that the "combined EMC, Hitachi, and IBM storage results would be implied at +1 per cent year/year" in the quarter. Based on this and a high correlation of these three suppliers' results with those of NetApp: "We estimate 1 per cent year/year revenue growth for NetApp's January quarter" – meaning $1.626bn.
Hitachi thinks its next quarter's revenue will be flat year/year and down 15 per cent sequentially on a yen basis. Its management said it needs to do more in the mid-range, the HUS array area, and Rakers draws a conclusion that a product revamp may be coming there. ®