NERDS KICK PUPPY 'bot in brutal attack
Electric dog gamely laughs off vicious assaults
Video K9 never had to put up with this type of thing: yowls of not-so-serious outrage have greeted the latest vid from bot-tastic US defence contractor Boston Dynamics.
What the famous robotics outfit wants to demonstrate is that its latest product, Spot, has great stability and does a decent job of recovering from a momentary lack of balance.
It's just a pity that Boston Dymanics' smaller sibling to the famous 240-pound (109 kg) BigDog looks so, well, hurt that anybody would want to kick him, as shown in the company's latest video, below.
More seriously, the video also shows the 160-pound (72.5 kg) Spot negotiating indoors (getting around cubicles can, after all, trip up humans) and different outdoor terrains (including staircases).
Spot quite outpaces BigDog at ascending an incline.
El Reg bets Boston Dynamics' people wouldn't be so blithe about robot-kicking if they had frikkin' lasers … ®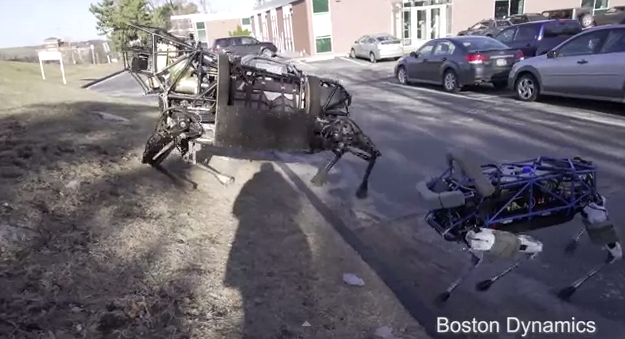 You can take a humorous head start, BigDog ... It's like robot Scooby and Scrappy Doo.