EE 'best' of the UK mobile network bunch, but how good is that?
10% of the country doesn't even have proper coverage
---
Mobile network testing company RootMetrics has again hailed EE as the best network for speed, reliability, calls and text. Three comes second in all tests. Vodafone and O2 swapped third and fourth spots in various categories but O2 came out ahead overall.
The latest figures cover the second half of 2014, so may well under-rate Vodafone, which only launched double speed carrier aggregation in October.
A spokesperson for Vodafone told us: "There have been numerous reports into UK network performance over the last few months, each of which shows different results as they are based on different criteria, from locations tested to devices used.
"For example, research carried out independently by LCC between December 2014 and January 2015 shows that in 25 major cities where we have rolled out 4G, including London, Manchester, Birmingham, Edinburgh and Glasgow, we provide unbeatable or the best indoor and outdoor 4G coverage. We continue to call for a common industry approach to these reports to properly measure a consistent signal for voice, data and video in areas where customers need it, including indoors."
EE earned the highest Overall RootScore Award (89.4). This was followed by Three (86.2), O2 (79.5) and Vodafone (78.8). Last time round it was EE (85.5) ranking first and Three closely following (82.7). O2 (68.1) and Vodafone (67.0). RootMetrics, however, cautions against comparing figures from different surveys directly.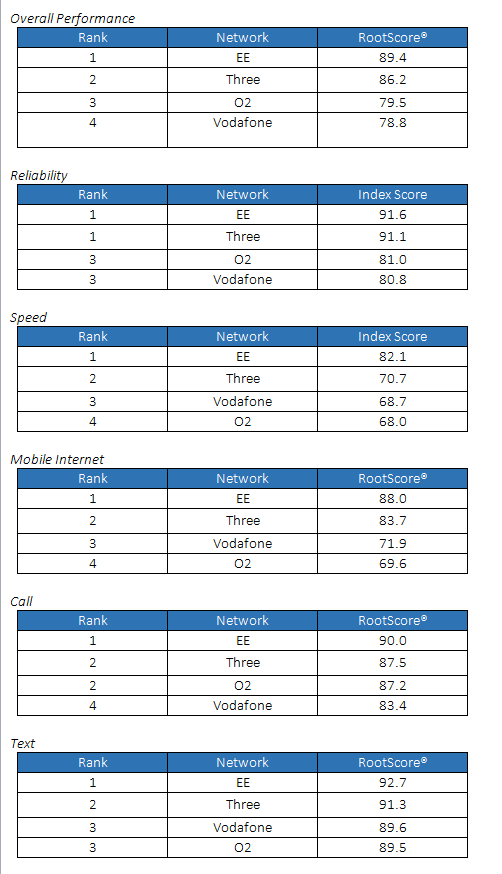 The survey took over a million samples, up from the 920,000 last time, spread over 38,600km (24,000 miles) in the drive-round survey and looked at the 16 largest metro areas.
The results are very different to those collected by the NetRadar app, which were announced yesterday.
What the survey doesn't do is give any information on call quality, and RootMetrics is not alone in doing this. The proposal from Ofcom and the Ministry of Fun for checking that the operators have reached their goal of 90 per cent of UK geographical coverage, doesn't seek to measure quality either.
"The networks are all getting better, period. We saw improvements across the board in speed, mobile internet performance, and network reliability," said RootMetrics CEO and President Bill Moore.
"Consumers deserve reliable mobile experience wherever they are, whether they're making a call, downloading a video, or texting friends. That's why, in this third time we tested the UK, we went even further into cities, rural communities and on the road to provide the most comprehensive, scientifically sound, and fiercely independent view of mobile coverage available anywhere." ®