Not just Imation's imagination: That sinking feeling is real
A different story from last year
+Comment Imation has turned in another quarter of revenue decline and losses and a full year of shrinking revenues.
Its management is talking about strategic options and unlocking value with a financial advisor – which sometimes means selling off non-performing assets, though we couldn't say it does in this case.
Let's get the numbers out of the way first. Fourth quarter revenues were 15.4 per cent down on a year ago at $197m. There was a net loss of $14.4m, which compares badly to a $16.7m profit a year ago.
Imation's consumer and commercial storage media revenues continued an expected secular decline in Q4 2014. It has two business units: consumer storage and accessories (CSA) and tiered storage and security solutions (TSS). In the quarter the Audio and Accessories part of CSA grew revenues 17.4 per cent over Q4 2013 and within TSS, Storage and Security Solutions revenue grew 10.1 per cent over Q4 2013.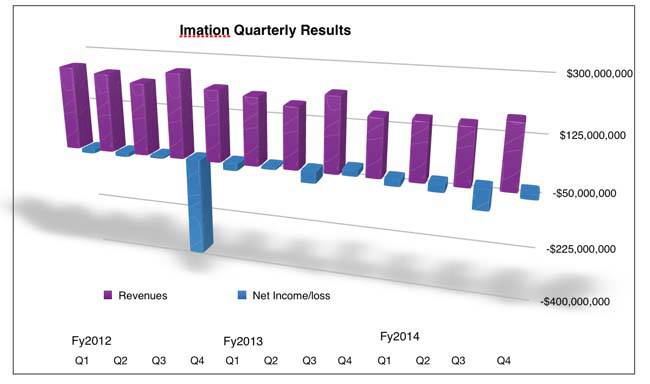 Imation quarterly revenues to Q4 cy2014
Imation CEO Mark Lucas said in a prepared statement: "During the fourth quarter we continued to see positive sales momentum in our storage and security portfolio with both sequential and year-over-year growth in our IronKey mobile security products and our Nexsan hybrid storage solutions. We will continue to further strengthen our TSS business unit to fuel profitable growth over the long term."
It seems obvious that IronKey and Nexsan growth isn't anywhere near enough to offset the declines elsewhere. Surely profitable growth over the long term means dumping basket case assets.
The annual picture paints the overall decline with unforgiving clarity. Revenues for 2014 were $729.5m, 15.3 per cent less than 2013. Net income was a loss of $114.7m, more than double 2013's net loss of $44.4m.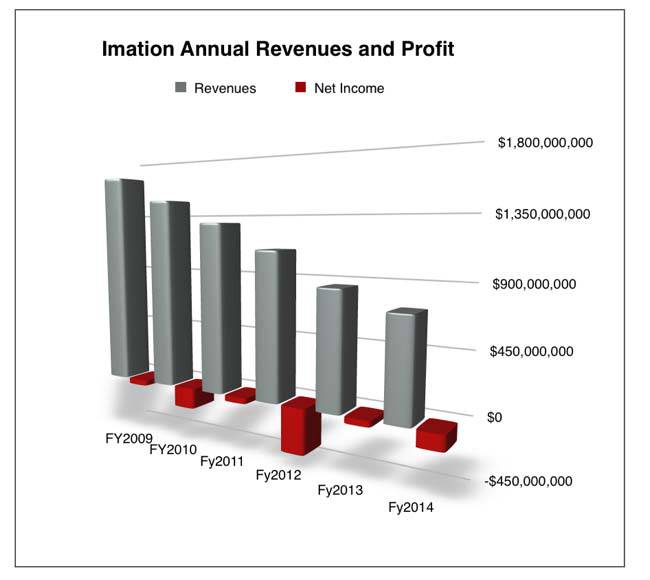 Down, down, down - Imation's annual revenues to 2014
The company has been trying to transform itself after its optical and tape media businesses crashed several years ago. Whatever management's been doing it's not working effectively enough, with five years of shrinking revenues and constant losses.
Lucas said: "In 2014, we continued to execute our strategic transformation and to invest in our business to facilitate our return to revenue growth."
Meanwhile, Imation is talking to financial advisor Houlihan Lokey about what to do with its CSA and TSS business units.
Imation admits that "During the [multi-year] transformation process, the Company has worked extensively with external advisors and has had discussions with third parties to fully examine a variety of available options."
Now it is evaluating with Houlihan Lokey "to review and explore certain strategic options to maximise the value of each business unit".
Lucas said in a separate canned statement:
This evaluation is another important milestone in Imation's ongoing evolution in becoming a global leader in data storage and security. The changing industry and competitive landscape affirms that we are on the right path as we continue to seek the best method of maximising value for each business unit and for our shareholders. Enhancing the independence of each business unit may allow each team to focus solely on its own growth and product development.
Well, wow. What does "enhancing" the independence of each business unit mean? Some type of split? Watch this space. ®