This article is more than 1 year old
Russian revolution: YotaPhone 2 double-screen JANUS MOBE
100 hour battery life and e-paper? Yes please
Keep on runnin'...
Press the selfie button on the rear screen and you can take advantage of 8MP camera for those narcissistic needs. The preview image on the e-paper screen looks a bit dubious but works well enough for basic composition. The e-paper display also has a decorative function. It can be set to display images from your phone or Facebook account so the backside of your phone need never look the same twice.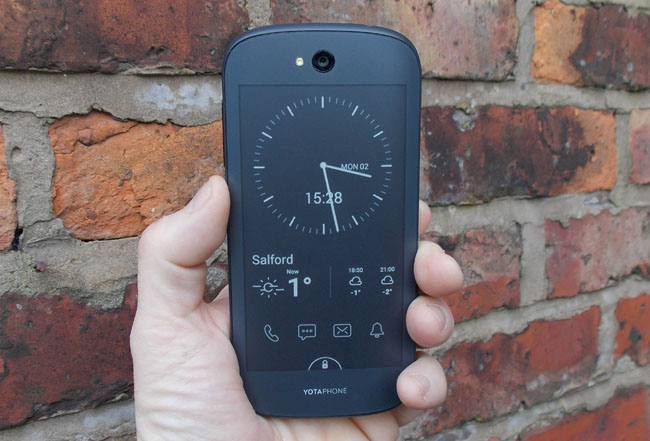 Lower your expectations a little and the e-paper screen is perfectly useable
As far as interaction goes, the e-paper panel can feel a bit slow but that's more down to the nature of the beast and the fact that it is always going to feel slow compared to the AMOLED screen interface. In everyday use, I found the rear screen interface more than acceptably brisk. It's a question of managing expectations.
So, what about the YotaPhone 2's raison d'être, battery life? Use it as a regular phone and we are talking about a day and a half on average. But fire up the e-paper screen and you can read a book or watch the minutes pass for hour after hour with scarcely a milliamp used.
Yota reckons you can read for 100 hours with the handset still managing other smartphone tasks, which I'd say is a reasonable claim though it comes down to what else your device is doing and how many of its comms options are active. The screen may be the biggest power draw on your phone but it's not by any means the only one.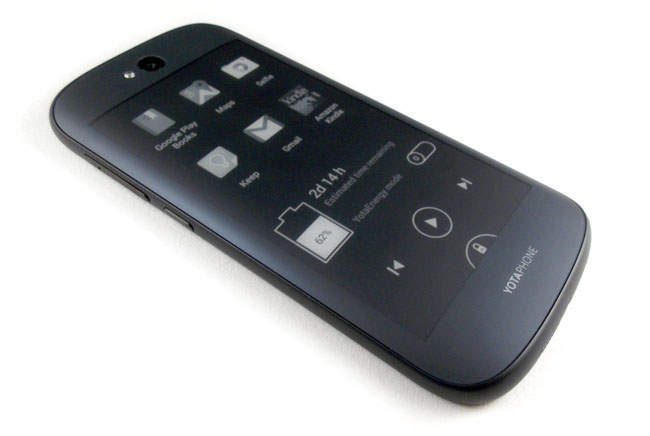 How long before the mega mobe makers begin to mimick the YotaPhone 2?
Shut off the GPS, 802.11ac Wi-Fi, Bluetooth 4.0 and NFC – using the adjustable YotaEnergy toggle – and the projected battery life jumps from a matter of hours to a couple of weeks. Go the whole hog and this renders your smartphone dumb but it's still a handy feature if you are out of juice and just want to take calls or text messages both of which you can easily do using the grayscale rear screen.
The Reg Verdict
So, has Yota cracked it second time around? Yes. As a phone the YotaPhone 2 is a very neat device. Well made, ergonomically sound, handsome and quite powerful. All the ancillaries like the cameras and speakers (and yes, the phone bit) do a fine job and the 5-inch AMOLED screen is a very resepctable example of the breed.
Yet it's that e-paper screen that offers genuine and unique benefits delivering an enduring battery life. It's arguably the first effective improvement on how we interact with our smartphones that, in the process, finds a good use for the hitherto redundant space on the back. For that alone, I'll forgive the rather steep asking price. ®

Russian revolution: YotaPhone 2 double-screen JANUS MOBE
Android 4.4.3 dual-display smartphone with a 2.2GHz quad-core Qualcomm MSM8974 PRO-AA processor, 2GB of RAM and 32GB of fixed storage