Six-pack shenanigans
After shaking five of the six cans, the saboteur then proceeds to switch the positions of the cans in sort of alcoholic Three Card Monte trying to make you forget which one is safe. Choosing the safe beer can prompts a note at the bottom of the screen, "This Bud's for you" and points all round. But if you pick one of the cans that was shaken up, a stream of pixels representing a beer/pop explosion happens: "Oops" no points. It doesn't matter whether you win or lose these bonus rounds, as you can then proceed to the next stage.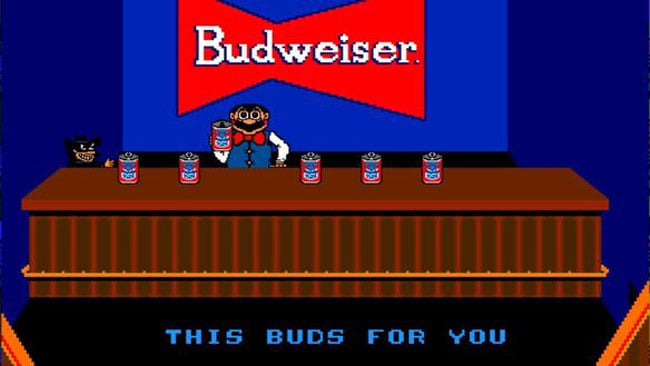 Thirsty work
The aesthetic of the arcade machine cabinet contributed to the Ye Olde Bar feel – all fake wood and stained glass, it was instantly recognisable and gave the game real character, making me feel like an extra in an episode of Cheers.Tapper is now also available as an app but in this strange cartoony remake, the original characters have lost much of their charm.
Whilst reminiscing about Tapper, it would be remiss of me not to mention a few of the other virtual bars where I have wasted hours in other video games. Often a place to pick up quests, meet with low life accomplices or alternately gain health from a quick nap, many games would feel incomplete without a honkytonk flophouse.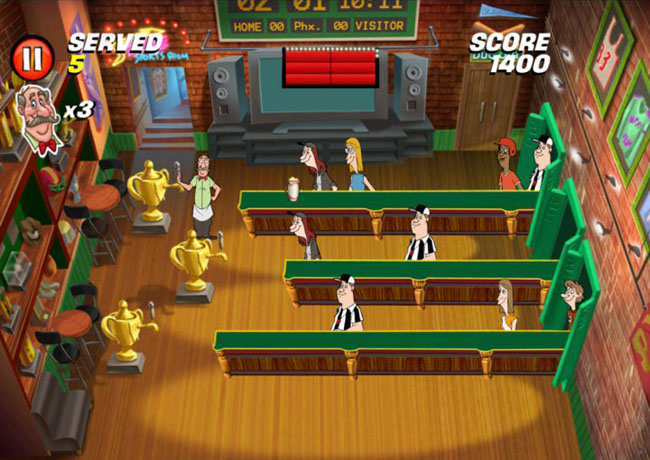 Tapper WB Games app version
One contender for sleaziest bar in a video game has to be Lefty's from Leisure Suit Larry, the NFSW pixel paintings on the wall are nothing compared to the general demeanour of the clientele.
The Scumm Bar in Monkey Island isn't much of a step up from Lefty's, but anywhere I can hone my pirate skills and drink grog is an essential stop on any video game bar crawl, if only to pat Spiffy the dog.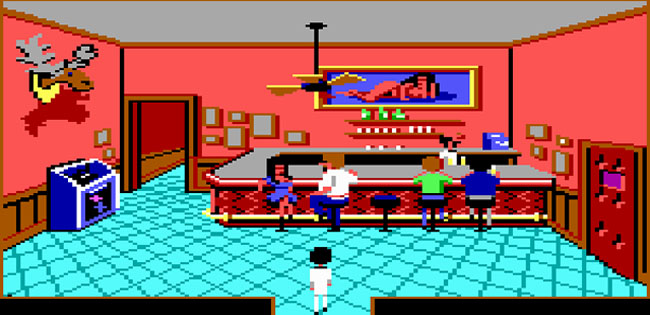 Lefty's Bar from Leisure Suit Larry
The Elder Scrolls: Skyrim features a tavern called The Drunken Huntsman, which is a great place for a warrior to relax and listen to a tale after taking an arrow to the knee, or the bum if the legend behind the name of the tavern is to be believed.
What with the recent remaster of Grim Fandango (reviewed recently), it's a perfect time to revisit The Blue Casket to hear the melancholic Nick Cave-esque dead-beat poetry and knock back a coffin shooter.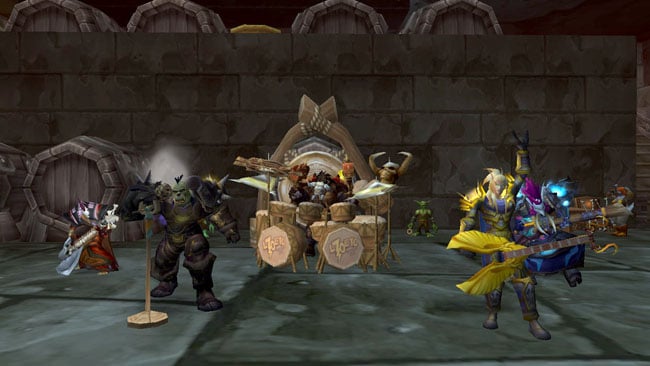 Live entertainment at WoW's Blackrock Depths
Blizzard deserves a special mention for creating such a vast array of inns, containing vendors of an infinite assortment of alcoholic beverages. I have laid my hearthstone at innumerable drinking establishments in World of Warcraft. Now, with the introduction of garrisons, I even have one to call my own. The legend of The Grim Guzzler hidden deep within Blackrock Depths might be worth a visit or a Thunderbrew lager and, if you have the right item, you might just get the band to play.
I'd like to think that any video game worth its salt would include somewhere to imbibe. But for the moment I'm for too busy distilling moonshine in This War of Mine to venture out.
For more geekiness and booze, or just a visit, hang up your coat here. ®