Microsoft's personal productivity apps acquisition spree continues, the latest slurp being that of Sunrise, a provider of calendar apps for Mac, iOS and Android.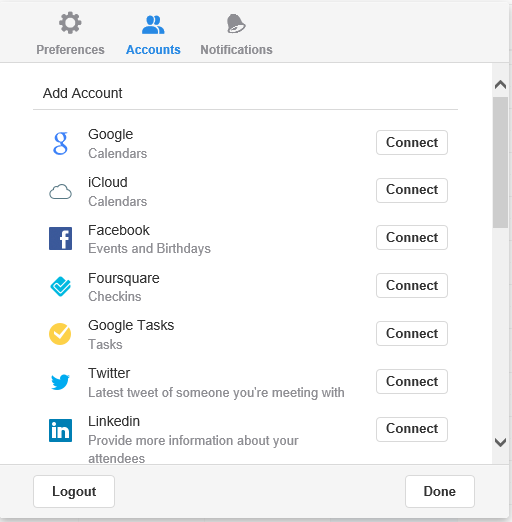 Sunrise links to multiple calendars and cloud apps
The Sunrise app does not maintain a calendar of its own, but provides an aggregated view of multiple calendars and events, with sources including Apple iCloud, Google, Facebook, Eventbrite and Github. "By connecting your calendar with a range of services, [the Sunrise app] provides a far better view of your day, week or month ahead," says Microsoft's Outlook and Office 365 VP Rajesh Jha in the announcement.
Sunrise is a popular app, but its support for Microsoft's platform is currently indifferent. You can connect to an Exchange or Office 365 calendar in the app, but if you log in on the web, Exchange calendars are not visible. You can log into Sunrise with a Google or Facebook account, but not with a Microsoft account, and there is no version of the app for Windows or Windows Phone.
Microsoft will no doubt be working on these shortcomings in the coming months. The Sunrise app itself remains available and is free.
In some respects, the acquisition is similar to that of Acompli late in 2014. Acompli's app is mainly for email, and was re-launched recently as Outlook for iOS and Android. Like Sunrise, Acompli/Outlook is able to aggregate multiple accounts and provide a seamless, unified view. Microsoft, it seems, is prioritising usability and the convenience of a one-stop app rather than one that only supports its own platform.
The new Outlook app is problematic from a compliance and security perspective, because it uses a cloud service to aggregate emails before pushing them down to the client. This means that the cloud service needs the users' credentials, and emails are stored in the cloud even if the mail server runs on-premises. A related issue is that ActiveSync security policies, such as requiring a PIN on the device, are not enforced.
Unlike Acompli, "Sunrise does not host any calendar data," according to its support documents, so it is not subject to the same issues. However, this also explains why Exchange accounts do not appear in the Sunrise web app.
The wider question here is how Microsoft intends to integrate its new personal productivity apps both with one another – Acompli/Outlook also has calendar support – and with its existing Exchange and Office 365 support in Windows Phone and Windows 8.
The newly acquired apps are great for usability, but lack the enterprise heritage of Windows Outlook and Exchange. Corporate customers will be wary until Microsoft works out how to tick all the boxes for compliance, security and manageability. ®