FOCUS! 7680 x 4320 notebook and fondleslab screens are coming
DisplayPort standard beefs up to plonk 8k screens in your lap
---
An update to the DisplayPort standard is promising to bring about a new line of 8k screens for notebooks, tablets and all-in-ones.
The Video Electronics Standards Association (VESA) has published a new standard for embedded display hardware. The eDP 1.4a update will support connections of 8.1Gbps per-channel and allow for resolutions of 7680 x 4320, or 8K.
The embedded display category includes notebooks, tablets, smartphones and all-in-one PCs, meaning vendors will soon be able to offer those devices with clearer, higher resolution screens.
The release comes about five months after VESA pushed out the DP 1.3 specification to bring 8k screens to desktop monitors. Like eDP 1.4a, the DP 1.3 standard brought with it a boost to the per-lane bandwidth capacity to 8.1 Gbps, allowing for more data to be pushed through a single connection..
With the new release, the ceiling for notebooks and tablets will be brought in line with that of external monitors.
The eDP 1.4a will also add support for partial update functions, in which the GPU only changes a portion of the screen on refresh, and Multi-SST Operation, a feature which VESA believes will allow vendors to build thinner LCD displays that require less power to operate.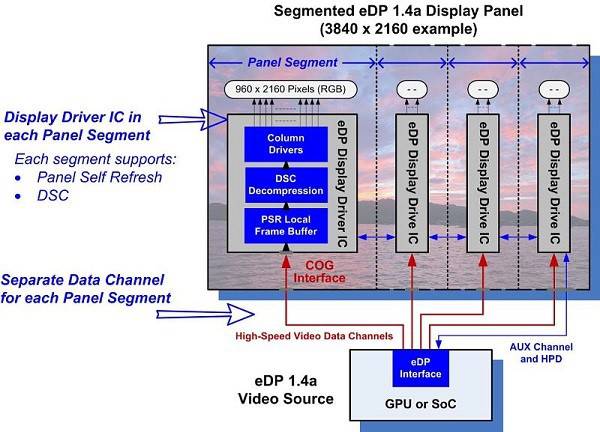 A diagram of the new eDP 1.4a standard
"The Multi-SST Architecture enables greater design flexibility and power savings in new LCD panel technologies for embedded high resolution displays," said Samsung Display Co. vice president Bong-Hyun You.
"Samsung proposed this feature in order to permit panel makers to make even broader usage of the eDP interface in advanced panels, as well as reduce panel thickness, reduce power draw, and reduce cost."
VESA said that it is aiming to have eDP 1.4a devices ready for market by next year. ®