This article is more than 1 year old
Think you're hard? Check out the frozen Panasonic CF-54 Toughbook
Rugged, skinny and light – Angelina Jolie in laptop form
Pics Thinner, lighter, harder. Pick any two right? Not according to the flacks from Panasonic who reckon the new CF-54 Toughbook is all three and more.
In fact, they are suggesting that the CF-54 is the first semi-rugged laptop you may just want to splash out for, even if you are just a regular consumer. Albeit one with deep pockets.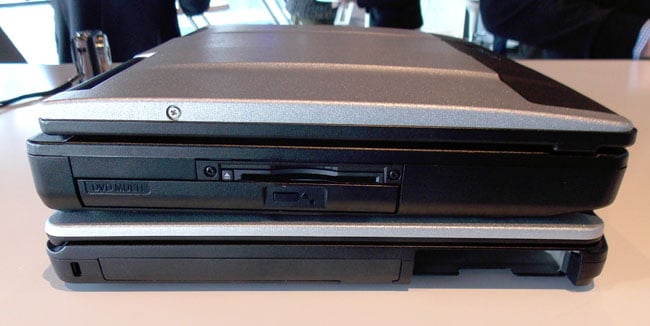 Panasonic Toughbook older CF-53 model on top of the new CF-54
You see the CF-54's predecessor, the CF-53, was certainly tough enough but it was a bit of a monster. Thick as a brick, twice as heavy and three times as ugly – it was a man-sized laptop and no mistake.
The new model, while offering the more or less same ruggedness, is now 50 per cent thinner and 25 per cent lighter. We are talking about a drop from 2.65kg to 1.99kg and that makes one heck of a difference if you are humping your laptop around with you all day.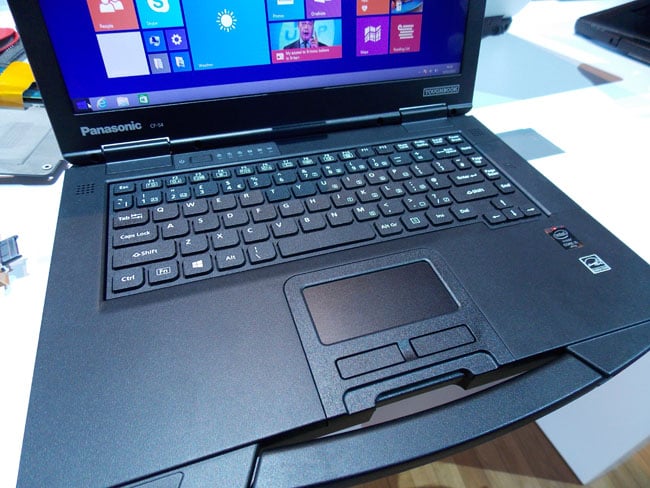 Note twin button click bar
When comparing the specs of the CF-53 and CF-54 you notice there has been some compromise. The former can survive drops from 1m, the latter from only 76cm. But what's 24cm between friends? Panasonic weren't about to let us start throwing the press samples around the Porsche Visitor's Centre in Leipzig where the European launch took place so I have to take those figures on trust.
It's worth pointing out that the reduced drop height still complies with the US military's MIL-STD 810G standard as does the unit's resistance to vibration and temperature (-10 to +50 degrees to be precise). When it comes to keeping dust and crud out the CF-54 is rated to IP5x standard and it is spill resistant to the tune of 200ml across the keyboard and touchpad.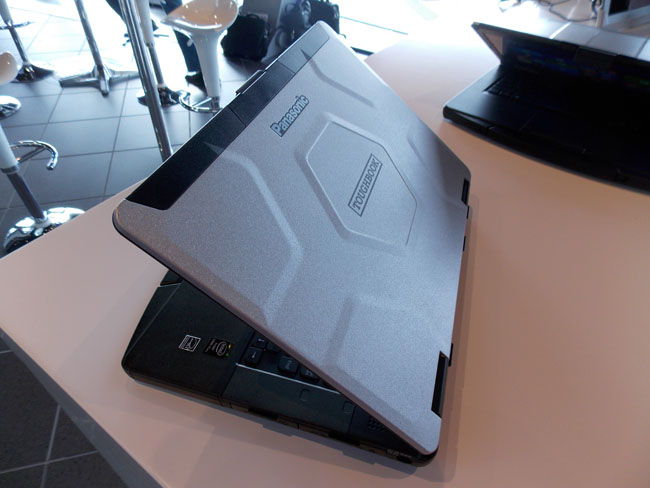 The honeycomb back is thinner but stronger
Spill resistance is actually rather better than before thanks to improved drainage and better waterproofing at the hinges. Once again, we had to take that on trust as nobody was keen to follow up my request to throw a glass of beer over one of the demo machines.
Much of the weight saving has been made by using a new magnesium chassis and honeycomb pattern magnesium lid. The new lid is apparently not only lighter than the CF-53's aluminium bonnet but also significantly stiffer. Allegedly, a man can stand on the CF-54 and not do any damage (just so long as his weight is evenly distributed).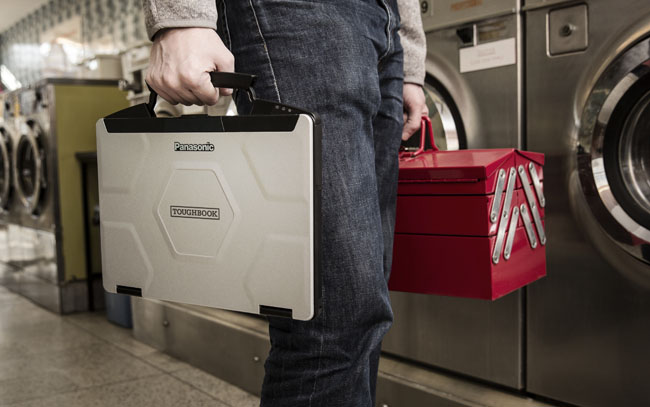 Weighs less than the toolbox, but that should be no great surprise
The fancy lid design apart, the CF-54 is very obviously a Toughbook right down to the signature extending handle at the front. As part of the Toughbook basic design, it wasn't broken so there was no reason for Panasonic to fix it.