This article is more than 1 year old
Think you're hard? Check out the frozen Panasonic CF-54 Toughbook
Rugged, skinny and light – Angelina Jolie in laptop form
A touch of frost
Features new to the CF-54 include a standard built-in heater for the SSD (128 or 265GB) or HDD (500GB) so if the machine detects a colder-than-a-witches-tit ambient temperature when you hit the power button, it warms up the drive. Just to prove that this feature is every bit as good as it sounds a senior Panasonic bod pulled a CF-54 out of the freezer and booted it up, no problem.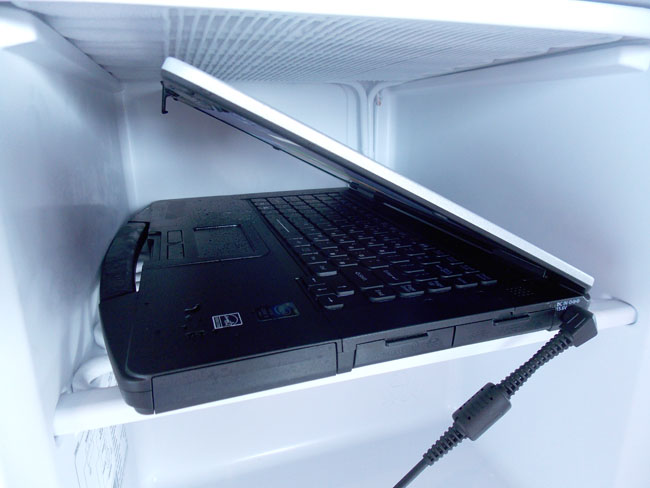 In the freezer, where else? Yes, that's ice
The Panasonic Toughbook CF-54 also has a Full HD (1920 x 1080) and touchscreen option. The latter apparently works with any sort of glove known to the industrial worker, a functionality claim I did manage to put to the test successfully.
Another available option is a discrete AMD FirePro M5100 graphics card to partner the Intel Core i5 vPro or i7 vPro CPUs (the latest Broadwell parts, natch, with 4GB of RAM) so you can have a Toughbook with genuine graphics grunt.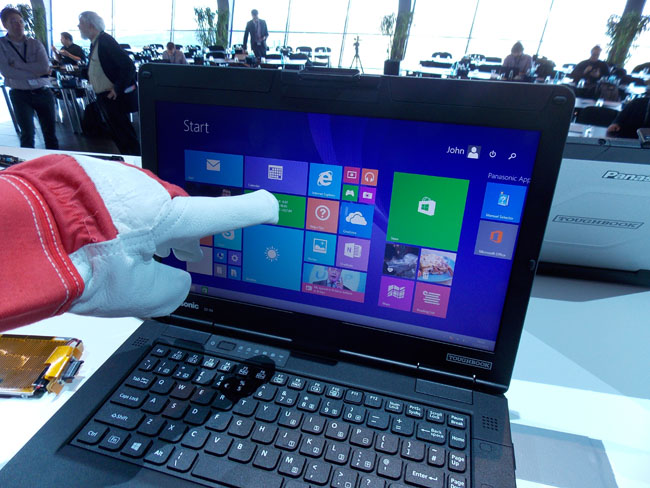 Tough glove
The keyboard has been given a welcome upgrade too. The new chiclet-esque design is almost Lenovo-like in its quality and much the better to type on than the CF-53's more conventional keyboard, and it can be had with a four-level backlight.
Panasonic made much of the paint job on the keyboard which apparently makes the lettering easier to read in low light without the backlight on. Not sure I got that but lighting conditions at the presentation were not sufficiently subdued to put this feature to the test.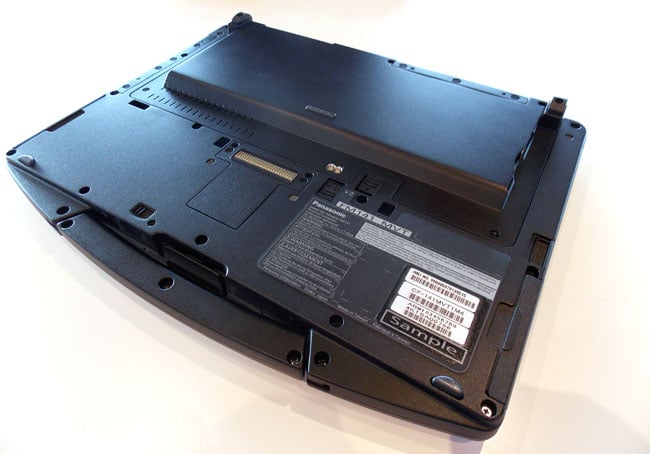 The back plate expansion version
Peripheral upgrades include a boost to maximum screen brightness (now up to a maximum of 1,000cd/m²), an 8MP camera built into the lid (apparently a vociferous demand from the loss-adjusting community) and improved loudspeakers.
Probably the most useful feature to the man in the street is the swappable DVD drive and battery. If you don't need the disc player you can just slot a 2960mAh battery in to back up the 4,200mAh standard unit.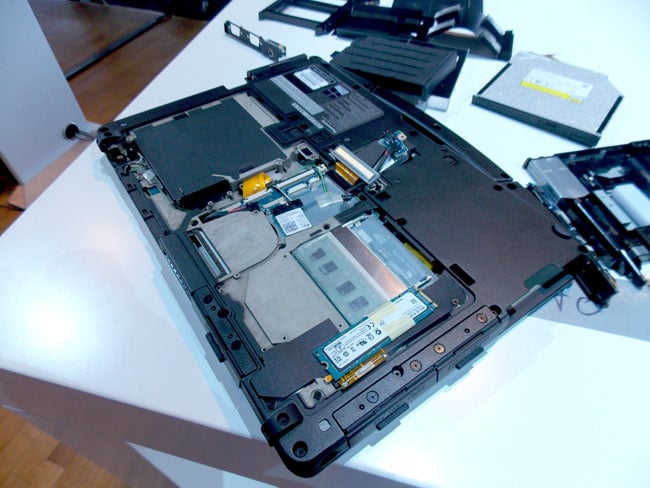 Opened up and emptied out – click for a larger image
Of course this being a machine aimed more at enterprise than the consumer you can specify a truly bewildering array of optional connectors. Four USB 3.0 ports? No problem. A further internal USB port? Easy. Serial ports – much in demand for the Nordic markets, apparently – sorted.
However, what the Panasonic CF-54 Toughbook isn't, is cheap. The basic 1366 x 768 HDD machine will set you back £1142 ex VAT (£1370). Go for the top-of-the-range Full HD machine with an SSD and touchscreen and that jumps to £1662 ex. VAT (£1994). Options such as the AMD GPU or larger capacity SSD will bump that figure higher yet.
Still, at least you'll be getting a laptop that you can safely let the kids loose on from time to time and even pass it on to them when the time comes. ®