A Spool of Blue Thread
Anne Tyler is the author of 19 novels and winner of many US literary awards, including the Pulitzer prize for Breathing Lessons (1989), although many will know her work from the film of the book The Accidental Tourist, a romantic drama starring William Hurt, Geena Davis and Kathleen Turner.
Her latest work, A Spool of Blue Thread, is an old fashioned family melodrama which takes place between 1959 and the recent present. "The Whitshanks were not remarkable in any way whatsoever," she writes. Ms Tyler damns herself from the outset… then pray why write about them, Anne?
Leo Tolstoy's legendary opening gambit goes something like: "All happy families are alike; every unhappy family is unhappy in its own way" (Anna Karenina). And I think your reaction to this kind of book depends on personal experience. Readers who grew up in Tolstoy's former category are much more likely to gain something from works like this, which kind of act like a surrogate family. One could almost unkindly call them widow porn. Whereas if your experience of family life is more of the latter kind, this kind of book is pointless voyeurism akin to watching paint dry.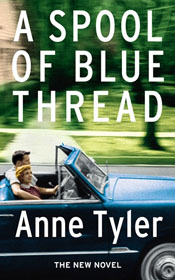 Winning the Pulitzer prize, in your correspondent's opinion, generally translates as: not short of a turn of phrase, but unimaginative in the subject matter department. Indeed, Anne Tyler would conform to this category. She does ditzy women well though, "Carla was pleasant, but distracted, as if she were wondering whether she'd left a burner on at home".
A Spool of Blue Thread centres around the life of Abby, a matriarch who has begun to have dizzy spells. Red, her husband, has just had a heart attack and so the four siblings – the black sheep, the adopted one, the tomboy and the bitch – all convene at the homestead to care for their parents, help out and decide what to do. That is the first half.
Abby is a quite attractive character, but is wiped out mid-novel, there is a funny bit after the funeral when the family discuss the preacher:
"Where did he say she'd gone?" "To a universal consciousness" "Well that does sound like something your mother might do."
There's also a romantic message via a post mortem dream: "I want to learn every step of you and dance till the end of night" ...and then we are taken back in prequel stylee to 1959, when Abby and Red first met and things get all Peyton Place. "It was a beautiful, breezy, yellow and green afternoon…"
What follows is a retrospective love/life story where family secrets are revealed...before a rather anticlimactic ending back in the present-ish. The trouble with this kind of novel is you can show it as well or better on screen, although most of the first half of the novel takes part in the 21st century, this is essentially like a Douglas Sirk 1950s melodrama without the interesting bits. A kind of, All That Heaven Purgatory Allows.
The dialogue suffers from too much filler of this ilk: "Red, isn't the chicken delicious?
-I'll say! I've had two pieces and I'm thinking about a third.
-You can't, it's full of cholesterol!"
There is too much idle chatter, the omniscient narrator tries to be everywhere at once and, with the exception of Abby, does not linger on any character long enough to create much impression.
To be frank, this book is designed to warm the souls of lonely mothers and daughters, of which I am neither. It could be a posh soap opera for your mum, but overall A Spool of Blue Thread moves too slowly and predictably to an overdue conclusion. ®

Author
Anne Tyler
Title
A Spool of Blue Thread
Publisher
Chatto & Windus
Price
£18.99 (Hardback), £10.99 (eBook)
More info
Publication website