This article is more than 1 year old
Lightbulb moment for visible light networking: 200 Gbps without a fibre
We don' need your steenkin' Wi-Fi – Oxford data-over-rays boffins
If you think the multi-gigabit per second performance promised by WiFi communications is hot, think again: research out of Oxford University is claiming 100 Gbps and beyond in homes using free-space optics.
The research, led by photonics engineer Dominic O'Brien, uses a base station to communicate with computers using light instead of radio waves, and the boffins reckon an optical system could run at up to 3 Tbps.
Currently, their claim is much more modest, with their IEEE Photonics Technology Letterspaper talking about speeds above 100 Gbps.
So that the light beam doesn't disperse too much, it's steered using an array of liquid crystals. This, explains IEEE Spectrum, creates a programmable diffraction grating "similar to that used in projectors".
The speed of the system also depends on the field of view of the receiver. With a wide field of view, more wavelengths can be used to multiplex the signal: a 60° field allows the system to use six wavelengths, while a 36° field only supports three wavelengths.
That, however, is enough wave division multiplexing to let the system transmit at 224 Gbps (six channels) or 112 Gbps (three channels) respectively.
While the current technology only works at distances up to three metres, that's enough for practical in-room networking.
O'Brien's work is part of a larger effort to develop visible light communications, the Ultra-parallel Visible Light Communications project supported by the UK's Engineering and Physical Sciences Research Council.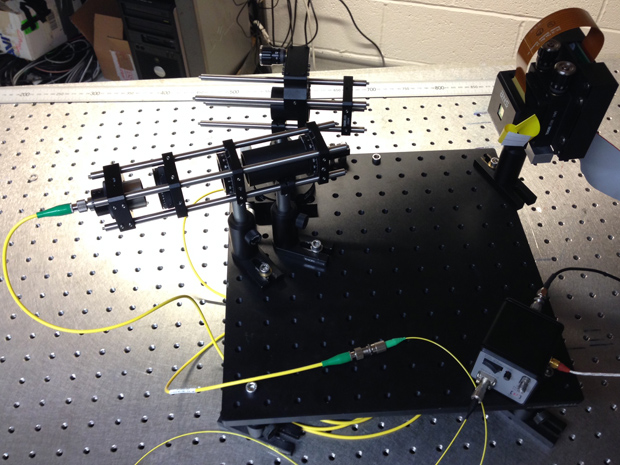 Oxford Photonics is using free-space lasers for high-speed in-home-scale networking.
While such efforts often focus on visible wavelengths for data transmission – the "Li-Fi" development effort – O'Brien's team worked at the 1550 nm band familiar to the telco industry.
Among other things, that provides access to off-the-shelf silicon for key components like the lasers. ®