Violin fiddlings revealed: Two new flashy boxen, but what's this chart?
Good new kit, shame about the marketing
---
Violin Memory is back on a level playing field with all other all-flash array suppliers. It's launching two new flash array systems with integrated data services through its Concerto operating system and Symphony management software upgrades. It's also adding 40Gbit Ethernet connectivity.
The pitch is that Violin now has the data services portfolio and the AFA costs, in total-cost-of-ownership terms, for it to be feasible to store all your primary data – tiers 0, 1 and 2 – on its flash with everything else archived.
For individual customers that's going to depend on workloads and bulk data storage needs; as ever, your mileage may vary.
The first new box, the 7300 Flash Storage Platform (FSP), is a 3U unit which supports from 11 to 70TB of raw flash, with an effective maximum capacity, after inline dedupe and compression, of 221TB.
Effective capacity is calculated thus: (raw capacity – spares – parity) x dedupe rate = effective capacity. The dedupe ratio is 6:1. Violin says some workloads like database will get less, some like VDI will get more. It doesn't include any thin provisioning in the data reduction calculation.
There is a capacity-reduced 7300E system, with up to 127TB effective capacity (35TB raw) as well as the basic 7300 with up to 221TB effective capacity (70TB raw).
Think of the 7300 as a converged and integrated Concerto data services head and 6000 array.
The 7700 FSP is physically larger, at 24U, consisting of a head unit and 6 storage shelves connected across a Fibre Channel backplane. All capacity is delivered from 7300E, 7300, 6200 or 6100 shelves; all MLC flash systems. The high-performance SLC flash-using 6600 array could be used as a 7700 storage shelf as well. At least one shelf is needed for a single site, two for a stretch cluster.
Its supported flash storage ranges from 11 to 422TB of raw flash, up to slightly more than 1.3PB effective capacity, in a single namespace, at the high point.
Connectivity options for the 7300/7700 include 16Gbit/s Fibre Channel. 10GbitE iSCSI with 40Gbit/E iSCSI in the first half of this year.
Both the 7300 and the 7700 have 4th generation architecture with enhanced VIMMs (flash die-carrying Violin Intelligent Memory Modules). Compared to the previous VIMM technology Violin says customers will see:
100 per cent improvement in sustained IOPS and latency performance,
A sixfold boot time improvement
Optimisations for less DRAM usage
IO concurrency for writes
Logical to physical journal and checkpoint
System level stripe cyclic redundancy checks
Better garbage collection with hot and cold data separation
Violin says that SSD-based AFAS have non-concurrent writes, meaning reads have to wait until writes complete.
All of this should add up to better endurance and reliability as well as faster performance.
The basic 6000 series flash arrays now use 19nm flash dies from Toshiba which provides headroom for capacity increases in the future.
Violin says its new arrays with their 4th generation architecture deliver consistent sub-millisecond latency and high IOPS performance.
The 7300 provides 500,000 sustained IOPS, 700,000 burst IOPS with <1ms latency and a 70/30 read/write mix, and 1 million burst read IOPS with <1ms latency.
The 7700 can deliver 1 million sustained IOPS, we're told: twice the 7300's number.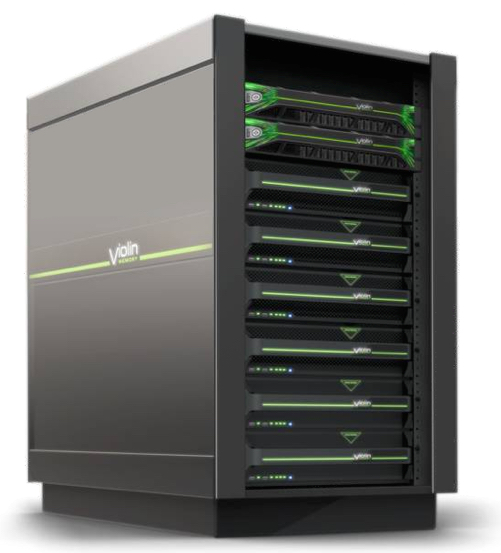 Violin Concerto 7700 with populated storage shelves
The existing 7100 and 7200 systems, both supporting 8Gbit/s Fibre Channel, can be upgraded to a 7700. The 7200 upgrade is to COS7 plus optional 16Gbit/s Fibre Channel cards. With the 7100 it's network switches plus COS7 plus optional 16Gbit/s cards.
Existing 6000 systems can also upgrade.
Servicing data
COS 7 provides integrated continuous data protection, Stretch Metro Cluster (7700) and LUN mirroring. Data reduction can be turned on or off as workloads require; it is not automatically running. Violin is also providing:
Synchronous replication (7700)
Data-at-rest encryption (7700)
App-consistent snapshots which Violin claims are the best in the industry
Continuous data protection
Thin and thick clones
Consistency groups
WAN optimisation and encryption
With this new software there is no longer a need to have separate Concerto heads, with separate GUIs, providing data services. Now there us rewritten software and a single symphony GUI.
Violin claims v3 Symphony provides the "best management in the industry."
Pricing and IOPS... hmmmm
Violin's now ex-marketing head Eric Herzog - he's gone to Big Blue - said: "Two to three years ago flash was ungodly expensive. No more."
Violin reckons its flash cost and price/performance with these new systems is pretty darn good and showed us a table to prove its claim:

Violin 7300 price comparison chart against three other suppliers. Hybrid array has 5 per cent flash.
Let's dig into this a little. We made a graph of the $/raw GB numbers to bring out the magnitude of the differences. The annotations are (1) publicly-available info, (2) discounted GSA pricing and not list, and (3) assumes 40 IOs/transaction.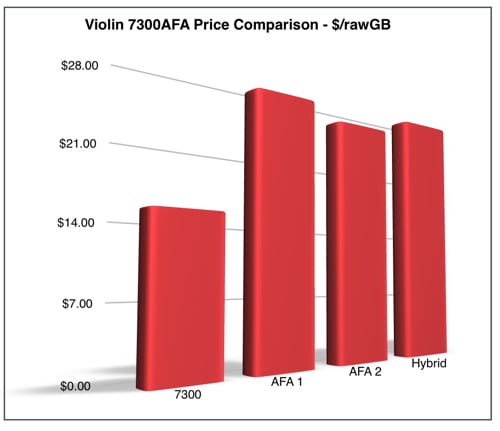 Violin 7300 vs mystery AFA and hybrid supliers
As is usual with these charts and tables, the competing suppliers are not named. We wondered if we could find out who they were by looking at various AFA and hybrid array suppliers' websites.
We are now of the opinion that:
AFA supplier 1 is EMC's XtremIO with a 20TB X-Brick doing 150,000 mixed IOPS
Supplier 2 seems to be Pure Storage's FlashArray 450 with up to 200,000 32K IOPS and 22-70TB raw capacity
It's possible the hybrid supplier is EMC with its VNX array, rather than Nimble, Tegile or Tintri, but we're not so positive as with the other two
If we're right so far, then the comparisons are based on different kinds of IOPS and are therefore pretty crude. Violin claims the 7300 costs up to 85 per cent less $/transaction than other all-flash arrays. If (and when) you do your own comparisons, your numbers may well differ.
Violin's pay-as-you-grow pricing scheme applies to these new systems, by the way.
Game-changing boxen
Anything a traditional SAN can do, these 7300/7700 systems can do too, but faster. Violin says they're suitable for physical or virtualised transaction processing/database applications such as ERP, CRM, GL, OLTP and OLAP, also VDI. They can be used for private and hybrid cloud workloads and also Big Data analysis of structured and unstructured data.
Violin has marketing ground to claw back against Pure and Solidfire, and also IBM (FlashSystem) and EMC (XtremIO) because it lost its way around the time of the IPO in September 2013. We could roughly assume it's got 18 months of development and market attack to make up.
The 7300 and 7700 boxes are game-changers inside Violin, in terms of product engineering. The company really does hope they are game-changers in the market because of their capacity, integrated data services and lower cost/transaction. It needs to up its market momentum and these 7300 and 7700 systems are key to doing that.
The 7300 is shipping now and went Generally Available (GA) a couple of weeks go - stealthy move - with Violin having orders already. The 7700 will GA by the week of 9 March. The 6000-series and 7100/7200 all-flash arrays, as well as the Windows Flash Array remain in production. ®