Inside GOV.UK: 'Chaos' and 'nightmare' as trendy Cabinet Office wrecked govt websites
The most hated website of all time?
Exclusive Poor design and chaotic management by the supposedly crack team at the Cabinet Office's Government Digital Service (GDS) left huge swathes of the British government in disarray, internal documents seen by the Register reveal. The documents confirm that GDS knew its flagship initiative to move all government websites under one roof, GOV.UK, was destroying useful online services and replacing them with trendy webpages bereft of useful information.
One internal report is particularly damning. The Home Office Visa and Immigration site "transitioned [to GOV.UK] without a good understanding of users and needs ... there was quickly a flood of negative feedback ... coming from all directions," an insider states for the record. The report details "a breakdown in fact checking described by more than one person as 'general chaos' and 'a total nightmare'."
The disclosures paint a picture that contradicts the public image of supremely confident digital gurus modernising the British government's many websites, and making them more efficient. For all its vaunted skills in website design, GDS had a far poorer understanding of what the public actually needed than the relevant government departments did – this, according to GDS' own internal analysis.
At one stage ministers and Home Office press staff were put on alert for a rash of negative stories after the badly redesigned Visa and Immigration website left visiting notables unable to enter the UK. Irate users besieged call centres with complaints – "switchboards are melting", one insider wrote. Yet eight months later, GDS carried on as if nothing had happened, ploughing on with another "big bang" transition that saw more than 300 more domains move to the gov.uk übersite – creating possibly the most unpopular government web redesign ever yet undertaken.
The digital disaster was on such a scale that one BBC reporter speculated that the transition might be a sophisticated attempt to cripple the UK, and joked that perhaps the GDS worked for North Korea.
The internal documents seen by The Register raise questions over both the Cabinet Office's strategy – of creating an untouchable "digital" Whitehall fiefdom in the shape of GDS – and the Cabinet Office's ability to manage and deliver Whitehall IT projects effectively.
The GDS was created to sprinkle a little fashionable "digital" magic over government online services, which had presumably not been digital enough before. The fact that it reported to Cabinet Office minister Francis Maude made the GDS politically untouchable, and it quickly assumed supremacy in the Whitehall IT jungle.
GDS carefully cultivated an attractive press narrative, focusing on friendly opinion columnists and political reporters – rather than the technical press, who tended to ask more detailed questions. Coverage was fawning. Civil servants across Whitehall needed to get up to speed with the new jargon fast – buzzwords such as "Agile methodology" and "platforms". That, and GDS' prickly response to criticism, led one opposition source to describe the new agency as "cult-like".
GDS' newcomer status was supposed to be a breath of fresh air. In fact, the digital gurus' lack of any skills or knowledge other than webpage design appears to have equipped them poorly for the tasks in hand. As we'll see, GDS and the Cabinet Office failed to heed the warning signals from their own internal enquiry.
Scrimping and saving
The justification for creating a new IT fiefdom within the Civil Service had originally been the promise of cost savings.
"The plan to bring all of its websites under one virtual roof promises to produce £91m in savings," GDS told the National Audit Office in 2013. The GDS would "'revolutionise' our interaction with the State," The Times' political correspondent Laura Pitel reported last August.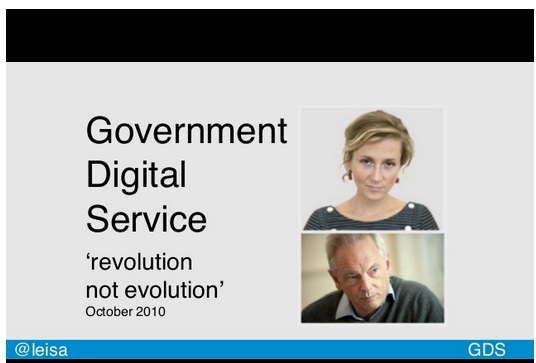 Martha Lane Fox promised Francis Maude she knew how to create a 'revolution' in Whitehall
But it wasn't long before Mike Bracken – the government's "executive director of digital" – was admitting deadlines had slipped, "due to the discovery that some transition projects were bigger than originally anticipated."
"Aviation House [GDS HQ] completely underestimated the scale of the challenge to move all of the operations of big agencies onto GOV.UK," one person familiar with the transition process told us.
GOV.UK has been savaged by users and critics. It's far less popular with the public than the collection of government sites that it replaced. And it's arguably more expensive, too. In this story we'll focus on the Home Office's transition of its Visa and Immigration Department – formerly the Border Agency – to GOV.UK early last year, and how the Cabinet Office failed to heed the warning signs detailed in its own report.