This article is more than 1 year old
Windows 10 for phones: Stepping towards the One True Windows
Hands On with the Windows Insider preview
Microsoft has released an early preview of Windows Phone 10, and we put it through its paces on a Lumia 630, one of just a few supported devices.
In the official announcement, Director of Program Management Gabe Aul does not refer to Windows Phone 10, but rather "Windows 10 Technical Preview for phones".
It's all part of Microsoft's push towards "one Windows" across PCs, tablets and phones.
First impressions are not great. The preview is a little jerky as you scroll through the Start screen and the improvements are underwhelming for a major new release.
Note, however, that the Lumia 630 is a budget device, easily obtained for under £100. It runs a quad core Qualcomm Snapdragon 400 chipset.
If the operating system is being rebuilt though, a shortage of new features is no surprise. The priority is to get the platform right. But how different is Windows 10 for phones from Windows Phone 8.1, at the operating system level?
Currently that is hard to answer completely, since Microsoft has not yet released the Windows 10 SDK and seems to be holding back developer details for its Build conference at the end of April. The company has already stated that DirectX 12 will work across phones, tablets, PCs and Xbox One, though details of device support are not available.
One thing we do know is that Microsoft is making a strong push towards "universal apps", which use the Windows Runtime, as first seen in the Windows 8 "Metro" environment. That push is surfaced here in apps that are now the same across phone and PC versions of Windows 10, including Calculator, Alarms, Sound Recorder (new to Windows Phone) and Windows Feedback. There is also a new Settings app which may or may not share code, but does now have a similar look and feel on PC and phone, with many of the same sections and shared icons.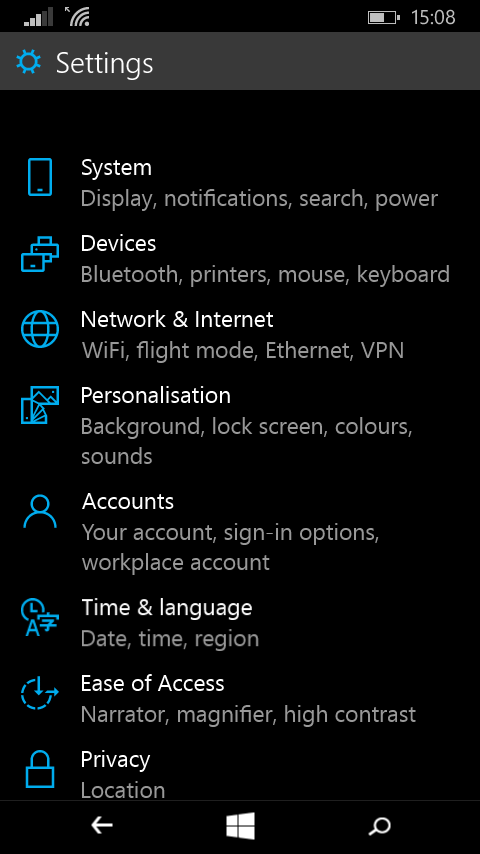 Settings in Windows 10 for Phone