The risks of cross-device user interfaces
Although a more familiar experience across devices is a good thing, sharing UI (User Interface) code across different form factors can result in a sub-optimal design. The Calculator app, for example, has richer features in the new universal app, but the typeface and buttons are small and faint compared to its predecessor which was designed solely for a phone.
The same issue afflicts the new dialler app, and the biggest complaint currently visible in the feedback app is that the phone dialler buttons are too small. Fortunately there is plenty of time to tweak such things before release.
The commitment to universal apps means that the Office applications currently available in preview for Windows 10 will also come to the phone. These include versions of Word, Excel and PowerPoint, which we can expect will be similar to those already available for Android and iOS. Mail and Calendar apps on the phone will be replaced by a version of Outlook.
Despite disappointing initial impressions, spending time with Windows 10 reveals solid improvements. Notifications now support inline actions, such as replying to a text message, and this feels natural and saves time. The Action Center, revealed by a swipe from the top, is now more useful with up to three rows of icons. The Photos app can be set to show content from OneDrive cloud storage as well as the device itself, which means you can easily show snaps taken on other devices.
Replying inline to a text notification
Some standard apps are greatly improved. The Alarms app now includes a world clock, where you can add cities to show times at a glance, as well as a timer and stopwatch; nice features though who expects to find a world clock in an Alarms app? The calculator has Scientific and Programmer modes, as well as numerous conversions. An enhanced File Explorer app comes as standard, replacing the File app Microsoft introduced for Windows Phone 8. Sound Recorder is a handy addition, useful for voice memos or quick recordings in meetings and the like.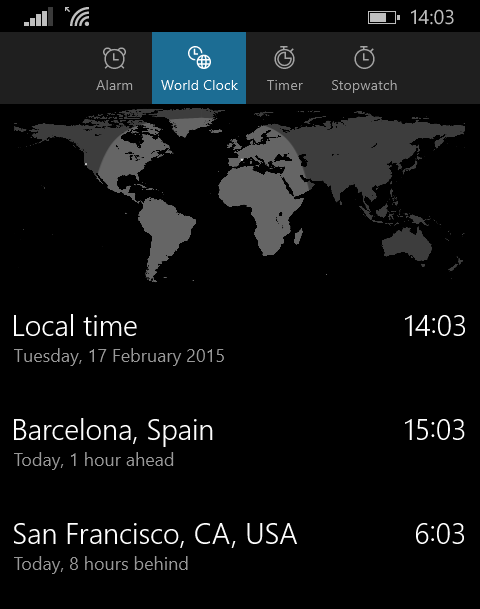 World Clock in the universal Alarms app
Device encryption, previously controlled only via mobile device management such as Exchange ActiveSync Policy, can now be turned on easily through system settings.
There is an intriguing new feature in the Windows 10 keyboard, which now has a blue dot, presumably representing a mouse stick as found on some laptop keyboards. You tap the dot and move your finger to move the text insertion point. If you miss the arrow keys found on most physical keyboards you may like this feature, though currently it is fiddly to control and too easy to overshoot the point you are trying to reach.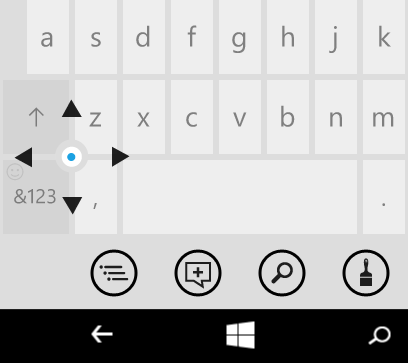 The virtual mouse stick on the Windows 10 keyboard
This first preview of Windows 10 on a phone does show promise. The built-in apps are richer than before, and show how it is possible to create apps that are almost the same on phone and PC. When the Office apps arrive, a Windows 10 phone will be more capable as a productivity platform than its predecessor. Microsoft is also making an effort to streamline the settings and options, a welcome change given the confusing long list that appears in Windows Phone 8.1.
The preview is not intended for general use and there are glitches and performance issues. Developers with any interest in Microsoft's platform should pick it up though, since it shows how Microsoft is bringing commonality to phone and PC via universal apps. In this preview it is mostly successful, though there are places where adopting a common UI is detrimental to usability on a phone.
Can the combined target of PC, tablet and phone convince developers to support Microsoft's mobile platform? In a mobile world dominated by iOS and Android it will not be easy, but there is hope for improvement. The price is right: a Lumia 630 is a cheap device, but with Windows 10 installed it is surprisingly attractive and capable. ®