This article is more than 1 year old
Hitachi smashes SPC-1 benchmark, boasts: We HAF ways of crushing 2 million IOPs
Claims fastest-performing storage array
Hitachi has pushed past the two-million IOPS barrier in the SPC-1 benchmark, with a flash-accelerated VSP claimed to be the fastest-performing storage array ever.
The all-flash VSP G1000 array used HAF (Hitachi Accelerated Flash) modules to score 2,004,941.89 SPC-1 IOPS, 62 per cent faster than the previous fastest system, a Kaminario K2 flash array which attained 1,239,898 IOPS.
The VSP array's performance was costed at $1/IOP, not much more than the Kaminario's $0.80/IOP. The best SPC-1 price/performer was the Kaminario K2 DRAM system's $0.40/IOP.
That system was the third fastest SPC-1 array at 1,219,973.91 IOPS, which underlines the apparent extent of Hitachi's feat; its flash array outperformed an all-DRAM array.
It should be noted that these costings are based on list pricing and not street prices, so they don't provide a real world guide to price/performance, although large differences can be viewed as being indicative of real world differences.
The VSP's average response of 1.15 milliseconds at 100 per cent load was one-third that of the Kaminario K2 DRAM array (2.95ms).
Providing a way of comparing the random IO performance of storage arrays in a transaction environment, the SPC-1 benchmark is publicly audited and verifiable.
Hitachi's result means that EMC's VMAX and IBM's DS8000 arrays, the only comparable high-end systems, now have a performance mountain to climb when engaged in competing bids with the VSP.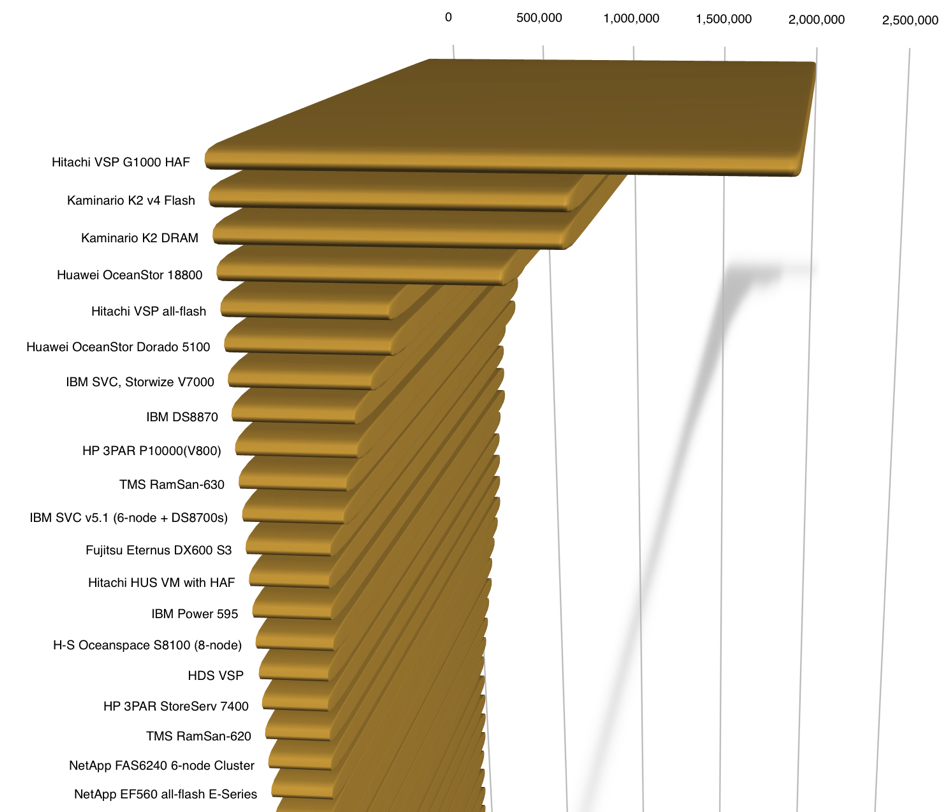 The top SPC-1 IOPS benchmark results
IBM's DS88870 scored 451,082.27 SPC-1 IOPS in October 2012 (at $10.81/IOP), less than a quarter of Hitachi's latest result, but that was a four-year-old disk-based array and can't be viewed as representative of newer and flash-based DS8000 arrays.
EMC has not publicly submitted VMAX arrays to SPC-1 benchmark runs so we have no idea of what its SPC-1 performance would be.
A previous VSP all-flash monolithic array scored 602,019.47 IOPS but that was not using the specially designed Hitachi Accelerated Flash modules, being based on SSDs instead. Hitachi said its HAF VSP G1000 sustained 333 per cent more business transactions than this previous all-flash VSP. Using flash in quasi-disk drive ways just doesn't cut it any more.
NetApp recorded a good SPC-1 benchmark for its latest EF560 all-flash array, 245,011.76 IOPS at $0.54/IOP, a lot fewer IOPS than the VSP G1000 and better price/performance, but then it is a dual-controller array whereas the VSP is a high-end monolithic system.
A HAF-using HUS mid-range Hitachi array scored 304,127.12 SPC-1 IOPS at $0.54/IOPs, beating the EF560 from NetApp on IOPS.
However, the EF560 had a better average response time at 100 per cent load: 0.93ms vs the HUS's 0.96ms. ®