This article is more than 1 year old
Euro broadcast industry still in a fug over that 4K-ing UHD telly
'More How than Wow' says Sky
New Sky thinking?
Nigel Catlow, Business Group Director for Consumer Electronics at GfK was optimistic, noting: "The acceleration we've seen here is happening everywhere, with Germany and France chasing the UK in terms of penetration."
Of course, this boom is largely down to our increasing appetite for big screen TVs, rather than any 4K epiphany. In 2010, 50-inch plus models accounted for 10 per cent of all televisions sold in Blighty. Come 2014 that had risen to 30 percent. GfK is predicting that in three years there will be around two million 4K sets switching on and upscaling in UK homes.
One eagerly awaited session came from Sky. Speculation has been rife that the broadcaster is fast-tracking a 4K service to combat a proposed 2160p offering by BT for its Champions League subscribers.
BT ponied up £897m for exclusive rights to European club football for three years beginning with the 2015/16 season. However Sky chief engineer Chris Johns swept aside questions about an arms race, saying merely: "Don't believe what you read in the papers." Indeed, if the flames of excitement had been starting to lick around the feet of 4K early in the day, Johns was quick to extinguish them.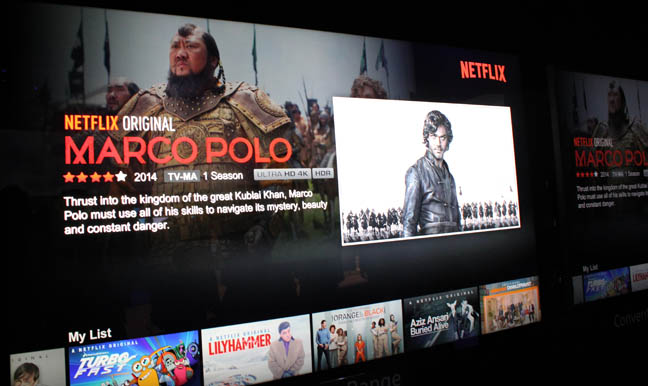 Marco Polo in 4K on Netflix
"4K is more How than Wow," he frowned. "It's not quite there." Citing a lack of agreed broadcast standards and paucity of content, he said the time wasn't right to green light UHD. Perhaps unsurprisingly, Johns is unimpressed with 4K delivered OTT by Netflix.
"I commend Netflix for producing content in 4K, fantastic, but I've compared House of Cards 4K with the HD version and like-for-like which one would I go for? I'd actually err on the side of the HD at the moment. There is something lacking about the 4K version, there was something I was expecting from Ultra HD that just wasn't there. There is no wow, no differential, nothing really shines."
Of course, the man from Sky may well have been using this trade conference to throw us all off the scent. It's inconceivable that the Pay-TV giant isn't forging ahead with 4K plans behind the scenes. It prides itself as a broadcast, innovator after all, and won't happily see Netflix wrest that crown away. There again, Johns may well have just lost his funding. Sky has agreed to pay an eye-watering £4.1bn to show live Premier League footie between 2016 and 2019. Perhaps his 4K launch chest has been plundered?