Be your own Big Brother: Covert home spy gadgetry
Every breath you take, every move you make...
---
Feature Ah, lurve. The sweet strains of Barry White, the bouquets of flowers, the boxes of chocolates. That was Valentine's day. Now it's a week later, and perhaps the nagging paranoia is starting to set in. Why haven't they called? Is your phone still working? Go on, pick it up again and check.
On the Street Where You Live from My Fair Lady
Who knew musical theatre could be so creepy?
They haven't arrived! Perhaps your doorbell's broken? Go on, press it to make sure you can hear it. No reply to your email? Quick, send yourself something from another address, just to check there's nothing wrong with your mail service.
Being head over heels in love can be agony. You want to be with your loved one every moment, or at the very least know what they're up to. Yet, unless you have either the ability to employ them or plenty of free time, you'll have to resign yourself to being apart occasionally. Thankfully, technology can come to the rescue, making sure that, even if you can't be on the street where they live, you still know what's going on.
Of course, this technology's not just for the love-struck, or control freaks like the Rob Titchener's of this world. There are plenty of less sinister reasons you may want to keep an eye or ear on what's happening, too, or know where people have got to. And knowing what's possible can also help you avoid falling prey to it, too.
Track it
In BYOBB, we've looked before at how you can track people's movements with a range of apps and gadgets. Some, like FourSquare's Swarm, will let you know when friends are in the neighbourhood, so you can casually bump into your intended over the vegetable counter, in a rather creepy way – provided the app's installed on their device, of course. And with a little digging, you can find far more intrusive app, especially for Android.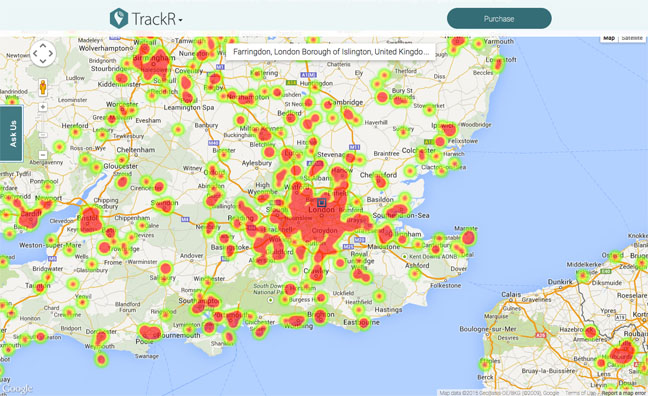 TrackR map zoomed out goes across national borders – click for a larger image
Quite a few of the gadgets we looked at are pretty expensive, though. So, too, are the dedicated tracking devices that you can buy from places like Spymaster and The Spy Shop which are based on similar principles – a GPS module and a GSM module, with a roaming data package to allow for the location to be sent back to a website or app from anywhere in the world.
Not surprisingly, there are other ways to do this. The Trackr Wallet will fit in many purses or briefcases. It's designed, of course, to help when you've lost something important. Rather than having GPS or other battery sucking technology built in, it uses Bluetooth LE. That means you don't get pinpoint accuracy - you wouldn't expect that for a one-off $30 - but it does have some upsides.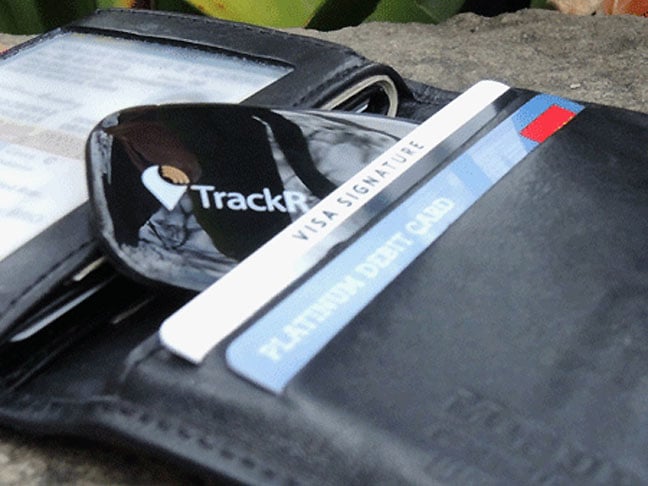 The Trackr is a useful gadget, but like many, it could be mis-used too
One of those is the 'Crowd GPS' function. If you can't find your Trackr, this function uses other people's devices to help locate it. If another user's smartphone comes within range, you'll be notified of the approximate location.
The company's website shows a coverage map, based on current device locations; if you zoom in, you'll see that it's got more black spots that at first appears. That needn't matter, however, if you're certain there'll be another user nearby.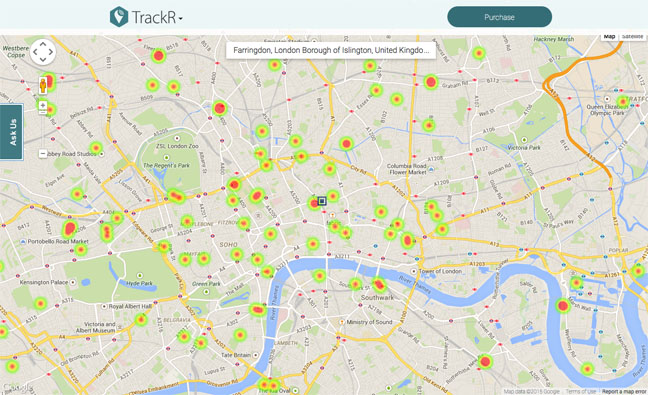 TrackR map zoomed in
It's a little late to give a Valentine's gift, but perhaps you can get away with something for the second or third date. Not a pot plant, though. A pack of two Trackrs costs $50, which is a pretty good deal. Wrap one of them in a nice box for someone, which will encourage them to install the app on their smartphone. Slip the other one into their briefcase after linking it to your phone, and your job is done.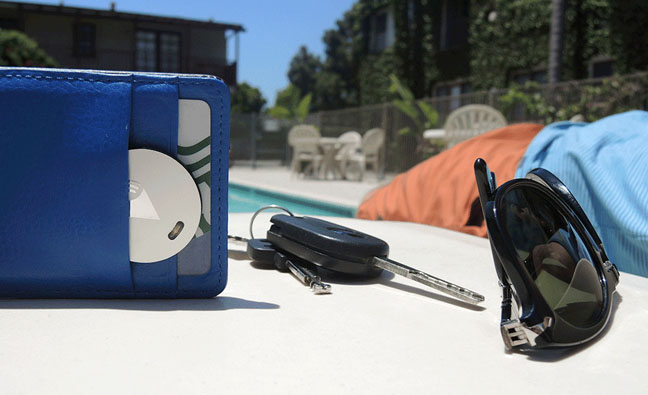 Trackr's Bravo goes on sale in April
If you're concerned about the size, a smaller version of the Trackr, called the bravo, is due to ship in April, and will cost $60 for three. Competitor Tile works in the same way, but unlike Trackr, doesn't have a replaceable battery.