Analysis With commissioners at US watchdog the FCC due to vote on proposed net neutrality rules next week, a poll of Americans has revealed two interesting and important aspects:
Most of them don't know what on Earth net neutrality actually is.
Most of them want to see the rules before they are approved.
This is unlikely to stop the expected 3-2 vote from going ahead next Thursday, or halt what has been an increasingly partisan and mindless campaign on both sides.
Yet it does highlight a significant problem on the part of the FCC and, by extension, the Obama Administration. Why are top officials voting on rules that will regulate 'net access like a telephone service, impacting everyone, and yet to this day remain a secret?
That basic concern leaves the FCC open to attack from Congress and to public opinion.
The survey by the Progressive Policy Institute (PPI) spoke to a cross-section of 800 adults aged 18+, giving a four per cent margin of error and a 95 per cent confidence level. Unlike some other recent announcements in favor or against the proposed rules, it appears to be an unbiased study.
Its main findings [PDF] were:
74 per cent of Americans are unfamiliar with the term "net neutrality" or what it refers to
73 per cent want "greater disclosure" of the FCC's plans
79 per cent wants public disclosure of the exact before the FCC votes on it
Just one in three think regulating the internet like the telephone is helpful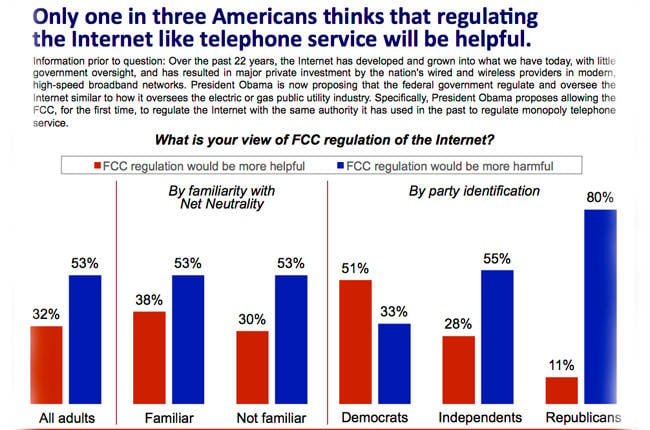 Now you could, of course, argue that having 26 per cent of Americans aware of any public policy issue is a remarkable achievement. And the FCC can point to the four million comments it received in response to its public comment period on net neutrality as an indication that it has consulted widely.
Yet the 32 per cent figure of people who think FCC regulation of the internet would be "more helpful" against the 53 per cent who feel it would be "less helpful" points to a significant gap in understanding and agreement outside the Beltway.
The question asked to get this result does, to our eyes, err a little on the side of inducing the reflexive fear of most Americans of too much government interference. Nevertheless it is fair and accurate:
Over the past 22 years, the Internet has developed and grown into what we have today, with little government oversight, and has resulted in major private investment by the nation's wired and wireless providers in modern, high-speed broadband networks. President Obama is now proposing that the federal government regulate and oversee the Internet similar to how it oversees the electric or gas public utility industry. Specifically, President Obama proposes allowing the FCC, for the first time, to regulate the Internet with the same authority it has used in the past to regulate monopoly telephone service.
For reasons that are still not entirely clear, FCC chair Tom Wheeler has refused to release the full details of the proposed rules before the vote next Thursday – despite requests from both houses of Congress and two of his own commissioners.
In the meantime, the Republican-held Congress is increasingly painting the picture of an FCC bullied into following the president's dictum, and arguing that it represents government overreach. It has started work on legislation that, if passed, would supersede the FCC's rules but at the moment that law has no chance of passing Obama's veto or getting enough votes in Congress from Democrats to pass unless there is political pressure from voters.
In the meantime, there will continue to be such distractions as:
And so on. ®
Similar topics