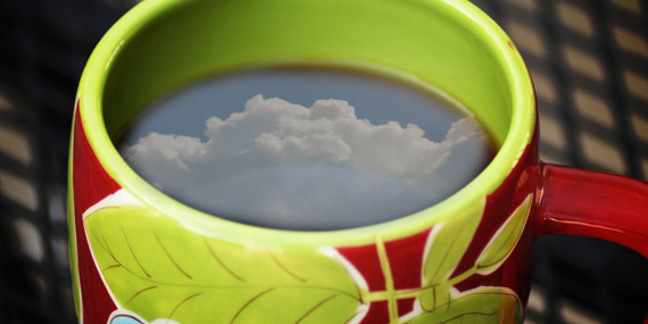 Storage software supplier FalconStor has completely re-written its core product, hoping its new FreeStor product will revitalise its business.
FalconStor's virtualising IPStor technology became widely used but began falling behind when the firm lost its guiding light CEO ReiJane Huawai in 2011. A subsequent Fed law case related to alleged customer bribery – which it settled in 2012 – was a setback. It has taken some years and two CEOs for the firm to get back on track. The recovery was helped by winning a substantial software development contract from Violin Memory.
IPstor is being replaced by FreeStor, which is being built for cloud-style computing. It's based on the concept of a data engine, an intelligent and scalable abstraction core, with layered data services on top which can be switched on or off to fit deployment needs.
It virtualises storage resources, "regardless of type, connectivity, brand or speed" into a single pool to which common data services are applied.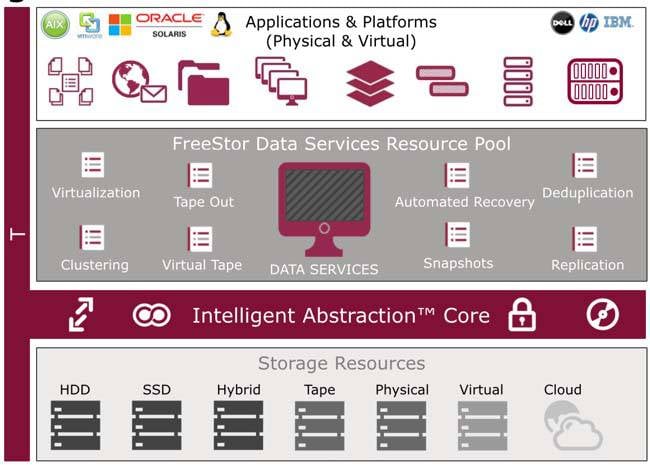 Intelligent Abstraction Layer scheme
The firm says FreeStor enables customers to migrate, recover, protect and deduplicate data, on or off the cloud, without tying their business to specific hardware, networks, or protocols.
There is a single management facility for storage provided by the storage company. Most existing storage infrastructure can be virtualised and managed by FreeStor and can be accessed through a REST API.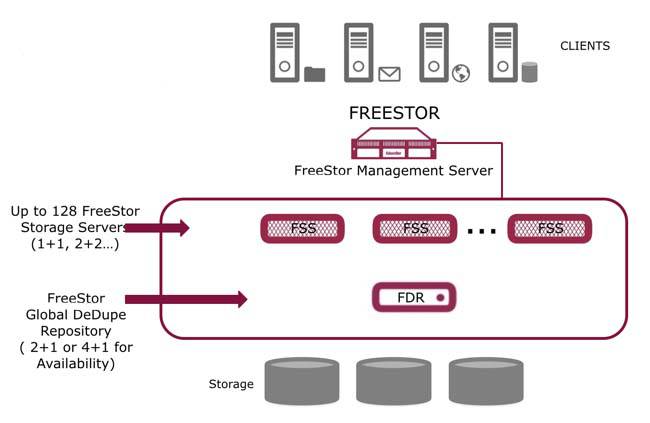 FreeStor Topology
FalconStor says customers can enjoy more than a million IOPS per IO Cluster with SSD-based storage.
The storage pool can be globally deduplicated and there can be up to 128 FreeStor storage servers.
The firm says this is a software-defined storage play with no hardware lock-in, which dramatically changes storage economics. There is "a single price based on managed capacity across arrays, servers, hypervisors, data centres, and the cloud."
CEO and president Gary Quinn claims this is "the first true horizontal software-defined storage platform that converges and unifies data management services with predictable pricing and performance."
Target customers include:
Organisations with legacy technology wishing to move to newer technologies, like flash, and use private or hybrid clouds
MSPs looking to move customer data into their cloud with common data management services
OEMs wanting to provide a set of data management services, with FalconStor saying FreeStor's are robust and wide-ranging
FreeStor is the firm's great throw of the dice. It has taken what's happened over the past few years to heart and devised software that can unify the provision and management of multiple storage types against a background of rampant server virtualisation and multiplying storage silos – SAN, virtual SAN, files, objects, flash, disk and the cloud.
It hopes this provision of a single all-embracing storage abstraction layer with common data services, a single and simple management facility and predictable pricing will swing markets in its favour.
FreeStor will be available for purchase in May through FalconStor channel partners and direct for Service Providers and OEMs. It has an annual subscription-based $/TB pricing model with 24 x 7 support and software upgrades included. ®
Sponsored: Ransomware has gone nuclear