Fibre Channel's looking a bit flat. Bad news for these three firms
FCoE? Oh yeah, I remember rumours about that
---
Comment The Fibre Channel trio, Brocade, Emulex and QLogic, are seeing declining popularity in their SAN storage networking businesses and need to find growth elsewhere.
As we have seen with Emulex and QLogic's results, Brocade has found growth through better business efficiencies but the basic Fibre Channel market is widely seen as a maturing one with little or no growth prospects.
Brocade's first fiscal 2015 quarter netted it $576m in revenues but was just two per cent higher than the previous quarter, and also the year-ago quarter. Profits were $87m, in the same area as last quarter's $83m and the the year-ago quarter's $81m.
Two years ago Brocade revenues were $589m (Q1 FY2013). Its revenues have been largely range-bound between $540m and $590m for four years and have been declining slowly on an annual basis, from fiscal 2011's $2.24bn to FY 2014's $2.2bn. Growth in its Ethernet-based businesses have not rescued the situation.
If we look at the results of this Fibre Channel storage networking trio we can see a flatlining pattern being played out: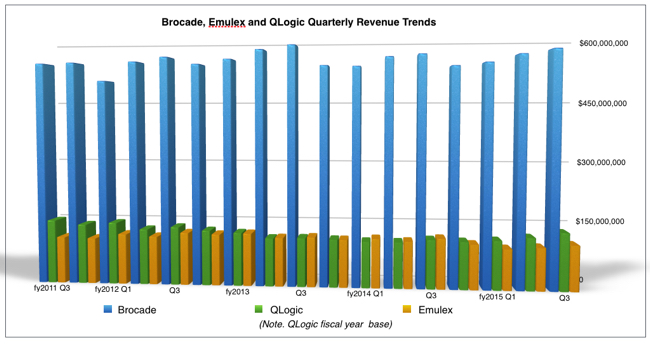 The two HBA companies, Emulex and QLogic, are smaller than Brocade's Fibre Channel and switch and director-based operation but all three show rangebound, flattish or declining revenues since 2011. It's due, analysts think, to FC SAN access now being just one way of accessing shared storage, with iSCSI SANs taking some of the pot, virtual SANs pooling server direct-attached storage resources taking more market share and the public cloud taking a bite too.
Scale-out filers, object storage and HDFS do a better job than SANs at storing great swathes of semi- and unstructured data. Having unified file, object and block SAN storage arrays has not stemmed that tide.
Ironically, FCoE, once see as a great threat to Fibre Channel , has not materialised and it is the combined attack on the Fibre Channel SAN hegemony by server-side or virtual SANS – the public cloud and scale-out filers/object/HDFS – that is, El Reg thinks, doing the real damage.
The storage debate these days is not about how you access a single shared storage pot but about which of the several shared storage pots you need to best fit each workload. Unless Fibre Channel SANs can show they are better than scale-out filers, virtual SANs, cloud, HDFS and object storage, then they represent a mainstream storage architecture that is facing stagnation. ®