Wind damage
The St Louis is not the only boat which had cause to be grateful to this station. In 1906, the Berlin Convention established "SOS" as the international distress signal and on 18 April 1910, the station received what is thought to be the first.
The cargo ship SS Minnehaha had run aground on rocks in the Isles of Scilly, on its way in from New York. Its passengers and crew were rescued by locals, but wireless meant that the ship was able to stay in touch with the mainland.
The next room houses modern radio equipment, which can be used by licensed amateur operators who appreciate a nice sea view and a long heritage. When I visited in autumn 2014, radio fan Malcolm Bolton was using the set.
Having successfully communicated with a station in Australia, he was using an Android app to turn an audio signal back into a television picture from Germany. "It's like electronic fly-fishing," he said, seeking the right conditions to bounce signals off the ionosphere right around the planet – which is how Marconi's signals were reaching so far.
The next chapter in the story carries on five miles north west of the Wireless Hut, as Marconi looked to send radio waves across the Atlantic. He purchased a plot of land just south of Poldhu Cove, and built a signal station that opened in 1901, next to a then recently-built hotel (now a nursing home).
This initially consisted of a circle of 20 masts, each 200 feet high, connected to a 25 kilowatt transmitter capable of producing a spark audible a mile away. The buildings housed research, signal transmission and power generation.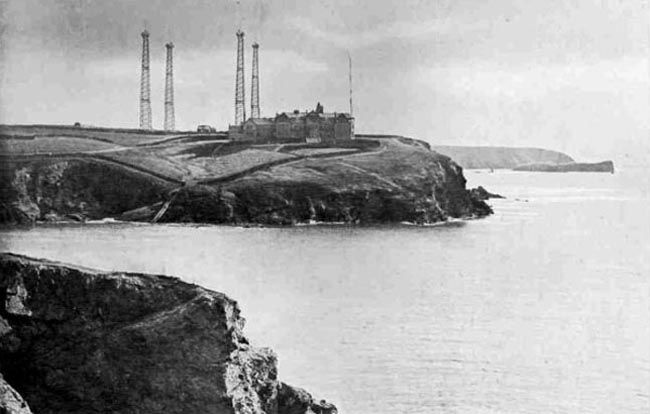 Marconi's Poldhu station in its prime, with newly built hotel infront
In June 1901, Poldhu communicated with a station at Crookhaven in County Cork, 225 miles away. In September, high winds blew down the masts, but that wasn't going to stop Marconi making history. With a temporary pair of 160-foot masts he set off for Newfoundland in Canada to receive transmission of the first transatlantic wireless signal – from those masts.
On 9 December, he used cable telegraphy to ask his team to start sending signals. On 12 December 1901, he heard their reply: an SSS in Morse. Wireless radio communications had crossed the Atlantic, and further tests found that Poldhu's range could exceed 2,000 miles.
January 1903 saw the first transmission from the US, from American President Theodore Roosevelt to King Edward VII. This may have been the first example of poorly timed international calls due to time differences; Poldhu received the message at night, after the post office in the nearby village of Mullion had closed, so it didn't get through to the king until the next morning.
This didn't put off the Prince and Princess of Wales – later King George V and Queen Mary – visiting both Poldhu and The Lizard stations that July, providing some amusing anecdotes (the brakes on Marconi's car failed going down a hill; rather than overtake the royals and break with protocol, the driver steered into a wall) and many of the surviving photographs of both stations.
Marconi eventually moved the wireless telegraphy work to new purpose-built stations in Ireland and Canada, with great commercial success. Cable companies charged a shilling a word: "Marconi charged sixpence, and really cleaned up," Keith Matthew, honorary secretary of the Poldhu Amateur Radio Club, told The Register on our trip around the sites.
Poldhu continued with maritime communications, in 1904 launching Ocean News, a daily news bulletin for liner passengers. As signals didn't always reach across the ocean, boats within range would retransmit it. One night in April 1912, it is thought that the SS Minnehaha – the sender of the first SOS – retransmitted the bulletin to the world's biggest liner, sailing across the Atlantic on its maiden voyage; yes, that would be the Titanic.
Poldhu was run by the government during the Great War, communicating with ships and submarines. Afterwards, when it reverted to Marconi, it developed transatlantic wireless telephony, introduced in 1920, and Charles Franklin developed directional short-wave beam technology – as well as coaxial cable, to get power to the transmitters across the field.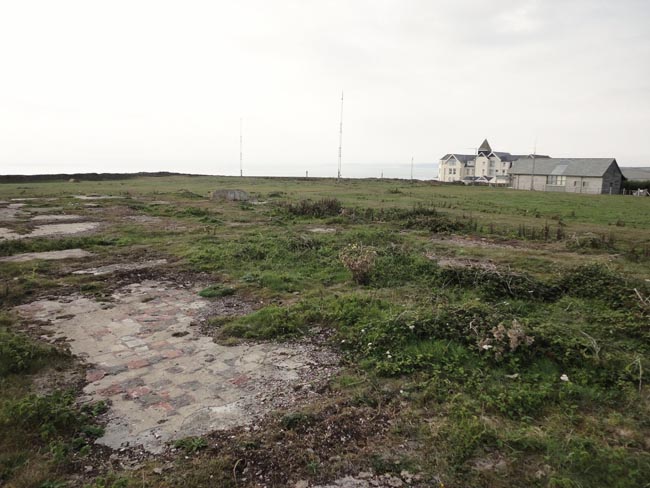 Wireless Field today: remains of a legacy and today's Marconi Centre and former hotel behind
However, the site was remote and expensive to use. Marconi considered moving a few miles east to Goonhilly, which half a century later would host its own transatlantic breakthrough, but instead the firm set up its Empire Wireless Beam station at Bodmin in central Cornwall, although that site has since been demolished to upgrade the A30 road.
Poldhu was to share the same fate, minus dual carriageway: it was closed in 1934, with the land donated to the National Trust – on the condition it was cleared.
The clearance wasn't quite finished; what remains today is a series of building foundations and tile floors picked out by encroaching grass and other assorted flora, holes and trenches. Britain has far better preserved Roman villas.