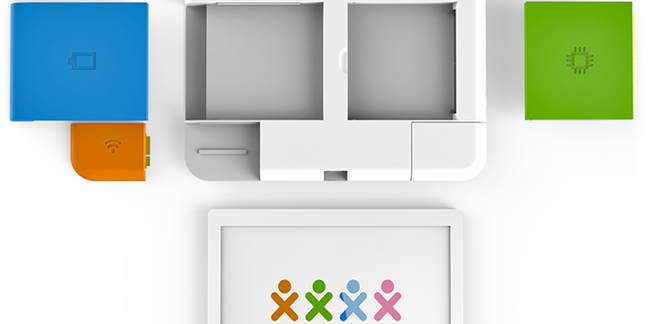 One Education, a spin-off of the One Laptop Per Child (OLPC) project, has teased a design for a computer that can upgrade its major components forever while requiring little more skill than is necessary to connect LEGO bricks.
The thinking behind the "XO-Infinity" (depicted above) is that one computer should last for a child's entire lifetime, but that kids' needs change as they age so the computer should change too.
As the thought bubble about the new design says, "Younger children are drawn to the tactile tablet experience, whereas older children need to compose reports and regularly enter increasing amounts of text".
The outfit also thinks schools will appreciate the chance to use one device, configured to their desires.
"A school may be more comfortable with a mobile style OS, making an Android supporting CPU module the perfect choice," says the blurb. "Other institutions could benefit from a more powerful experience, which is why x86 CPU modules exist, capable of running a full Windows or Linux desktop."
The components it's hoped will get the modular treatment are the battery, camera, screen and radio, all of which will plug in to a "core" module.
Beyond a statement that "Modules conform to open standards, already in use by a variety of major manufacturers" there's no mention of how the proposed device will integrate its components.
One Education says it will deliver a prototype this year, along with a crowdfunding campaign. ®
Sponsored: How to simplify data protection on Amazon Web Services