FlashRay bang, wallop: NetApp bigwigs play musical chairs
New Performance Products Group includes all-flash FAS and FlashRay
---
El Reg has learned that NetApp's leadership of its all-flash array project FlashRay is changing: the original engineering head is no longer involved, and the veep for flash storage is absent.
NetApp engineering veteran and SVP Brian 'Beepy' Pawlowski founded the FlashRay and Mars OS effort as an internal startup inside NetApp. Ty McConney is, or was, NetApp's VP for flash storage.
Asked about what's going on, NetApp spokesperson Alex Kingston said:
Ty McConney is on a leave of absence and will assume a new role when he returns. Brian is also taking a well-deserved break after building a talented 200+ person organisation and innovated in development methods. He will return to Product Operations in a new role next month.

To maintain our market momentum in flash, hybrid, all-flash FAS and FlashRay have been brought together into a newly created Performance Products Group, led by Dave Mason, Senior Vice President.
Pawlowski's LinkedIn profile reveals his passion for FlashRay: "I am totally engaged in the hottest project of my entire career: FlashRay! We shipped our first release in September 2014 – and the innovation just keeps on coming.
"Its cutting-edge architecture is founded on rich scale-out and efficiency capabilities to unleash the performance of all-flash arrays while lowering the cost of solution to accelerate a wide variety of applications. It combines consistent low-latency, high availability, and integrated data protection with industry leading storage efficiency."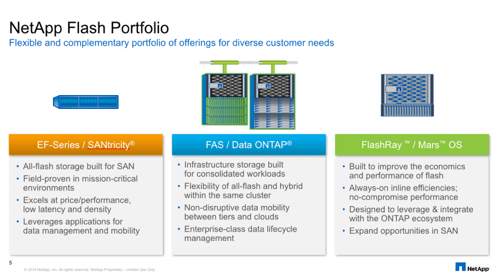 EF500, FAS and FlashRay positioning
There is a video of Pawlowski talking more about FlashRay:
FlashRay up to now has been delivered only in single-controller form, making it unsuitable for general enterprise deployment, and with few data services or promises about having leading performance. NetApp's SANtricity-powered EF560 with its leading SPC-1 $/IOPS number seems to be the flash array performance play, with all-flash FAS ONTAP systems being the mothership.
In October, McConney linked FlashRay's future to TLC flash.
Dave Mason is SVP for FAS systems and described himself last year as "the leader of NetApp's FAS engineering team." These changes may well appear as FlashRay being swallowed up by the ONTAP mothership before it has become a viable, high-performance, dual-controller all-flash array as originally intended.
Mason does not appear to have responsibility for engineering development of the EF500 series of all-flash arrays in his organisation.
We understand that some FlashRay technology is being used in the EF560 and in all-flash ONTAP. El Reg thinks that there is a possibility that FlashRay technology will eventually be totally subsumed into ONTAP FAS and cease being a standalone product initiative. ®