Pics Pebble today put its first color-screen smartwatch on sale on Kickstarter – and raised $5.4m from 26,000 backers in just a few hours.
The startup's Pebble Time quickly blew through its rather modest fundraising goal of $500,000. The biz sold out of $159-priced watches, although you can still order one for $179, two for $338, five for $845, ten for $1,690, or $5,000 for 30 – 10 of each color.
The wrist-puter will eventually go on sale in shops at $199, and is due to ship in May, we're told.
The 9.5mm-thick Pebble Time has a back-lit color e-paper Gorilla Glass screen that's apparently readable in daylight, has up to seven days of battery life, comes in one of three casing colors (black, white and red), and has full compatibility with all previous Pebble apps.
It can use any standard 22mm wristband, is water resistant, has three control buttons, a microphone, and silent vibrating alarms. It needs to talk to an iOS 8 iPhone 4s or newer, or an Android 4.0+ phone, to get messages, email and other information from the internet over Bluetooth.
The team behind the gizmo are promising to release software development kits, so people can scribble some code for the gadgets, plus there's a hardware port to plug in sensors and other electronics.
Pebble is keen to push the Time's timeline user interface: rather than dig out information from separate apps, wearers can tap buttons to step through stuff that's happened (received email, distance walked, etc) and stuff that's going to happen (tomorrow's weather, appointments, etc).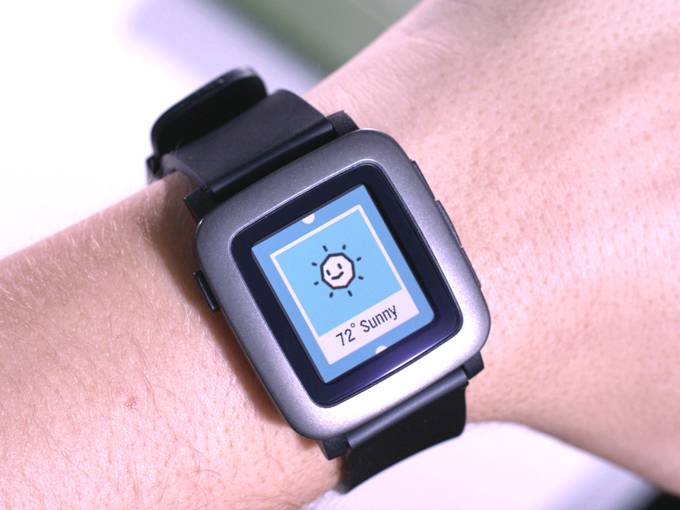 Pebble's planned Apple Watch killer
"While developing software for the original Pebble, we uncovered an important problem: apps are an inefficient way to interact with a smartwatch," the biz said.
"As we increased functionality by adding more apps, our Pebbles clogged up. It became harder to quickly find the app we wanted.
"You already plan your day around time, so it makes sense for your Pebble to be organized around the same principle. Now your notifications, news, reminders and events are laid out chronologically instead of being trapped inside separate apps."
The biz also plans to add voice-to-text: you speak into the device, and it sends out a message. "Sending voice replies works with most major Android apps including SMS, Hangouts, Gmail, Facebook Messenger, Whatsapp and hundreds more," says the Pebble team.
"For iOS users, voice replies are currently limited to Gmail notifications. We're working to enable voice replies for more apps."
You can read more about the history of Pebble, here. Since 2008, the team has shipped more than a million e-paper watches; the first Pebble – an ARM Cortex-M3-powered gizmo with 128KB of RAM and some flash storage for apps – was also a Kickstarter project.
The Pebble Time launch comes as the Apple Watch looms large over the wrist-puter world; it's probably best Pebble its millions now before it's drowned out in fanboi froth. ®