This article is more than 1 year old
Springpath springs out of stealth with HALO-based platform
Welcome to the world of Datacore, FalconStor, Nexenta
Springpath has emerged from stealth with a silo-melding storage data platform, offering a remedy which includes an annual subscription pricing scheme. Is it perhaps seemingly hoping to move in on a market that has too many (and too costly) separate storage silos?
Following a $34m funding round, Springpath was founded in May 2012 as Storvisor, by two VMware vets: Mallik Mahalingam, CEO and CTO, and Krishna Yadappanavar, who were involved with VXLAN software-defined networking and VMFS, a VMware file system.
According to Yadappanavar the "Springpath Data Platform is based on ... patent pending Hardware Agnostic Log-structured Objects (HALO) architecture ... engineered ... to deliver superior data services, storage efficiency, high performance and scalability without caveats".
SDP (Springpath Data Platform) provides commodity server-based storage, has been beta tested for more than 12 months and went GA in January. The scale-out aspect is described as fine-grained and the SW is optimised for flash.
It can provision storage for virtual machines, obviously, and is said to support a "common server-based infrastructure that feeds data to increasingly transient applications".
The SW can be deployed in a hyper-convergence server/storage/networking scheme "as well as in non-hypervisor environments like containers and physical servers".
We understand it provides elastic scaling, has simple and autonomous management, is enterprise grade and offers cloud economics. A couple of diagrams provide more information: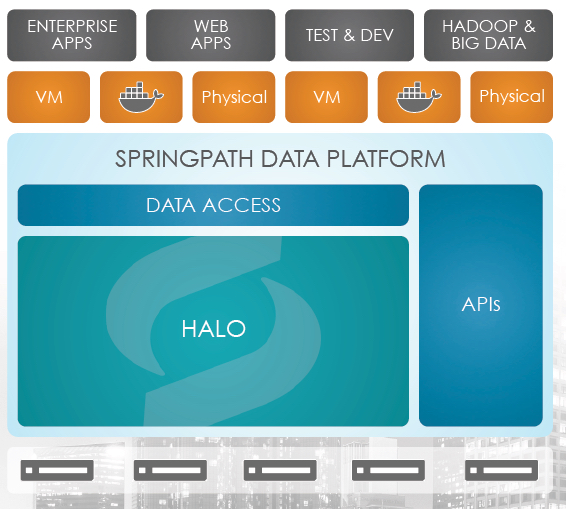 The Springpath Data Platform
The SDP provides file, block, object and Hadoop storage, the latter via a plug-in.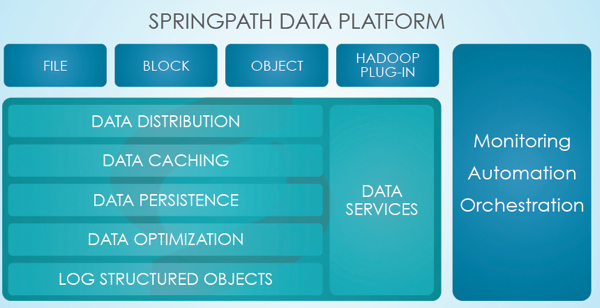 HALO architecture components
SDP features:
Rapid clone functionality to provide new VM's in minutes
In-line deduplication and compression
Snapshots
Thin provisioning
Clustering
No single point of failure
It has, Springpath says, a zero learning curve, and is suited for VDI, test and dev, Microsoft SQL and remote office use cases.
The company says it has key technology relationships with Cisco, Dell, Docker, HP, Lenovo, OpenStack, Tech Data, Veem and VMware.
The competitive arena is full to bursting, with every other SW-defined storage vendor, particularly SW-only ones, including Datacore, FalconStor and Nexenta, and hyper-converged vendors such as Nutanix, Maxta and Simplivity, plus the stampeding EVO:RAIL herd. There is a massive amount of background noise that Springpath will have to overcome to stand out.
Get a datasheet here to find out more.
Springpath software s distributed by Tech Data which can ship servers preloaded with the SDP software. End user pricing is as low as $4,000/server/year with servers from Cisco, Dell, HP and Supermicro supported. ®