This article is more than 1 year old
Amazon tries to patent 3D printers on trucks
Who needs distribution hubs when you can make kit in the delivery van?
Amazon has filed for a patent on a service that would see the company offer 3D-printed stuff on demand.
The US Patent Filing [PDF] describes a service where customers can order items to be remotely fabricated and shipped by Amazon – or, in some cases, 3D printed by a mobile unit that delivers the items directly to them.
The online shopping giant argues that by equipping itself with 3D printers it could save money by eliminating the need to import items and store them in warehouses. What's more, 3D printing could help it get orders into customers' hands faster.
"Increased space to store additional inventory may raise costs for the electronic marketplace. Additionally, time delays between receiving an order and shipping the item to the customer may reduce customer satisfaction and affect revenues generated," Amazon writes in the application.
"Accordingly, an electronic marketplace may find it desirable to decrease the amount of warehouse or inventory storage space needed, to reduce the amount of time consumed between receiving an order and delivering the item to the customer, or both."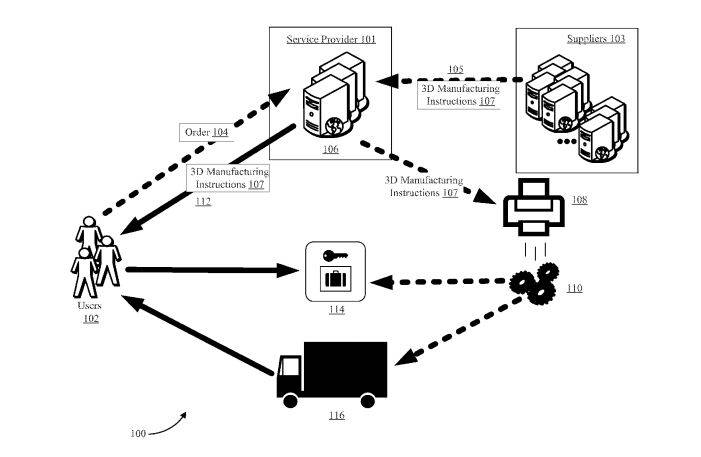 Amazon diagrams how the 3D printing system would work
The filing even suggests that 3D printers could be mounted within trucks or vans, which could then print customers' purchases on the fly and deliver them instantly.
"By 'mobile', we mean that the position of the 3D manufacturing apparatus changes because it is mounted within or contained within a moving vehicle or other structure," Amazon wrote.
The would-be patent has been some time in the making. It was originally filed in November of 2013 and posted this month by the US Patent and Trademark Office (USPTO). Linda Knowlten Apsley, Colin Ian Bodell, Jacob Conrad Danton, Scott Randall Hayden, SaiPrasad Kapila, Eric Lessard and Robert Benjamin Uhl were listed as inventors, and the patent is assigned to Amazon Technologies of Reno, Nevada.
Amazon has a flair for proposing unusual delivery models. Last year, the company kicked around the idea of unmanned drone delivery vehicles, though the idea was shot down by the FAA. ®