Dell has revealed a range of new hyper-converged XC appliances, running on Nutanix software and containing 13G PowerEdge servers.
The appliances converge compute, storage and networking functions and are the second wave of such machines, following Dell's announcement of an OEM deal with Nutanix in June 2014.
They form part of Dell's software-defined storage strategy – code-named Blue Thunder – which also incorporates elements from VMware, Microsoft, Nexenta, Red Hat (Ceph) and Hadoop.
Dell says one of the XCs has a rack size of just 1U. For the range as a whole, "instead of the previously fixed configurations, the new flexibility allows customers to purchase appliances with various drive types and sizes, processors and memory options that fit their own specific use cases, such as private cloud, VDI and big data workloads."

Dell XC730 bezel detail
We've tabulated some details of the existing and new ranges;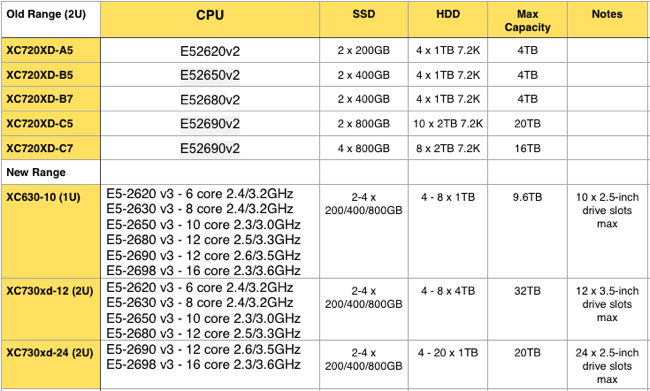 Dell XC appliance details
There are basically three models with a substantially increased CPU, SSD and HDD option list. The maximum appliance capacity has risen from 20TB to 32TB, with both 2.5-inch and 3.5-inch disk options available, optimising for capacity or spindle count.
Nutanix – from who the appliance SW is OEM'd – is not announcing new models itself.
Dell says the pricing for the XC730xd, the direct follow-on to the XC720xd, is roughly the same. For this the buyer gets the same 3-year support, along with greater performance, more options and flexible configurations.
Users can get into the XC Series/Nutanix appliances at the lowest starting list price to date, at roughly $38,000 US with 3 years of Dell ProSupport.
The products will be available in the Americas and EMEA regions on March 3. ®
Similar topics