This article is more than 1 year old
Solidfire offers unlimited SSD wear guarantee, punts software at market
And its flash will 'never' become obsolete. Bold claim
All-flash array startup Solidfire has a new array and is selling its software, minus hardware, to hyperscalers.
Solidfire, whose products feature in-line data reduction, a high degree of system automation and scale-out platform design, sees different consumption models for modern IT infrastructure.
It thinks SMB and startup companies are tending to move from classic best-of-breed building block IT towards hyper-converged systems or to have IT infrastructure supplied as a service.
Large enterprises, Solidfire CEO Dave Wright says, are generally split between converged infrastructure IT and best-of-breed appliances.
Hyperscale IT users (Facebook, etc) and service providers who consume petabytes of storage annually are looking to buy or build storage software and layer it on to commodity hardware. So Solidfire will sell its Elements software to them, working with them on qualified hardware set ups.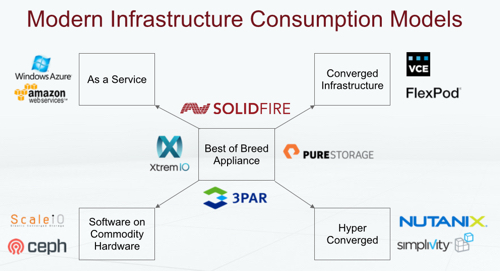 Initial qualified platforms are Dell PowerEdge and Cisco UCS C-Series servers fitted with slugs of SSD storage.
The latest SF9605 array product, with a 34.5TB effective capacity, has the same capacity spec as the SF9010 (see the table below), but has a less powerful CPU, delivering 50,000 IOPs instead of the 9010's 75,000.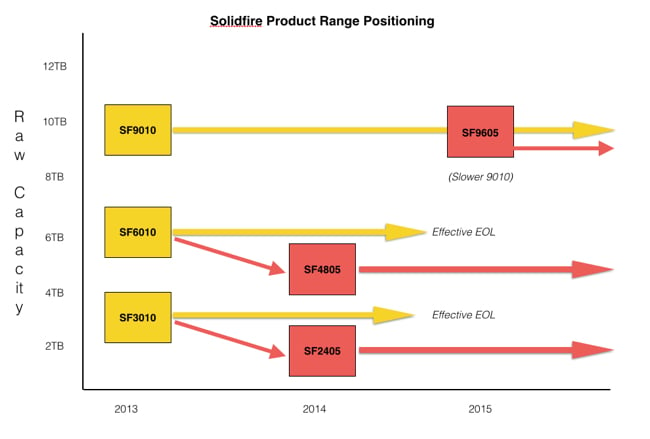 All the SF models are clusterable and the SF9605 can be added to existing clusters, which mix and match models. Solidfire claims it provides "the industry's best value in terms of cost per GB." The FlashForward marketing spiel guarantees this mixed node compatibility and states that "all future flash technology from SolidFire will interoperate with existing infrastructure."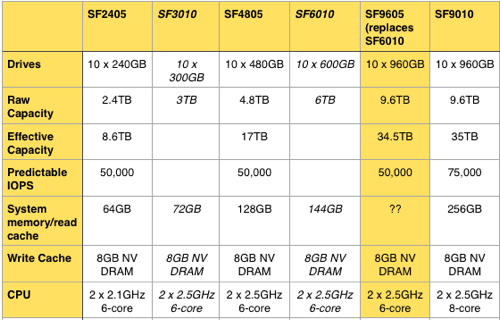 Older and newer Solidfire arrays. SF9605 highlighted.
Solidfire flash products will never be obsolete it says – a bold assertion, we think – and there is, get this, an unlimited drive wear guarantee valid for all systems under current support. Wright said the wear rates on installed products, after some two and half years use for the older ones, was so low as to make this feasible, and mentioned a potential 20-year lifespan. This is pretty outrageous, given current assumptions and SSD warranties of up to five years.
It certainly puts the pressure on competitors to come up with similar lifespan guarantees. Solidfire started out selling its kit to cloud service providers and has since moved into enterprises. It said there was 50 per cent quarter-on-quarter growth throughout 2014. Also it saw a 570 per cent increase in enterprise bookings from 2013 to 2014, with 54 per cent of sales going to enterprises in its latest quarter.
Today's announcement should help that rate of growth continue and show just how extraordinarily hard mainstream storage array suppliers have to work to get comparable flash array growth rates.
It follows on from IBM retrofitting its FlashSystem arrays with MLC flash and Violin comprehensively updating and refreshing its flash array range.
Yesterday's news that NetApp is integrating its developing FlashRay product with its all-flash FAS in a "performance products" group also shows how hard it is trying to optimise its three flash array offering to the developing market.
The SF9605 will be available for shipping on March 9. ®