A ZFS-based all-flash array? There's a thing to note in this block-focused all-flash array world. Europe-based Syneto has developed the product and it has updated its SMB-focused, ZFS-using Extreme 220 product.
The Extreme 220 is a 2U x 24 hot-swap slot box with from 2TB to 144TB of SATA or SAS SSDs. That means 6TB SSDs are used to get the most capacity. There are two additional bays for OS disk drives.
Syneto says the box, driven by 2 x Xeon E5 6-core processors, delivers up to 340,000 IOPS.
Dragos Chioran, head of marketing at Syneto, said the IOPS number "is based on software RAIDs. The number of IOPS in software RAIDs is highly dependent on the number of disk groups (virtual devices) present in a data pool. Considering that our VDI architectures are always deployed in mirror configurations (analogous to RAID 10), the number of IOPS provided by a disk group is equal to one disk's IOPS.
The EXTREME Series has 24 disk bays allowing a total of 12 disk groups. We use industry standard SSDs from different providers, both SATA and SAS, ranging from 20k to 36-40k write IOPS with 4K blocks."
It can support 6,000 virtual desktops with a price from €20/Virtual Desktop, meaning €120,000. Chioran told us that the 6,000 VDI number involves an inline compression ratio from 1.6x to 2.6x and using linked clones. The number of VDIs using persistent desktops would be lower, depending on the nature of every VDI's home directory.
Host access is via 1or 10Gbit/E or 8Gbit/s FC. Supported access protocols are NFS, CIFS (SMB), AFP, iSCSI and Fibre Channel.
The Syneto Storage OS v3.0 features in-line deduplication, using cryptographically strong 256 bit checksums like SHA256, and compression. Compressions algorithms vary from space-efficient ones like GZIP9 to performance-increasing ones like LZ4.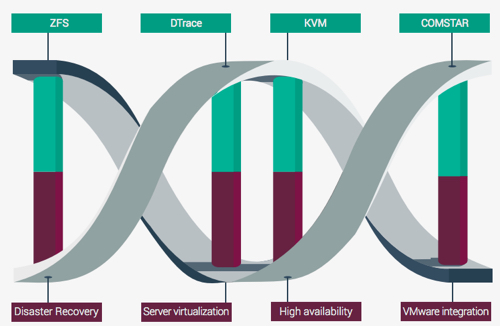 Syneto Storage OS graphic
There is thin provisioning, the ZFS filesystem, DTrace, and an integrated KVM hypervisor, which the firm claims turns "the kernel itself into a hypervisor". Local virtual machines can run on it and have instant clones and snapshots run using VxClone technology, without any space overhead.
The OS "can take memory consistent snapshots of hosted VMware VMs". Snapshots can be replicated (block-level differences only) to a second system.
Two nodes can be clustered with an active-active mechanism and automatic balancing of storage pools between nodes. You can get a guide to the OS from here (registration required.)
How does the Syneto AFA compare to ones from Pure Storage, Solidfire, etc? Chorine said: "We are not in the same market as Pure, Solidfire or Violin who concentrate on very big companies and organisations. The main difference is based on flexibility and cost. It is a very simple reality that SMBs require solutions that are adapted for their needs and have a lower price point. SMBs currently make up 80 per cent of the total number of European companies. "
Syneto also provides ARK series arrays for backup and archive with up to 936TB of capacity, and hybrid flash-disk ULTRA arrays that use DRAM caching. Syneto says "FlexPool technology spreads data over RAM, SSDs and spinning disks, and enables 75-90 per cent of data reads/writes to be performed directly from DRAM with nanosecond latencies, faster than the millisecond latencies given by SSDs found in other hybrid systems."
Take that NexGen, Nimble, Tegile and Tintri.
The ULTRA system also has VMBox technology "which uses the array's CPU, RAM and storage to create and host up to 22 local virtual machines, turning any ULTRA array into a hyper-converged storage solution."
The ARK, EXTREME and ULTRA systems run the same Storage OS. Syneto, which has sold more than 3,000 arrays, has offices in Belgium, Ireland, Italy, Romania and Switzerland and you can download a company profile (PDF) to investigate further.
As a final teaser, we have heard that Pure Storage may be developing an all-flash filer, with a development skunkworks idea being involved. A Pure spokesperson told us: "I have no comment to make about the suggestion of such an AFA filer." ®