Moto E 2015: The builder's cheapie gets a serious upgrade
Stock Lollipop mini-flop is only skin-deep
Hands On Why can't everybody make a bargain basement phone as well as Motorola? They're as fashionable as egg and chips in a 1970s Wimpy Bar, but the popularity of the small, robust, no-nonsense Moto E and G models has helped revived the brand. The Chinese-owned phone operation yesterday upgraded the Moto E yesterday, adding some quality to the popular Android cheapie, for a slightly higher price.
We had a look.
The nine-month-old Moto E is currently available for £60 on some deals now, but the new E will cost a little more. Plenty of people still prefer a model with a more pocketable display, and after Motorola took the G2 into 5-inch territory last year, this left an obvious gap. Motorola lists a price of £109 version – but that's before discounts kick in. However, the 2015 E adds LTE support, offers a faster processor, and improves the battery while retaining the same hard-knock body as before.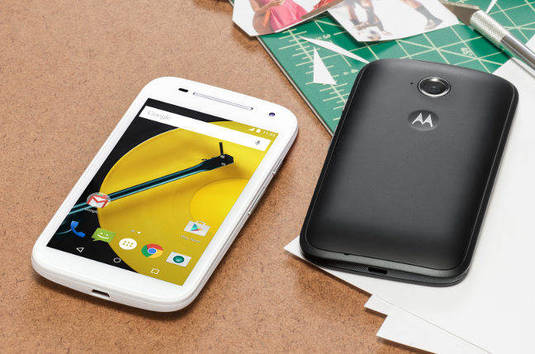 Hard-knock body... plus a few new bells and whistles
The phone comes in 3G and LTE versions and runs a near-stock Lollipop out of the box. Lollipop has been the first stumble for Android in some time. Bugs have prevented a smooth rollout and Google rolled out a 5.10 bug-fix update this week – before most users had even seen 5.0.
User guide
The UI is fussy and stark, and I found the stock KitKat easier to use. Quick Settings and Notifications have taken a leap back in usability for no apparent reason. Then again, every phone UI has taken some backward steps in the past two years – now it's Android's turn.
The good news is that it's only skin deep, and years of hard work optimising Android are paying off. While the Moto E is clearly powered by a budget chip, it is a generally smooth and predictable experience. You couldn't have said that about Android for years.
The Moto E features a bigger battery – 2390mAh, up from 1980mAh – 8GB of storage, LTE (in some models), all running on this year's "quality budget" Qualcomm 410 1.2Ghz quad core chip. It's a little bigger, with a 4.5-inch rather than 4.3-inch display. The 2015 models adds a front-facing camera, and the rear camera gains auto focus. This is a welcome upgrade. In the words of John Shuttleworth, describing a cappuccino, "It's worth the extra pennies". Although he did ditch them, in the end, for Mellow Birds. RAM remains at 1GB – fine for most common tasks and basic browsing.
You'd be hard-pressed to tell the new model apart from the original G. It's slightly more curved than before, but the battery adds a little to the weight, which sits at 142g. The chunkiness is actually a positive with the E, and earlier G, models. It's rock solid with no creak or flex. In a major departure, there's no cover to remove.
Ports and slots are covered by a band, which can be replaced by one more colourful than the default black or white. The black band on black looks dour, but any other combination really looks quite smart – thanks to the metal finishes added to the 2015 E. (The E comes only in black and white so far.) Six Motorola bands and the excellent grip shells will be available too.
The weak point of phones in the raucous bargain basement is screen quality. Here Moto offers a decent enough 960 x 540 display, which works out at about 245ppi. I found it had a yellowish tint. I didn't have the chance to test in bright sunlight – or any sunlight, to be honest – you'll have to wait for the full review for that.
Conclusion
2015 E looks like a strong addition to today's circa £100 market. Maybe next year, Google can shoot a few designers and de-clutter Android. It has done the hard work. ®