This article is more than 1 year old
GAMIFY your FRIDAY with our Public Sector Innovation Bingo!
'This is an agile process, meaning... er, whatever we want it to mean'
Bored with another grey Friday? Here is a game for two players. The exercise allows you to keep up to date with vital subsidy-seeking buzzwords – while retaining the vital element of "fun".
In this game, one player reads a press release sent to us by an innovation quango, while the other ticks off buzzwords on a Bingo Card – being careful to avoid ticking off the fashion designer pictured.
Here is the Bingo Portion of the game to print.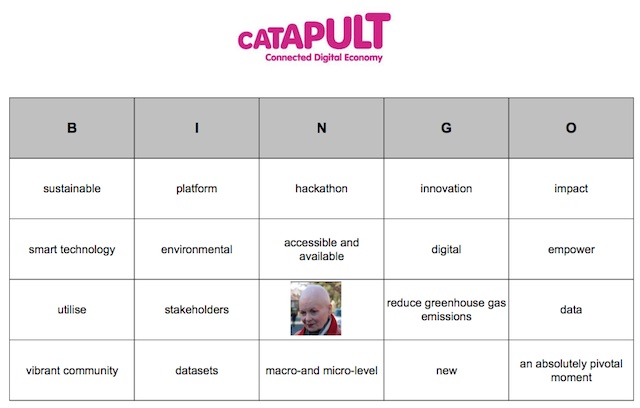 And here is the press release:
Digital Catapult and AMEE to Launch "Environmental Data Exchange" – Making Environmental Data Accessible to All
Online portal will help tackle UK's environmental challenges – opening up access to a wealth of data to help unlock technological and business opportunities

LONDON, UK. 5th February 2014 – The Digital Catapult, a national centre to rapidly advance the UK's best digital ideas, and AMEE.com have today announced the development of a new online platform to open up environmental data – making information accessible and discoverable to all.

Launching in March, the Environmental Data Exchange will act as a portal from where businesses, researchers, citizens and all other interested parties can pull data including flood risk information, climate models and air quality from sources including the World Bank, DEFRA and DECC. With the UK battling to reduce greenhouse gas emissions by 80% by 2050, companies and governments increasingly need to understand at macro- and micro-level the risks, impact, and opportunities for their organisations related to environmental resources. The aim of the new platform is to make data accessible and available, that will enable the country to unlock innovation, empower new businesses and technological approaches that can address environmental issues and opportunities.

"This platform will enable users to easily access, assess and utilise environmental data while collaborating with others. This could be an absolutely pivotal moment in the UK's drive to reduce its environmental impact," said Neil Crockett, CEO, Digital Catapult. "When we formed the Digital Catapult we made a public promise to help foster collaboration between all data stakeholders across all industries in order to unlock data challenges and accelerate great ideas to market. We believe the Environmental Data Exchange will do exactly this."

By registering with the Environmental Data Exchange, users will be able to discover, download and use the data from various sources to drive innovations and value within the UK. The platform also puts community and collaboration at its heart – allowing users to upload data sources and their metadata, rate the datasets and comment on them.

Following the platform's launch in March, a hackathon will be held at the Digital Catapult Centre from March 20th to 22nd. The hackathon aims to deliver innovations that make a difference via the use and analysis of the datasets available from the Environmental Data Exchange, whilst building a vibrant community for those with an interest and investment in this key data resource. Visit www.digitalcatapultcentre.org.uk/events to sign-up for the hackathon.

"There is a lot of pressure on the Government, business community and the public, to reduce the UK's environmental impact," commented Tyler Christie, CEO at AMEE. "Technology can make a huge difference – whether that is smart technology to reduce energy consumption or electric charging points to reduce our vehicle emissions. But if such innovations are really going to make an impact, the people and businesses developing them need to be able to access, analyse and draw from all environmental data. Understanding the challenge we are facing is absolutely fundamental to driving innovation and we are proud to be working with the Digital Catapult to help address this."

AMEE and the Digital Catapult will launch the platform on March 20-22 via a hackathon at the Digital Catapult Centre. Register here: http://www.environmentaldataexchange.org.uk/ to stay updated on the platform development and upcoming events.
-ENDS-
About The Digital Catapult
The Digital Catapult, which became operational in 2013, is a national centre to rapidly advance the UK's best digital ideas. The Digital Catapult is one of seven Catapults funded by the Technology Strategy Board (now Innovate UK).
The specific aim of the Digital Catapult is to drive future economic growth in the digital economy by unlocking value from proprietary data in faster, better and more trusted ways.
Unlike a number of other Innovate UK programmes, the Digital Catapult is not a funding agency. Instead, it provides support based upon available facilities, expertise and by bringing partners together to help UK SMEs innovate at speed and with less risk so that new digital products and services can be accelerated to market.
In 2014, the Digital Catapult opened the Digital Catapult Centre in central London, which provides an exciting new space for innovators, businesses and academia to showcase their products, connect and collaborate. By 2018, the Digital Catapult will have spent £46m in projects to boost the UK digital economy; this is an agile process, meaning each project is continuously evaluated to determine whether further investment will unlock even greater economic value.
About AMEE
AMEE is a technology company with a mission to build a more resilient and sustainable economy using open, big data and collaborative networks. As climate change and resource constraints increasingly drive risk and volatility companies are under pressure to adapt and build resilience across their operations and value chain. AMEE a range of organisations including SSE, UK Government, Google, The Carlyle Group and many others tackle these challenges by making environmental and financial business insights easily accessible and useful. The company, based in London, was founded in 2008 and backed by leading investors Union Square Ventures, Amadeus Capital Partners, and O'Reilly Alpha-Tech Ventures.
Bootnote
AMEE was founded with Silicon Valley VC capital to provide a commercial service, calculating CO2 emissions.
The PR agency for the Digital Catapult told us:
"The entire cost for the Environmental Data Exchange is £50,000. In line with our commitment to be agile and collaborative we undertook a competitive tender process, and identified three SMEs to pitch for the management of the project and the contract was awarded to AMEE."
Happy Friday! ®