This article is more than 1 year old
Revival of fortune: Mad Catz Mojo Android gaming micro console
Revamped firmware and a new tempting price
Mojo workings
Thanks to a 1.8GHz T40S quad-core Tegra 4 processor, 2GB of RAM, 16GB of storage and Android 4.2.2 in stock form, it is just as powerful and simple to use as any other high-end Android device. The user interface is consistently snappy and responsive and everything happens near instantaneously.

AnTuTu vs Galaxy Note 4 and Ice Storm Unlimited results – click for a larger image
The scores thrown up by the AnTuTu benchmark app and the FutureMark's IceStorm Extreme graphics test were nothing extraordinary – the latter was broadly on a par from what you'd expect from a Snapdragon 800 2.4GHz quad-core device. The results demonstrated that the Mojo has the grunt to get even demanding tasks done without getting its pants in twist.
The Mojo is a well connected and expandable little box too. You get a USB 2.0 and 3.0 port (though one needs to be reserved for the Bluetooth dongle that connects it to the gamepad), a MicroSD slot good for cards up to 128GB, 802.11n Wi-Fi and a Ethernet port. And of course a 3.5mm audio jack and an HDMI output.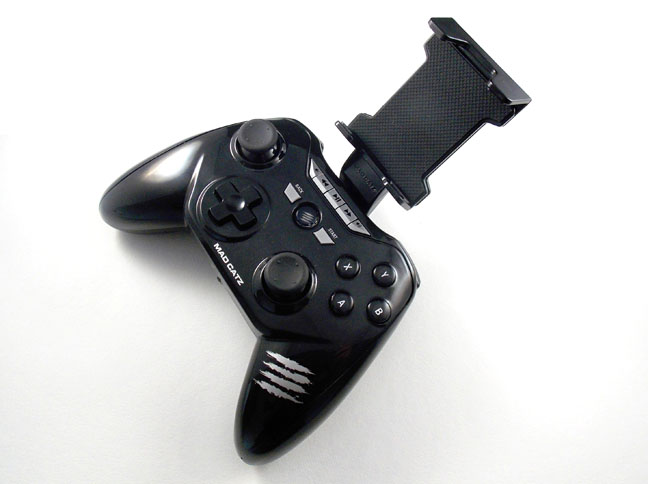 Bundled mobile attachment is handy for small screen gaming
Naturally, if you want to use the Mojo as an ersatz PC then navigating around Android's touch-optimised UI with a gamepad is a bit of a pain in the backside, but a decent (or even a cheap and nasty) Bluetooth keyboard and touchpad will fix that.
At this point I suppose I should mention the elephant in the room: Chromecast. One of Google's thirty-quid dongles can put Android on your telly just as well as a Mojo. But it lacks the easy access to local storage.
My Mojo spent just as much time playing videos off an HDD using VLC as it did letting me shoot at stuff. If, like me, you are no more than a casual gamer, then that is an attractive combination.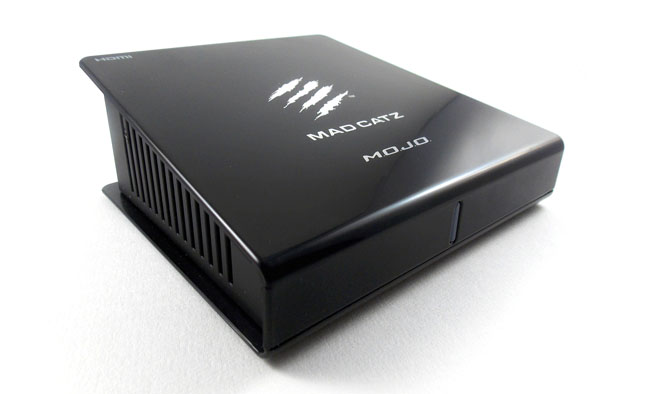 Small, sleek and much improved in terms of price and functionality
The Reg Verdict
Is the Mojo better than the Ouya? Yes. Much better. Than Nvidia's Shield? Tough call. If all you want is do is seriously game then the Shield Tablet and Controller may be a better, albeit much more expensive, bet. Certainly, the Mojo is versatile and a useful companion if you are already an Android user and invested in Google's online services
The new firmware delivers a usable, unrooted Android experience, which to get the most out of you should hook up to a Bluetooth keyboard and trackpad.
Moreover, the local playback options give it an edge over the various streaming sticks that are knocking around. For 120 quid, the Mojo is a decent games platform, versatile media player and twit-proof way to smarten a dumb TV. ®

Revival of fortune: Mad Catz Mojo Android gaming micro console
Android 4.2.2 gaming console with HTPC potential running a 1.8GHz T40S quad-core Tegra 4 chip, 2GB of RAM and 16GB of storage, plus micro SD slot, audio out, HDMI, two USB ports and 100Mb/s Ethernet