This article is more than 1 year old
Guess who filed most Euro patents in 2014? Yep, still Samsung
Philips and Siemens made the top 3, though
The European Patent Office (EPO) has released its latest annual figures showing that the number of patents filed reached an all-time high in 2014.
Samsung held on to its number one closely followed by Philips and Siemens. Huawei, LG, Qualcom, Ericsson and Intel also made the top 10. Nokia was only just outside that in 11th place.
According to EPO president Benoȋt Battistelli: "Europe continues to strengthen its position as a global hub of technology and innovation."
While that may be open to interpretation, the number of mobile communications patents shows that digital communication is in the lead regardless of the country of origin. The total number of filings grew by 3.1 per cent in 2014 to more than 274,000, of which 64,600 patents were granted. Of the European countries represented, the Netherlands, France and the UK showed significant growth, Germany and Sweden remained stable, while filings from countries such as Finland, Switzerland and Spain declined.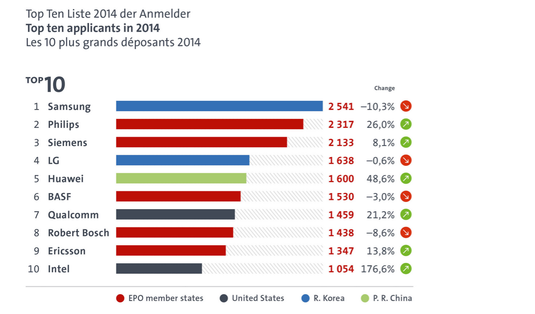 However, European companies make up only 35 per cent of the overall number of requests filed. The US accounts for the single largest share with 26 per cent, followed by Japan (18 per cent) and China (9 per cent).
However in the Computer Technology section, European firms lag behind the US, with 29 per cent of applications compared to 38 per cent.
With Huawei in fifth place, it is only the second time a Chinese company has been in the top 10 - ZTE was tenth in 2012. Big name companies like Microsoft (21) and Google (36) also featured in the top 50, with Apple the only major brand not represented. The sector that showed the largest growth in patent applications was biotechnology. ®