This article is more than 1 year old
Telly behemoths: Does size matter?
And in Blighty, does class matter even more?
Feature This month, the fabulously wealthy owners of houses with curved walls will be delighted to know that the world's largest curved TV arrives at the Knightsbridge tat-palace Harrods. With a 105-inch screen, LG's new set, the snappily named 105UC9V boasts a 21:9 aspect ratio, and all the latest technology.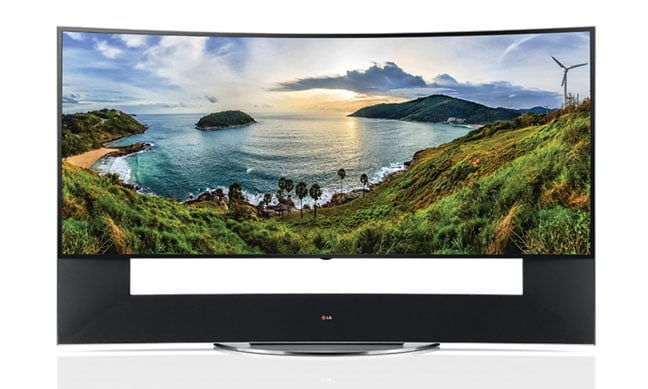 LG's supersize 105UC9 105-inch 21:9 aspect ratio curved 5K TV will be found in Harrods
If you have to ask how much it costs...
It's just the latest in a line of improbably huge sets that manufacturers tout from time to time, and like to show off in top-end stores. The TV department of John Lewis on Oxford street was home for some time to a 150-inch Panasonic plasma, which apparently weighed so much (over 570kg) it caused no end of trouble for the eventual purchaser when they tried to get it into their apartment.
Ah, schadenfreude. But, rather than simply giggle at the rich and vulgar, we at The Reg thought we'd take a look at some of the highs – and lows – of the Big British Telly.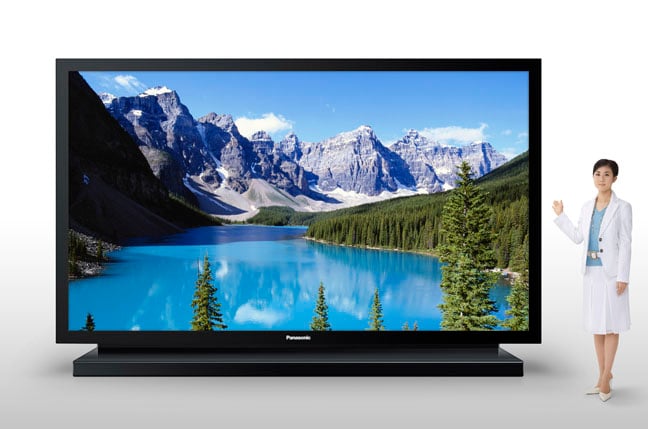 Buyer beware: can you get it through the door or even up the stairs? Panasonic added a couple of inches more to its 2008 model featured in John Lewis to produce the TH-152UX1W 152-inch plasma TV in 2010
Back in the 1970s, when colour television was still a rarity – we only got it in my house at Christmas 1980 – screen sizes were much smaller than they are now. A frequent demand on a Saturday evening was to be allowed to climb over the fence to visit the neighbours, and watch Doctor Who in colour.
And not only was it colour, it was a 26-inch set. In the mid-1970s, that counted as huge. The neighbours owned a Philips G8 series, and compared with the Ferguson dual standard set we had, it was like something from another world, with luxuries such as push button channel selection.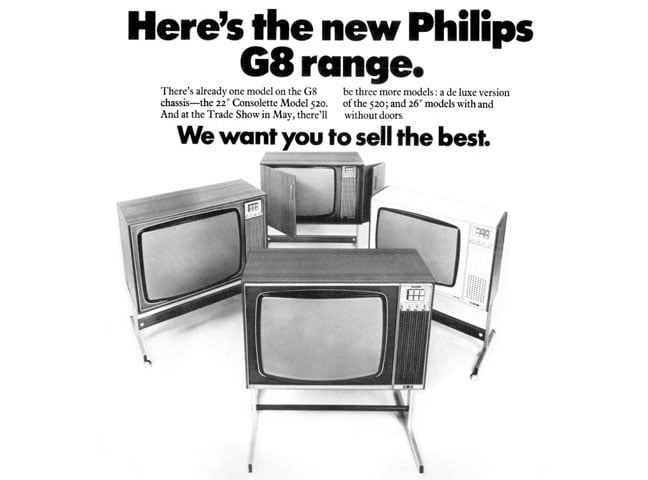 Trade ad for the Philips G8 range from 1971 – very popular sets back in the day
Image courtesy of Rob Grimley
In fact, sizes didn't really increase a huge amount for a while. Instead, the TV – like much else – evolved in different ways, ditching the heavy wooden cabinets for shiny plastic, sprouting stereo speakers and buttons dedicated to the VCR.
Sony even went as far as to deconstruct the telly, with its early 80s Profeel range, which created a modular system, where you paired the tube of your choice – the largest UK model was a 27 inch – with a tuner and speakers, ready for the coming age of satellite and cable. Judging by the comments often made on Reg articles, we suspect It'd have a winner on its hands if it did the same again now.
Sony Profeel component TV ad from 1983: flat CRT with the tuner and speakers sold as separates
By the late 80s, sizes had crept up to around 36 inches, and the fad was for FST – Flat, Square Tubes. Probably equally as important was the proliferation of other technologies, such as enhancements to teletext and the launch of Nicam stereo sound.