Telly behemoths: Does size matter?
And in Blighty, does class matter even more?
---
A new century
Arguably, although there were some fairly large plasmas and early LCD sets, it's really only with the widespread take-up of high definition that most people have seen the point of really big screens. Even upscaled, standard definition at over 40 inches just isn't very pretty, and early panels often had strange resolutions, like 1366x768. It was 2007 before Panasonic launched Full HD (1080p) plasma screens, with sizes up to 103 inches.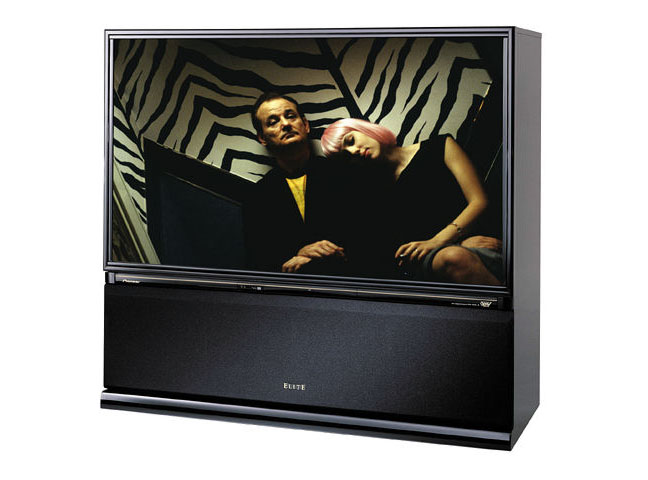 RPTV slims down a little: Pioneer Elite Pro-730HD rear projection TV from 2004
As the plasma has faded away in recent years, LCDs have crept up to as much as 85 inches, and fallen dramatically in price, at least at the more modest end of the market. Just as CRTs became lighter as wooden cabinets, valves and heavy chassis were swapped for electronics and plastic, so the LCD set has benefited from the change to LED backlighting.
Where once even a 32-inch flat panel set needed two people to lift it, now even sets around the 42-inch mark can be shifted around on your own. Of course, you'll need a soundbar to make up for the weedy sound from such a skinny bit of kit, but then you can't have everything. Indeed, there's lots to tempt us to upgrade these days. Smart TVs, thinner TVs, 4K TVs to replace the Full HD TV we bought a few years ago. But do we really want our tellies to be much bigger?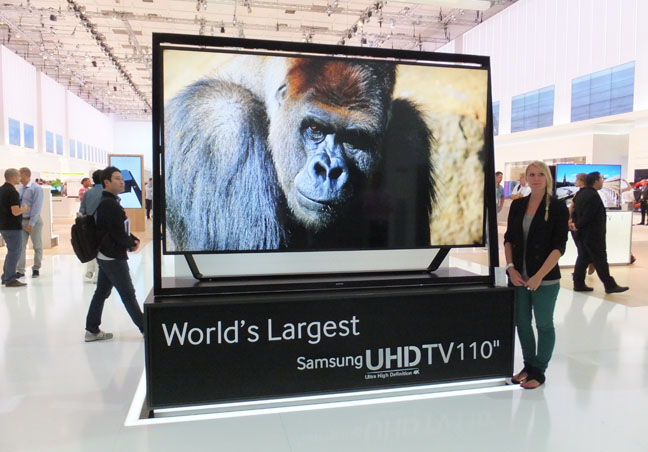 The numbers game: Samsung S9 110-inch UHD TV on show at IFA in 2013
Note that this year's world's biggest claim from LG is for a 21:9 curved TV
At least in the UK, the answer is "probably not". While store displays feature ever larger sets, punters tend to be more restrained. At the end of the 1970s, according to BARB, average screen size was under 24 inches. Some analysts predicted that by now the average size would be sixty inches, yet by the start of 2013, only 15.8 per cent of UK sales were over 42 inches. The largest section of the market remained 26 to 32-inch, at 29.1 per cent, followed by 33 to 42-inch with 24.5 per cent.
GfK's figures are little different, starting with an average size of 19 inches in 1994, with the average for 2013 at 33 inches, rising to 36 last year.
Perhaps with the advent of UHD that will creep up,but it's also worth remembering that with much more video being watched on tablets, small screen viewing is having something of a renaissance too.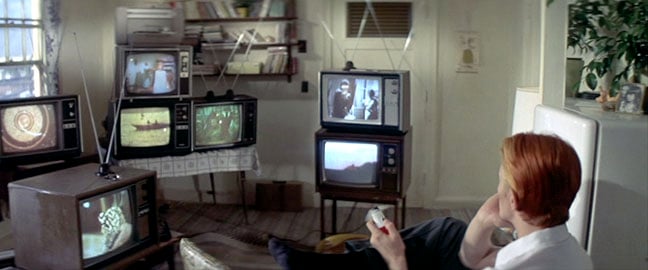 Why have one expensive big telly when you can revel in small screen multitasking instead?
Source: The Man Who Fell to Earth, British Lion Film Corporation
LG's fancy new mammoth set may well appeal to the super-rich. But for most of us, it's clear that when it comes to buying a new telly, size isn't everything. ®