This article is more than 1 year old
HTC One M9 hands on: Like a smart M8 in a sharp suit
If it ain't broke, just polish it gently
MWC 2015 HTC's One is like a tasteful band that has been the critics' choice for years but never quite breaks through from cult status to superstardom. It's by far the classiest thing on the market – but its distinctiveness and craftmanship hasn't been rewarded by runaway success.
If only HTC could convert glowing reviews into dollars, its execs would all be driving cars into swimming pools by now.
This year HTC's management has asked "why change?" and answered it with the question.
The design of the 2015 version of the flagship HTC One – unveiled in Barcelona this afternoon – ha, only changed imperceptibly from the 2014 "M8" model. You have to look close up to see any difference. Which is good news if you coveted the M8 and are only due an upgrade this year.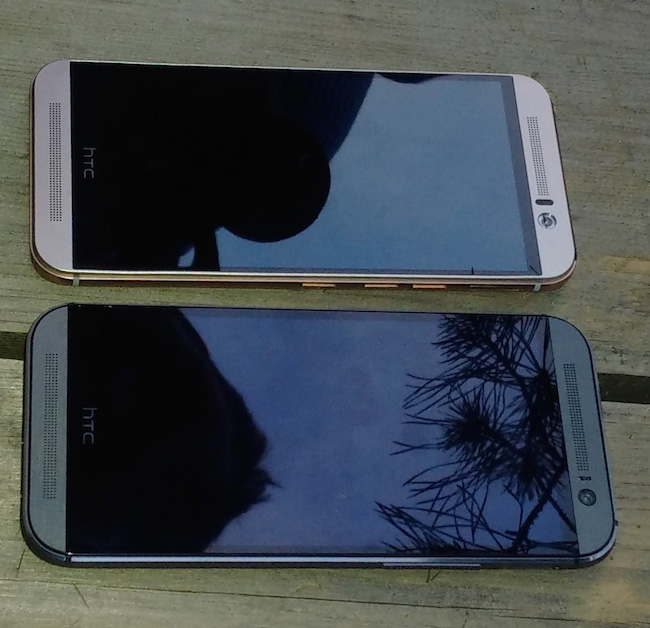 Spot the difference? The 2015 model (top) and HTC One M8 (bottom)
Physically, the only clues that the M9 is a different model are a square rather than dual-circular rear camera housing. The rim round the display now has a thin step, rather than curving smoothly into the glass. This has the effect of making it less slippery.
It's distinctively an HTC One, with its tapered one piece aluminium case and dual stereo"Boom Sound" speakers. Look closely and HTC has coloured and polished the side material to give a two tone finish: grey on a slightly darker gunmetal grey, gold on gold, or gold on grey.
Look even closer and there's one more change: the power button has been moved to the side. The top is now an uninterrupted line of the infra red blaster. The small change makes the device a lot easier to use.