This article is more than 1 year old
Have it all: BlackBerry to port crown jewels to iPhone, Android
We're still going to make hardware, insists CEO
MWC 2015 At the Mobile World Congress in 2015, BlackBerry said it would port key client platform features – like its soft keyboard, Universal Search and Hub – to iPhone and Android, and also throw them into its enterprise software bundles.
It marks a huge leap along BlackBerry's transition to a software services company – but CEO John Chen denied the company was exiting the hardware business.
BlackBerry has already made some of its "crown jewels" cross-platform, such as BBM, and added others, such as its £12-per-seat BBM Meetings scheduling service. Now it's throwing the unified messaging client Hub, Calendar, Documents to Go, Universal Search and the distinctive software keyboard into the mix.
BlackBerry will offer a menu of three bundles – Security Suite (which includes containers, authentication services and a VPN, Communication Suite (including BBM and Meetings) and a Productivity Suite. All require a BlackBerry server, and will only be consumer offerings if telcos and hosting companies begin to offer them. Which isn't entirely implausible.
BlackBerry's strategy of offering secure and mature software to businesses in a world dominated by consumer-focused iPhone and Android platforms makes sense. While the consumer hardware advances every year, the software doesn't, and lacks the maturity and security enterprises need. BlackBerry does, and can take advantage of its unique managed network to give it an advantage. However coherent and unique, it's a crowded marketplace, and the execution will need to be perfect.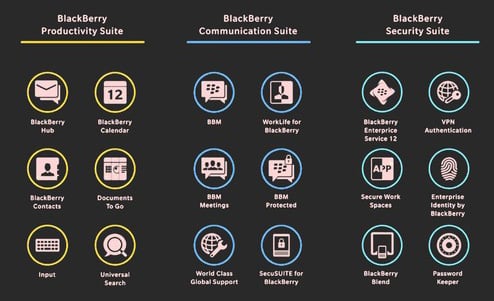 The biggest impact is likely to be on Microsoft, which sidelined its enterprise-friendly Windows Mobile platform a few years ago, and put its focus on a consumer replacement, Windows Phone. Microsoft has slowly been adding those features back, like VPN, ever since.
Last year BlackBerry said it had several devices in the pipeline, aimed at business. John Chen has said that if it can turn a profit from sales of 10m devices, he'll be happy.
You can find out more, here. ®