3 spectastic Lumias for price of 1 rival flagship: Microsoft sells biz on cheapie experience
We've missed you, Stephen Elop
MWC 2015 Former Nokia CEO Stephen Elop emerged from cryogenic storage at Microsoft to announce two new phones and give a glimpse of mobile Office for Windows 10. But not a lot – more will be revealed at Microsoft's developer event, Build, in April.
Elop, who hasn't been seen much since Microsoft completed its acquisition of Nokia's devices unit last year, made a welcome return to emphasise Microsoft's pitch this year: value-for-money phones for business.
"You can get three Lumias with similar specifications for the price of one flagship competitor," Elop said.
And to sweeten the deal, Microsoft is bundling a year's subscription to Office 365 (with one extra mobile client licence) with one of its new devices. You also get 60 landline minutes a month and 1TB of data.
Both new Lumia models are certainly aggressively priced. The Lumia 640 supersedes the popular 625, and augments the 630/635 and 730/735 models. It's a 5-inch model priced at €139 (3G) and it's €159 for the LTE before taxes and subsidies. There will also be a dual-SIM LTE model. So expect a sub-£150 street price.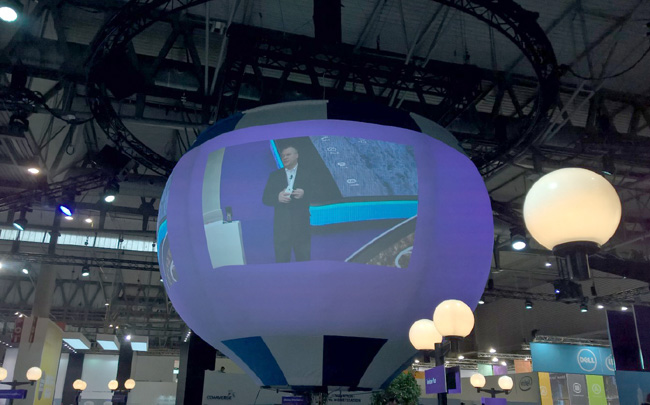 A rare sighting of Stephen Elop – speaking from inside a balloon suspended over the show floor at Mobile World Congress, Barcelona 2015
The "640 XL" supersedes the 1320, and is a slim (9mm) 5.7-inch model with a large (3000mAh) battery. The camera is decent for a low/mid-range phone, 13MP with Zeiss optics. The list price is €189 (3G) and €219 (LTE).
There are more details here.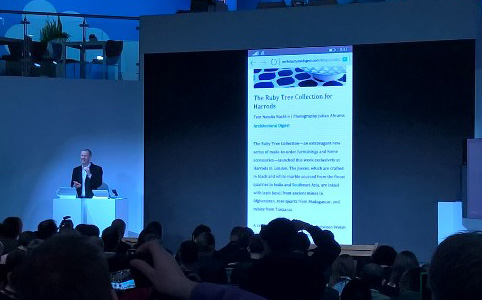 A first glimpse of the new browser, codenamed "Spartan", running on a Windows 10 phone
The Nutella Experience
A little more of mobile Office was shown off – these being Universal apps, they have a strangely bland and generic quality. Universal mobile Office has a desktop-style hamburger menu that looks plain odd on a mobile. But few will care if the functionality advances – Office for Windows Phone has languished for years. Outlook was shown with inline editing of the sent text in a reply, and attaching files from inside a message. Basic stuff, but it had been missing from Windows Phone so far. ®