WD has updated its My Cloud NAS products, adding more oomph for prosumers and two boxes for small-business-filing fanatic users.
WD estimates we should expect 3.3TB of data storage in every home by 2016, and NAS is the way we should store files in homes and small businesses.
WD claims its Red drive has the greatest drive share in the NAS market and wants to extend its total addressable market by examining the crossover prosumer/small business point for 2- and 4-bay NAS, where neither its My Cloud Expert nor Sentinel product ranges fit.
First, the existing My Cloud Expert EX2 2-bay and EX4 4-bay products get boosted with new Marvell Armada 385 and 388 CPUs to create the EX2100 and EX4100. The EX2100 and 4100 are 2-bay and 4-bay again, with 4TB and 6TB WD Red drives, available either as populated boxes or drive-free.
Maximum capacities are 12TB for the EX2100 and 24TB for the EX4100.
The boxes run Linux with WD's My Cloud SW layered on top. A My Cloud mobile app gives remote access from your smart mobe or tablet, with private cloud functionality.
WD says these boxes are for professional consumers, or prosumers: freelance video photographers and the like who need a lot of centralised file storage with RAID and back-up options, and remote access.
My Cloud SW is pre-installed, integrates with Dropbox, OneDrive and Google Drive, and so combines private and public clouds.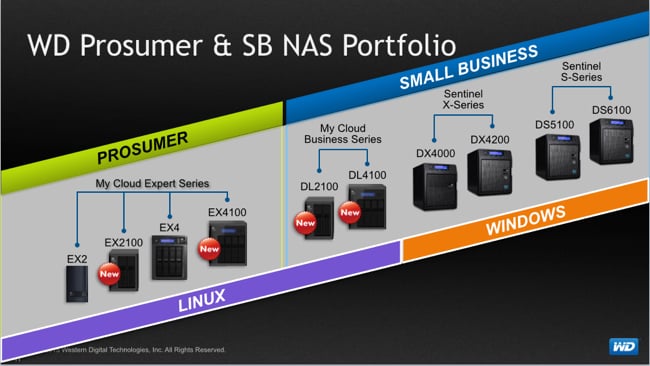 Back-up options include NAS-to-NAS replication, NAS-to-USB and NAS-to-cloud, meaning Dropbox, ElephantDrive and Amazon S3. There is also WD's Smartware Pro client backup.
The same 2- and 4-bay drive units are integrated with a dual-core Atom processor with iSCSI, AD support and AES 256-bit encryption to provide a My Cloud Business Series that is positioned below the WD Sentinel X-Series snd S-Series NAS products for small businesses.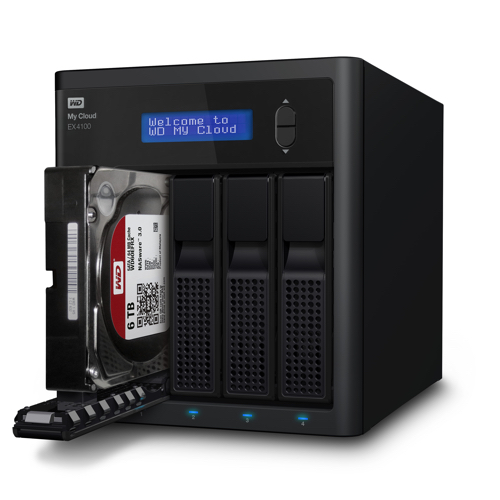 MyCloud EX4100
The DL2100 and DL4100 are the two resulting systems and they have My Cloud SW running with the Linux OS. They have the same capacity range as the EX2100 and EX4100.
A 12TB EX2100 costs $799.99 MSRP, with a 24TB EX4100 costing $1,499.99. The 12TB DL2100 lists at $879.99, with the 24TB DL4100 priced at $1,549.99. ®