Citrix reveals next-gen Receiver and StoreFront, then buries them
But Reg hacks know how to use caches and take screen grabs
Citrix has revealed, and then hidden, previews of a new version of its Receiver and Store Front applications.
Receiver is the client software used to consume apps given the Xen Desktop or Xen App treatment. StoreFront is the app store into which one can place apps so that users can select which ones they'd like to access with receiever.
Citrix hinted at new versions with the "X1" moniker at the company's Synergy conference in May last year, and on Monday the Citrix blog's RSS feed listed two posts about the upgrades. Those links have died … but not to Google's cache, with which we retrived the posts for your perusal.
One post mentions Tech Previews of upgrades called Receiver X1 and StoreFront X1 are both available for "Citrix customers that are current on Subscription Advantage for XenApp or XenDesktop" to download. The download pages produce an outright 404 error, and some links are yet to be added to the posts.
The X1 updates' headline features appear to include customisation of the StoreFront store for business, with an eye on helping service providers, and tweakable start screens for end-users.
Citrix thinks this is a big deal because, as the second post says, "The first key concept with X1 is that the UX lives on a server, your server, and you decide when, and if, it changes. Citrix will still release new versions of the client – to fix bugs and add features – but when it comes to the core part of the UI, you will be in charge."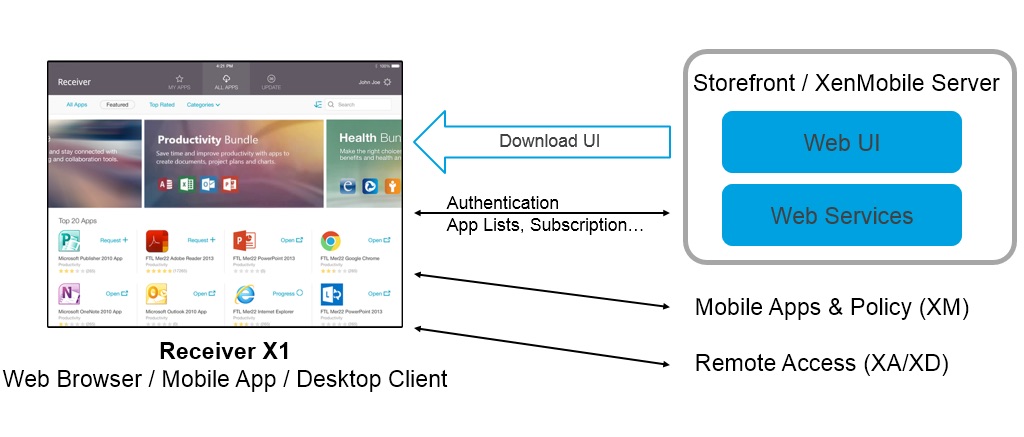 Citrix Receiver X1's and Storefront X1's co-habitation arrangements
To embiggen click here
There's also a promise that both Receiver and StoreFront will run on just about any device capable of running a browser and that once one customises a user interface, end-users on any device will get the same experience, every time.
The Tech Previews will deliver this experience for browser-based experiences only. Citrix promises Receiver executables will get the update in due course. There's also this teaser in the second post:
"Over the coming blogs we are going to use CSS to make deeper UI changes, along with JavaScript to add functional changes based on the new X1 extension APIs created especially for this purpose."
Another change is that Worx Home, Citrix's hub for its Dropbox-like content hub, will be baked into Receiver X1.
Production use of the Tech Preview is firmly discouraged, once it emerges. We've no idea why Citrix chose to bury these posts and the preview. Perhaps the torrent of announcements coming from Mobile World Congress saw the company decide to seek cleaner air for its announcement? ®