Privately object storage seller Cleversafe has got itself in a tizzy after being classified as Up and Coming in a recent Neuralytix report (seen by El Reg), based on an apparent lack of third-party integration.
The company "respectfully disagrees with [the] assessment of our capability with respect to third-party integration", it said a response to the iQ report, which assesses the tech portfolios of ten vendors – all members of the Object Storage Alliance (OSA) – and places the vendors in three categories: Visionary, Promising, and Up and Coming, although with no rankings within these categories.
Neuralytix was deeply involved in setting up the OSA.
For each category there are technology-offering attributes with weighted scores. Attributes include such things as cloud integration, third-party integration and access protocols. Within these attributes, components are scored.
So Cloud Integration has three components: proprietary cloud, private cloud and public cloud. Vendors' individual attribute scores are summed, weighted and then – using a Gaussian distribution curve – their statistical deviation from the mean is calculated.
Those vendors scoring above the first standard deviation (1σ) were put in the Visionaries slot. Those scoring less than the standard deviation (-1σ) went into the Up and Coming slot. Those in-between went into the Promising category.
The ten vendors are Amplidata, China Telecom, Cleversafe, Cloudian, DataDirect, EMC, HDS, HP, NetApp and Quantum. Straight away we see that Caringo and Scality are missing; they are members of the OSA.
Here's how the report ranks them, alphabetically within each category: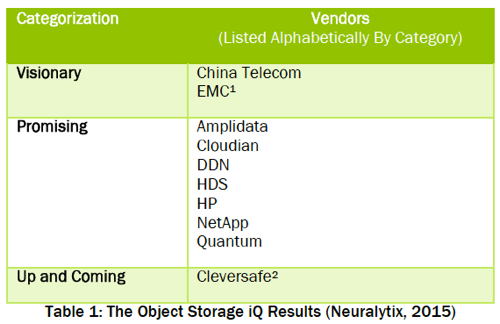 Surprise, surprise. China Telecom is ranked top, along with EMC. Market-leading Cleversafe is down in the Up and Coming Category. What's going on?
EMC's ranking is based on its wide portfolio of object storage technologies which, even though they lack some access protocols and have one or two other weaknesses, scored higher than any other vendor except China Telecom. This surprise supplier (to most of us) is strong inside China but relatively unknown outside – practically invisible as an object storage supplier, in fact.
Cleversafe was ranked low because of a perceived lack of third-party integration. The report text we saw stated: "Cleversafe self-reported that it does not support third-party storage systems. Despite its claims to the contrary, Neuralytix was unable to validate this assertion."
Here's the full note from Cleversafe:
Cleversafe respectfully disagrees with Neuralytix's assessment of our capability with respect to third-party integration.

Cleversafe has large customers in production with our software running their third-party hardware.

Our documented strategy and capabilities are to deliver the most scalable, reliable and secure object storage system and enable customers to choose the hardware platform on which they will operate.

This enables them to utilise the hardware they have to start their build out of their web-scale, object storage environment as they progress, yet Neuralytix did not consider these capabilities in its assessment.
Sounds like a bit of a ding-dong took place.
If you want to find out more, you'd best buy the report from Neuralytix, which is expected to be released this – a $20,000 price has been mentioned, so it looks like a vendor-only purchase and a means for them of understanding their competitors better. ®