MWC 2015 Pebble is opening up its eponymous smartwatch to third-party hardware makers. They'll be able to build straps or other attachments that that can provide a range of additional functionality to a Pebble – such as specialist sensors for fitness or medical tasks – or just additional power.
It's a very Pebble way of doing it – keep it simple, and avoid bloatware. Putting additional electronics in the strap means the watch can stay slim.
Last week Pebble showed off a new model with a new UI – and it supported interchangeable straps. But that was only part of the story. New models will feature a two-pin port on the back of the new range providing serial communications and two-way power. Which means the strap can power the watch, or the watch can power the strap.
"Sensors and GPS modules just make the watch bigger," Pebble founder and CEO Eric Migicovsky told us. "In the end we couldn't decide what to put in. So we're letting manufacturers decide."
A strap could contain specialist sensors for monitoring heart beat or blood pressure, environmental conditions, and GPS. "Or if you're a nuclear inspector, you could have a strap with a built in Geiger counter," the CEO muses.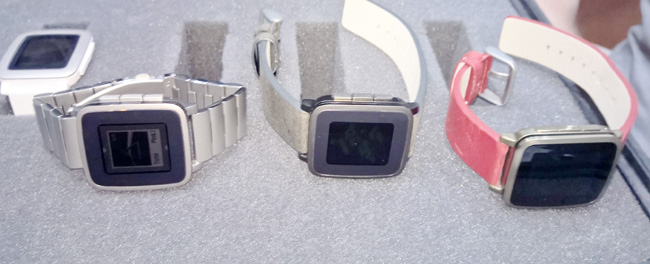 Or the add-on strap could just provide extra power. Not that the Pebble particularly needs it – thanks to an e-Paper display and careful design, current models last five to seven days already on one charge, and are more svelte than the more expensive competition. Today's Android Wear wrist jewellery stops telling the time after a day. So far Android Wear sales have, not surprisingly, been poor.
Last year consumer electronics manufacturers who didn't have a wearable in their portfolio were being castigated. This year, those who held back appear to have dodged the bullet.
The Pebble Time Steel, announced today, will last 10 days between charges. The $250 model will be available in July – and Kickstarter supporters who backed the Time, announced last week, can swap their pledge for a Time Steel. The Time Steel will be around 1mm thicker – including the port on the back – but packs in a battery taking its typical time between charges to 10 days. It's made from milled steel and the display protected by Gorilla Glass.
We also noticed a microphone on the new watch.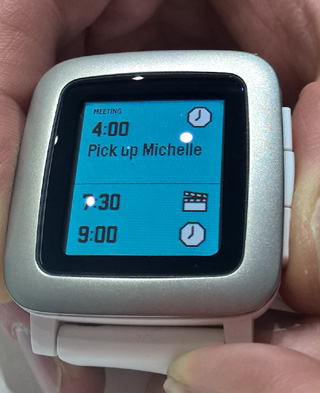 Pebble's new UI is easier to use than describe. The top button takes you to reminders, and other "past" events. The middle button displays "now" information such as the current weather or what song is playing on a connected device. The bottom button is "future". It's all fairly obvious.
To our relief, the colour E-Paper display Pebble is using doesn't look retro or grainy, and holds up well in different light conditions (it's brighter in strong sunlight).
See our guide on how to write Pebble apps here. ®