The US Department of Justice has reached a settlement with General David Petraeus allowing the former military leader and ex-head of the CIA to avoid prison for handing over classified information to his lover.
Petraeus has agreed to plead guilty to a misdemeanor charge: one count of unauthorized removal and retention of classified material, with a possible sentence of one year in prison, $100,000 fine, and five years of probation. He also admitted misleading federal investigators.
Under the terms of the deal, federal prosecutors will ask for a two-year suspended sentence and a $40,000 fine. The misdemeanor charge will draw a line under the sordid affair that ended the public career of a man once touted as presidential material.
Petraeus spent 37 years in the US Army, ending up as head of theater in Iraq and Afghanistan. While on duty he recorded his daily schedule and notes on classified and unclassified information in military-issue five-by-eight inch Black Books.
In a deposition Petraeus admitted handing over these notebooks to his biographer and mistress Paula Broadwell, and leaving them with her for four days. Broadwell later wrote her book All in: The education of David Petraeus, but investigators said classified material did not make it into the biography.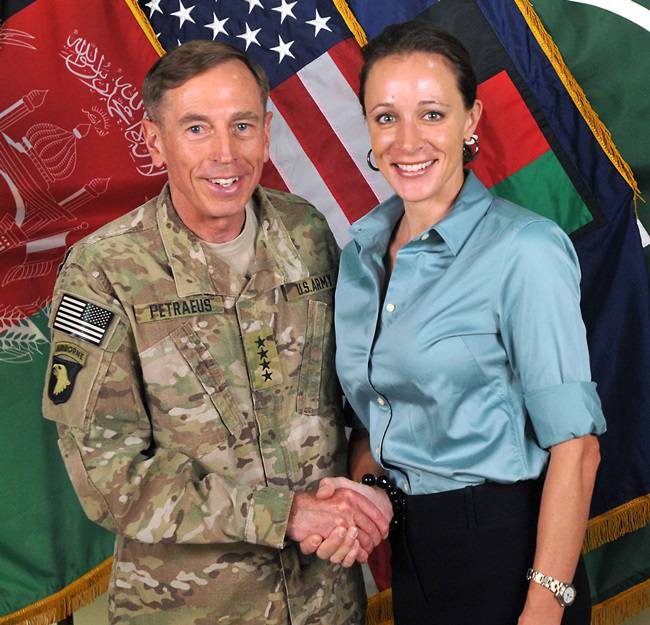 David Petraeus and Paula Broadwell in happier times
In April 2011 Petraeus was nominated to become head of the CIA, and resigned from the army to take up the role in September that year. The married spyboss was forced to resign barely a year later when his affair with Broadwell became public following an FBI probe into cyberbullying.
In the summer of 2012, Jill Kelley, a friend of Petraeus, received threatening emails warning her to stay away from the four-star general. Kelley asked the Feds to investigate, and the email trail led back to Broadwell, at which point her intimate connection with Petraeus was discovered.
When questioned by the FBI, Petraeus denied giving classified information to Broadwell, but her emails mentioned borrowing the Black Books. Federal prosecutors recommended felony charges.
A court must approve the plea deal. According to the court filings [PDF] Petraeus is being reprimanded for abuse of trust and obstruction of justice, but is credited with admitting his crime.
The misdemeanor charge won't interfere with his role as partner in the New York private equity fund Kohlberg Kravis Roberts, or his visiting professorship at the UK's University of Exeter. ®