This article is more than 1 year old
Samsung Galaxy Note Edge: A side swipe at smartphone design
Edgy? Well, it has a lot of potential
Review Edge. Get used to the word. From here on in, if the scuttlebut is to be believed, several flagship Samsung devices will be available with an Edge variant.  An Edgy version of the Galaxy S6 has already been confirmed.  A what? In simple terms with a bit of extra screen that curves around the right hand edge of the device.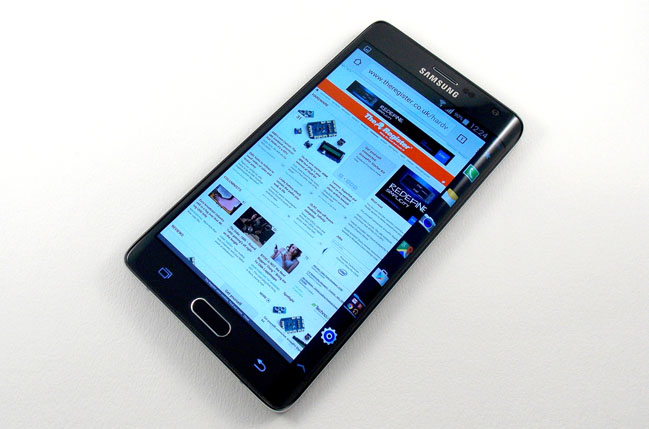 Side ways: Samsung's Galaxy Note Edge
Under the hood, the Note Edge is the same as the Galaxy Note 4 I reviewed late last year. Same chipset (a Snapdragon 805 component with a quad-core 2.7 GHz Krait 450 processor), same GPU, same amount of RAM (3GB), same cameras, same S Pen stylus, same 32GB of storage with MicroSD card expansion, same Galaxy Alpha/A-series design language and materials.
It's close to the same size too. At 174g, it's a mere 2g lighter and at 151.3 x 82.4 x 8.3mm slightly shorter and thinner but a smidge wider. Even side-by-side the differences are scarcely enough to be noticeable.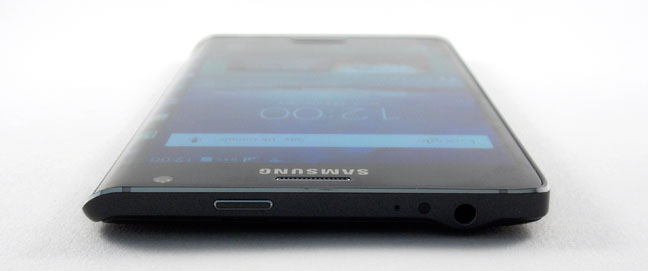 Suits you? Power button on top
The new side screen, which gives the Edge its name, has necessitated moving the power button from the right to the top. On a device this size that's not a wholly successful move. I'd have preferred it on the left above – or below – the volume buttons. Otherwise the Edge's controls and ports mirror those of the Note 4.
The important difference is the Super AMOLED display. The Note 4 boasts a 5.7-inch 2560 x 1440 display, the Note Edge 5.6-inches and 2560 x 1600. Those extra 160 horizontal pixels are the ones that curve around the side. This gives the Edge a higher pixel density – 524 v. 515dpi – but the difference is invisible even under a magnifying glass.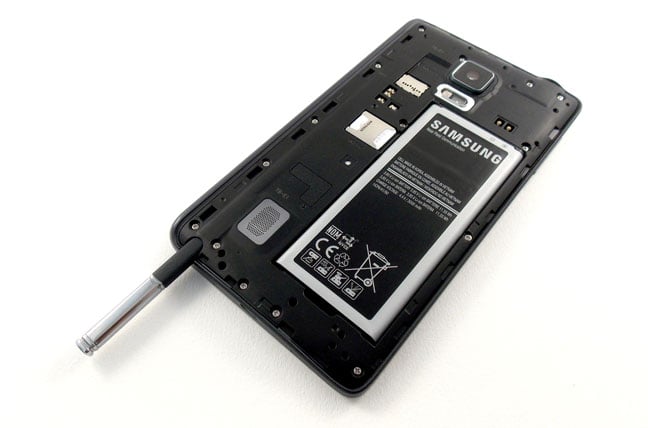 Removable battery – yay!
Despite the increased width, the side screen still eats into the space for the removable battery. So the Edge packs a physically smaller battery with a capacity of 3,000mAh compared to the Note 4's 3,330mAh cell.
The curved side display is a rather slick and well executed bit of design. As it nears the righthand edge of the device the Gorilla Glass 3 screen bends through about 45˚ to meet the metal side band. I'm guessing the exact angle is a requirement of having a side-screen that is easily swipe-able both vertically and horizontally. Which it is.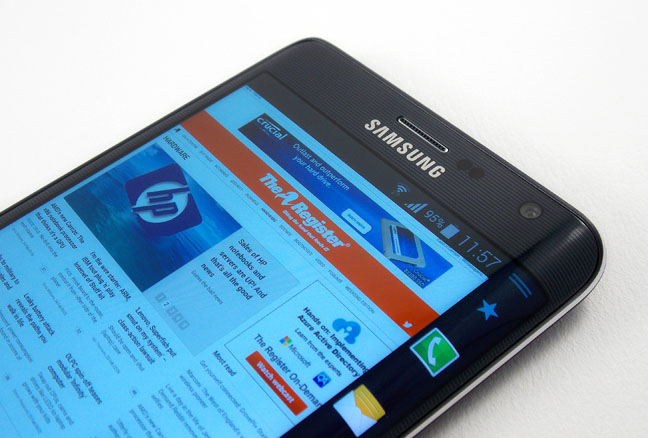 Distinctive and functional too
For a Samsung device, the execution is all the more impressive. For some time Sammy's design and material quality has lagged behind that from the likes of HTC and Apple. The new A-series devices and the Note 4/Note Edge suggest it has found its mojo again.